Lamborghini Goes Hybrid with Asterion LPI 910-4 Plug-In Concept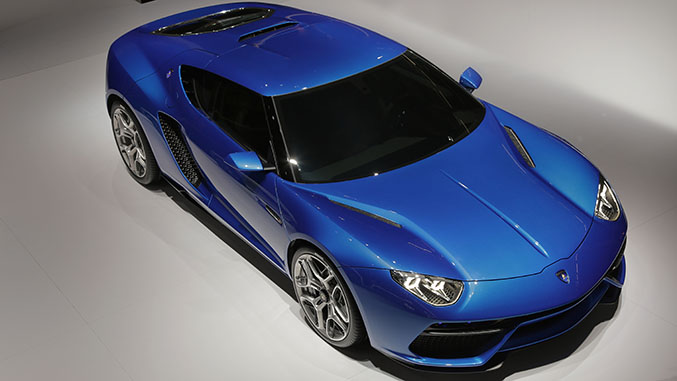 At this week's Paris Auto Show, Automobili Lamborghini unveiled their newest creation, the Asterion, which gets its name from a minotaur (a part man, part bull "hybrid") found in Greek mythology. It's a departure from Lamborghinis of the past, not only in its visual presentation but also in how it delivers its performance. The Asterion, much like the
Ferrari LaFerrari
and
McLaren P1
, nods to the inevitable mandate of electric-assisted progress with the inclusion of a plug-in electric powertrain which supplements its conventional gasoline powered engine. But rather than downplay what some might consider to be a compromise, Lamborghini instead chose to embrace the new tech, driving the car onto the stage with a soundtrack of nothing but camera shutters and jaws hitting the floor to usher in a new era of "silent extreme performance."
Conventional supercar motivation is provided by the 610 horsepower 5.2-liter V10 and the seven speed DSG gearbox used in the Huracán. To reach that lofty 910 figure in the Asterion's LPI 910-4 designation, a trio of electric motors run concurrently with the V10 during peak output, making the Asterion the most powerful Lamborghini the company has ever produced. With power routed to all four wheels, the concept is said to get from 0-62 mph in three seconds flat on its way to a top speed of 199 miles per hour. Perhaps just as impressive is the Asterion's ability to reach 78mph in pure electric mode with a range of 31 miles – nearly triple the distance a Porsche 918 can muster under electric propulsion.
Visually, the two seater loses some of the wedge shape design that's been a hallmark of Lamborghinis since the Countach for more of a fastback shape that vaguely recalls cars like the
Miura
and Espada, though heavy influence from the Huracán and Aventador can also be found throughout, particularly in the cockpit-like interior. The concept also features doors that split the difference between the Huracán's conventional approach and the Aventador's scissor doors, a design that lands somewhere between in between an
Aston Martin
and a
BMW i8
.
Perhaps the biggest question is whether or not the Asterion is just a design exercise or a car we might actually see in showrooms one day.
Autoblog
reports that in a conversation with Lamborghini boss Stephan Winkelmann back in August at the Pebble Beach Concours d'Elegance, Winkelmann said that currently a crossover like the
Urus
is a higher priority for the company. However, with the engineering for this concept essentially sitting on the shelf at Lamborghini's workshop right now, we wouldn't be surprised to see the Urus arrive sporting a similar powertrain to the Asterion. Moreover, if Lamborghini wants to continue its head to head battle with the likes of Ferrari, Porsche and McLaren, a hypercar like the Asterion is inevitable.