LA 2012: Volvo S60 Polestar Concept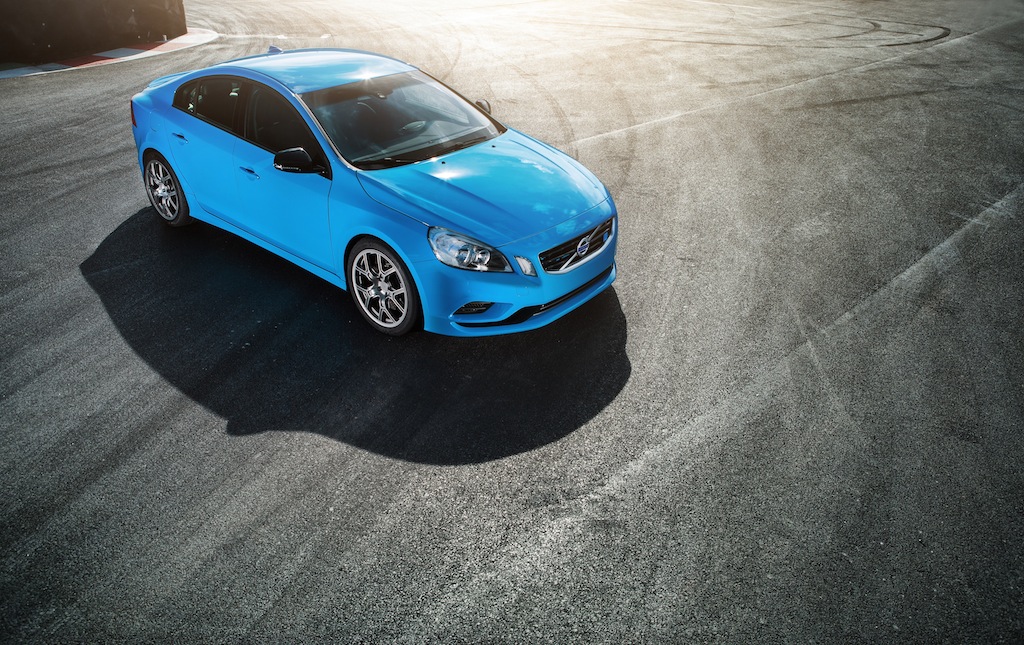 Volvo, that company of safety minded Swedes and maker of cars for your professor, clergyman, and other banal and humdrum people in your life has gone absolutely mad. Why, you ask? Because
Polestar
, Volvo's tuning division, has taken the
comfortable and stylish S60
and stuffed
508 horsepower
under its hood. There's also 424 pound-feet of torque. The result is the S60 Polestar Concept.
For those running out of fingers and toes, those numbers represent a 99-pound-foot and a scarcely believable 208-horsepower bump over the standard S60 T6. Performance doesn't disappoint either, with the S60 Polestar sprinting to 60 in a scant 3.9 seconds and on to a top speed of 186 miles per hour. For reference, this S60 is faster to 60 miles per hour than a new
BMW M5
and
Mercedes-Benz E63 AMG
. Hell, it'll tie the ballistic
Cadillac CTS-V
.
How did Volvo get all those ponies and torques? Well, a Garret 3171 turbo, a modified cylinder head, combustion chamber, inlet manifold, and intake. The cherry on top is a Ferrite 3.5-inch stainless steel exhaust. Other tweaks include an Öhlins suspension that drops the ride height 30 millimeters, and a stylish set of 19-inch wheels.
Unfortunately, this is just a concept. But according to Polestar's website, a strong enough consumer response could result in a limited run of this super Swede. We'll keep our fingers crossed.
Please scroll down for the official press release from Volvo.
Volvo S60 Polestar Concept — With 508 hp — Debuts at L.A. Auto Show
LOS ANGELES (Nov. 20, 2012) — With the glamour and bright lights that symbolize the City of Angels, what better place for the global auto show debut of the Volvo S60 Polestar Concept than the 2012 Los Angeles Auto Show? After all, the 508-horsepower beast, built by Volvo's official performance partner, Polestar, is arguably the most glamorous and lightning-quick Volvo concept car ever made.
"This is Polestar's interpretation of the Volvo S60," says Christian Dahl, founder and CEO of Polestar. "It's a car developed with our own preferences in mind — although we know they are also shared by active drivers."
Make no mistake, it is an exotic in its own right — but with refinement and precise handling. All of this technology results in a more intense, real-life Volvo driving experience.
"We approached this project by looking at the production Volvo S60 as a platform for a potential race car — and the culmination of that data went into the design of the S60 Polestar Concept," explained Jan Andersson, chief engineer at Polestar.
The S60 Polestar Concept delivers the genuine Volvo driving experience with a high level of power and handling. The turbocharged, inline six-cylinder engine has been tuned to deliver a considerable increase in power and torque. The 508 horsepower and 424 lb.-ft. of torque seem to dwarf the numbers associated with the horsepower and torque found in the T6 engine of the production car: 300 horsepower and 325 lb.-ft. of torque.
The combination of a lowered, widened and reinforced chassis, a tuned Haldex all-wheel-drive system, and Öhlins suspension makes the car uniquely suitable for both high-performance driving and long-distance traveling.
According to Volvo Polestar racing driver Robert Dahlgren, "It is, by far, the most impressive street Volvo I've ever driven. But I must also say that the genuine Volvo feeling is still there."
Polestar has been Volvo's performance partner since 1996, offering tuning technology and parts enhancement to production-model vehicles. A Polestar-tuned S60 R-Design and XC60 R-Design currently are offered in the Volvo lineup, bumping their already stout performance from 300 hp and 325 lb.-ft. of torque to 325 and 354, respectively.
For 2013 they also come in head-turning Rebel Blue … so they look similar to their cousin: the S60 Polestar Concept.
The Polestar performance upgrade can be purchased and installed in applicable new and used Volvos at any Volvo dealer. More information about Polestar and its expanding parts and technology offerings for Volvo production vehicles can be found at
Polestar.com
.
Brief Technical Overview: Polestar S60 Concept

Volvo T6 inline six
0-100 kmh (62 mph) = 3.9 seconds
Top speed more than 300 kmh (more than 186 mph)
508 hp @ 6500rpm
575Nm (424 lb.-feet) @ 5500rpm
Max rpm: 7100
Modified cylinder head and combustion chambers
Modified inlet manifold and air intake
Garret 3171 turbo
Ferrita 3.5" stainless steel exhaust system
About Volvo
Volvo Cars of North America, LLC, (
www.volvocars.com/us
) is a subsidiary of Volvo Car Corp. of Gothenburg, Sweden. VCNA provides marketing, sales, parts, service, technology and training support to Volvo automobile retailers in the United States, and oversees Volvo operations in Canada. For more information please refer to the VCNA media website at:
http://www.volvocars-pr.com/
, and follow Volvo's blog at:
http://www.volvoblog.us/
.
About Polestar
Polestar Performance, with its headquarters in Gothenburg, Sweden, is Volvo Car's official motorsport and performance partner. Polestar has collaborated with Volvo since 1996 and is currently responsible for all of Volvo's major undertakings in motorsport. Please also refer to the Polestar media site at
www.polestar.com/pressroom
for additional information.