LA 2011: Buick LaCrosse GL Concept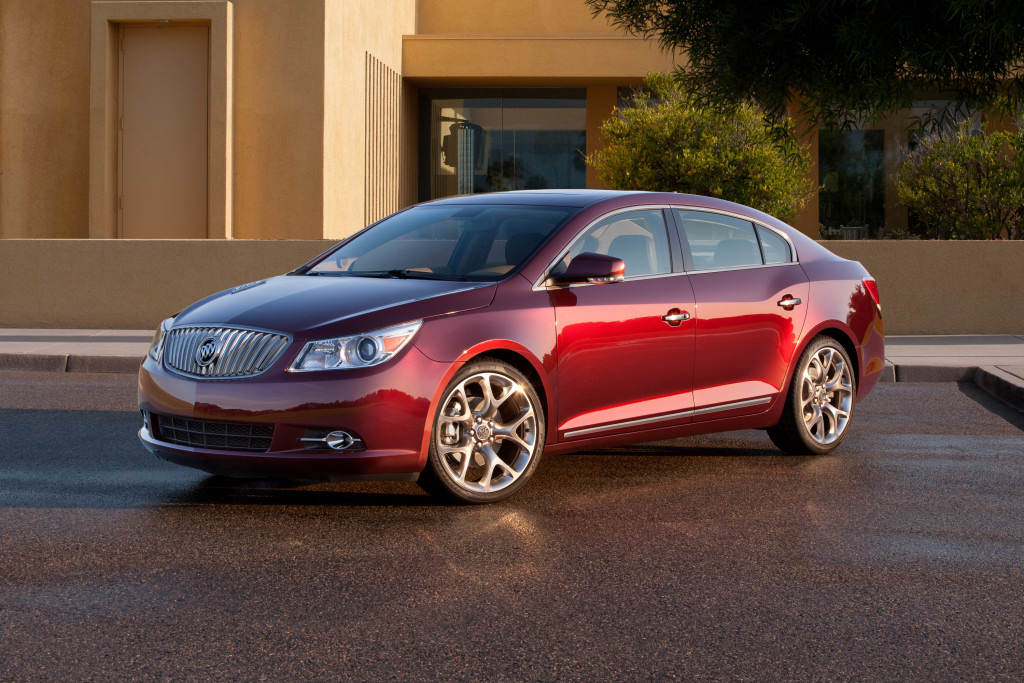 Buick's bringing a concept to the Los Angeles Auto Show, but rather than some swoopy, futuristic deal that runs on recycled rubber ducks, it's a very plush version of the
LaCrosse sedan
.
Called the LaCrosse GL Concept, Buick has fitted a variety of exclusive upholsteries and trims to the LaCrosse's interior. Beautiful leather seats feature French stitching, and are finished in rich brown and tan leather. We also quite like the designs that are sewn into all four seats. Other luxury touches include the suede headliner, and real wood trim, with a patina similar to classic Gibson guitars.
Outside, the LaCrosse GL wears satin-finished twenty-inch wheels borrowed from the Regal GS, while brushed and tinted chrome replaces the trim on the grille, door pulls, and rear deck. This trim is less flashy, and delivers a cleaner aesthetic than the typical bling-bling.
The LaCrosse GL Concept will get its official debut at next weeks Los Angeles Auto Show.
Please scroll down for the official press release from Buick.
LOS ANGELES – When designers set out to capture the essence of Buick luxury for the LaCrosse GL concept vehicle, they looked to the fine cuisine, heirloom objects and enriching experiences the brand's customers savor. The design study is on display at the L.A. Auto Show through Nov. 17.
Buick's color and trim designers worked from a palette of cabernet red, dark cocoa brown and caramel chocochino. They took inspiration from the burnished metal of antique jewelry, ombré patina on vintage guitars and flocked lining of keepsake boxes. For GL's French-stitched premium leather seats, the designers looked to the understated elegance of classic club chairs and contours of windswept sand dunes. And their use of smooth suede for the headliner is designed to invite one's touch like a favorite pair of gloves.
"The LaCrosse GL concept expresses Buick's distinctly human kind of luxury – one that is as warmly inviting as it is elegant and refined," said David Lyon, executive director of design. "The design cues that already distinguish the production LaCrosse – such as the premium leather-upholstered seats, ice blue ambient lighting and soft touch surfaces – are amplified in the GL and serve as inspiration for future Buick models."
LaCrosse GL's cabernet red exterior paint is complemented by brushed and tinted chrome accents on the grille, door handles and deck lid, as well as around the windows, taillights and headlights. Machine-face, satin-finish 20-inch rims fill the wheel wells for a firmly planted appearance.
"The brushed-and-tinted chrome trim gives the GL a more subdued appearance than if we had used bright chrome. The overall effect is more in keeping with Buick's quietly confident aesthetic," said Magdalena Kokoszynska, creative designer on LaCrosse GL.
Open the GL's doors and backlit Buick-emblazoned sill plates invite one to enter like illuminated welcome mats.
Take a seat and one is ensconced in luxury, enveloped by flowing sculptural surfaces finished in a rich blend of warm-hued materials. They offer soft-touch refinement and surprise-and-delight details. The seats, doors and instrument panel surfaces are finished in contrasting dark cocoa brown and caramel chocochino leather. The seat cushions' pillowed surfaces evoke windswept sand dunes, and the ice-blue French stitching along their seams harmonize with Buick's signature ambient lighting.
Overhead, one finds a rich chocochino suede headliner – a material and usage rarely seen in anything but the most luxurious automotive interiors. This butter-soft material also accents the steering wheel, inviting one's touch.
Like the GL's exterior trim pieces, the interior metal accents on the instrument cluster and center stack controls are a darker, warmer hue, and are complemented by the swirling grain of wood trim on the steering wheel and dash that evokes the ombré patina fade found on classic Gibson Les Paul guitars.
Attention to detail also is evident underfoot, where leather-surged and accent-stitched floor mats offer further refinement. Likewise, the storage compartments are flocked like the interior of a jewel box.
"Every surface in the interior of the LaCrosse GL has been crafted with the knowledge that Buick customers enjoy the finer things in life, but don't need to flaunt it," Kokoszynska said.
About Buick
Buick is a modern luxury brand offering vehicles with sculpted designs, luxurious interiors with thoughtful personal technologies, along with responsive-yet-efficient performance. Buick is attracting new customers with its portfolio of award-winning luxury models, including the Enclave crossover, LaCrosse sedan, Regal sport sedan and highly anticipated all-new 2012 Buick Verano sedan. Buick is one of the fastest growing majors in the U.S. and remains a best-selling brand in China, with continuing record growth. Learn more about Buick cars and crossovers at www.buick.com, on Twitter @buick or at www.facebook.com/buick.