LA 2010: Nissan Ellure Concept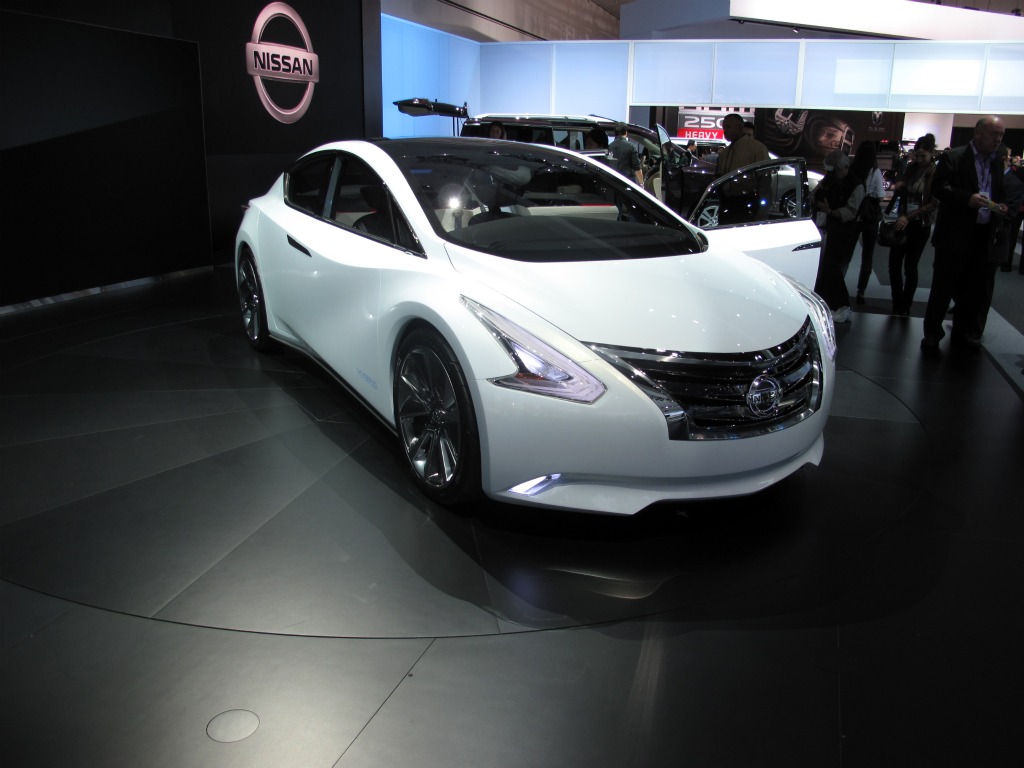 Nissan took the wraps off of its Ellure Concept at the LA Auto Show. Nissan is insistent that the Ellure isn't a preview of any upcoming product, although it does follow a great deal of current Nissan styling. The headlights, taillights, and front grille wouldn't look out of place on the current Maxima, while the rear haunches look to have been peeled off of the 370Z.
The Ellure features a hybrid drivetrain, with a 2.5-liter four-cylinder mated to a 25-kilowatt electric motor. The power is put to the front wheels through Nissan's Xtronic CVT. Other tech goodies include regenerative brakes and drive-by-wire electrohydraulic steering.
As we said, Nissan doesn't plan on producing the Ellure, but we certainly wouldn't mind if future products adopted the concept cars sculpted lines and good looks.
Please scroll down for the official press release from Nissan.
NISSAN ELLURE CONCEPT – THE SEDAN RE-IMAGINED – MAKES WORLD DEBUT AT 2010 LOS ANGELES AUTO SHOW
As a longtime industry innovator in sedan design, notably the original Datsun 510 and numerous generations of Nissan Maximas, Altimas and Sentras, Nissan has always had an affinity for both the form and its buyers. So it should come as no surprise that in an environment where traditional sedan buyers have been migrating toward coupe and crossover SUV alternatives, along comes the engagingly seductive Nissan Ellure Concept, which makes its world debut at the 2010 Los Angeles Auto Show.
"While not intended as a preview of any upcoming production model, Ellure confirms Nissan's intention to be a strong player in the sedan segment for many years to come," explains Shiro Nakamura, senior vice president and chief creative officer, Nissan Motor Co., Ltd. (NML), who supervised the global design effort. "As an expression of our long-term vision for the next generation of great Nissan sedans, Ellure allows us to introduce a new sedan concept – one that honors the sedan's unmatched daytime functionality, yet has a more emotive, almost hidden ambience that comes to life after dark. It's an ideal fit for the needs of its projected owners, women in their '30s and '40s with a sense of sophistication and rebellion."
A Simple Yet Provocatively Modern Exterior
The Ellure exterior expresses the warmth of a sculpture, but is defined by the solid movement of the shapes – and the control of light and dark in a way that is sophisticated yet rebellious. Its designers sought to shift the balance between rational values and emotional ones, expressing both intelligent, sustainable design qualities and a sense of passion and fun. The proportions of the new Ellure respect the basic layout and dimensions of a traditional mid-size sedan, while taking advantage of a next-generation compact hybrid powertrain. This allows the wheels to be pushed out to the corners, creating a stable stance and ample interior room, as well as a highly functional trunk – despite the smooth aerodynamic form.
The exterior projects a sense of strong mass, with a refined contrast between broad planes and strong shoulders. Rather than trying to hide its front-wheel drive dynamics, the body forms drape over the front wheels and radiate outward toward the sides and rear.
The bending of the sheet metal is utterly simple but dynamic – sheer and taut like a shock wave. Ellure is not designed to hide its "sedan-ness," as some so-called 4-door coupes do, but to honor the form with the way light transitions like a ribbon or wave from the bold front grille and lights, through the sculpted shoulder lines and on to the full glass roof and strong rear end. It's all about using a sense of tension and release to keep the shape interesting and the viewer interested.
While not intended to project an obvious "eco" image, the Ellure design includes serious elements of efficiency. The deeply skirted front fascia and bold solid-transparent front grille with small openings direct the wind over and under the body. Ellure also features a full underbody pan, molded side rearview camera housings (utilized in place of traditional outside mirrors), small wheel openings and full transparent covers over 21-inch 5-spoke aluminum-alloy wheels mounted with low-rolling resistance Michelin tires.
"Aerodynamics has become a critical element of design for all vehicles today, not just hybrids or EVs. We've used Ellure to explore subtle ways to reduce or eliminate body openings that can cause drag, such as the solid yet transparent coverings on the wheels and grilles, without impacting the beauty of the vehicle," said Nakamura.
The Ellure grille, with its large polished Nissan badge, was inspired by "Kamishino" Samurai formal coat. Like all of the major chrome accents on the vehicle, the grille slats combine brushed edges and bright surfaces to add a polished, almost jewel-like surfacing. The headlights and taillights incorporate an effect like the layering of fins or wings of a bird – condensed in some areas and spread out in others.
A nod to traditional Japanese design can also be seen in the Ellure's rear end, which is inspired by a "Torii" Shinto shrine gate. The sides of the vehicle are dominated by large 90-degree opening doors with rear-hinged rear doors for full panoramic interior access and easy ingress/egress.
Ellure's full tinted glass roof with integrated interior nighttime accent lighting caps the "duality" of design – transitioning from sophisticated in daylight and a somewhat wilder expression of light and movement at night.
The final accent to the Ellure exterior is the paint treatment. The "Geode" White tri-coat mica paint features pearlescent/gold flake with a blue aspect that varies in appearance by tone and temperature of light.
A "Molten" Interior That Turns Up the Heat
Inside, Ellure's fluid movement of shapes, and control of light and dark, continues with its highly emotive environment. It is one space with two feelings – tailored by day, intimate and inviting by night. The high-contrast, energized warmth of the space imparts an almost molten, thermal energy, which is also captured in the tri-color scheme of "Molten Ice," "Molten Steel" and "Molten Gray."
Picking up the "shock wave" theme of the Ellure exterior, the dramatic instrument panel design flows from door-to-door, seamlessly integrating with the door panels and blending into the lounge-like rear seat to wrap the driver and passengers in an elegant and passionate space. With clean, intuitive touch interfaces, the wide display panel screens present information in a two-level layout, with information arranged by priority of use. The chrome-free leather (eco tanning process) on instrument panel offers a color gradation and use of heat repellent pigment to help reduced glare and air conditioning compensation. The special truncated shape of the steering wheel provides a clearer view of the instrument panel and display screens.
The front seats are covered with a black eco-suede utilizing recycled fibers (100% post industrial PET ultra microfiber). The seat design itself uses transparent red acrylic seatback panels and low shoulder height to reduce the usual "wall" between front and rear passengers. The front passenger seat design includes a forward-facing ottoman, and both front seats include elegant "floating headrests."
The "showpiece" of the interior is the "floating" center console with a sculptural, see-through effect, white leather covering and backlit red nighttime lighting. A console-mounted central controller provides intuitive control for HVAC, audio, navigation and other functions. The all-glass ceiling is embedded with special red mood lighting.
The three-person rear seat, covered in gray ultra-suede, provides the roominess of sedan but the feeling of coupe. The "shock wave" carpeting design, with rings of color radiating from center out, follows the topography of the interior. The carpeting itself is made from handmade strips of 100% wool felt, which is naturally water repellent.
Other interior features include hidden audio system speakers embedded in doors and headrests, interior "alcove" style, recessed lighting design and armrest touch controls with haptic feedback.
"We've provided a private and passionate inside space that the owner can feel is completely her own. Not a hangout space in itself, we see the Ellure interior as mobile social space hosted by the driver," adds Nakamura.
A Proposed Eco Drivetrain
Along with displaying Nissan's future sedan design language, the new Ellure presents a conceptual preview of how future Nissan sedans can balance the conflicting desires for fun-to-drive performance, ample passenger/luggage utility and sustainable mobility.
The Ellure drivetrain is conceived as a supercharged 2.5-liter inline 4-cylinder with Intelligent Dual Clutch Control (one motor/two clutch design with lithium-ion battery) and 25 kW electric motor, matched with an Xtronic CVT™ and front-wheel drive. It would also include an independent suspension, regenerative braking, and advanced drive-by-wire electric/hydraulic steering to make sure the driving experience is as dynamic and rewarding as Ellure's physical properties.
Ellure also wears a "PURE DRIVE" badge, indicating it would be part of Nissan's range of low CO2/low fuel consumption internal combustion engine or hybrid vehicles.
PURE DRIVE vehicles use Nissan's most advanced technologies to deliver to customers an optimal balance of top-level fuel consumption and value. Nissan seeks to provide the right solution tailored to market circumstances and customer needs.
The Sedan Re-imagined
With lines that gain energy as they move through the exterior, an interior that is as engaging as it is inviting, and effortless technology embedded with intuitive intelligence, Ellure stands as Nissan's latest expression of innovation for design.
"When all is said and done, the sedan will always be core to the Nissan product portfolio. Our goal is to rejuvenate the sedan's attractiveness to buyers who might have migrated to other segments, or who are coming reluctantly into the category," adds Nakamura. "By respecting its strengths, while recognizing that emotion is as critical as function, Ellure could well be the wave, or more correctly the 'shock wave,' of future sedans."