IMSA Expands "Budget" Prototype Racing For 2017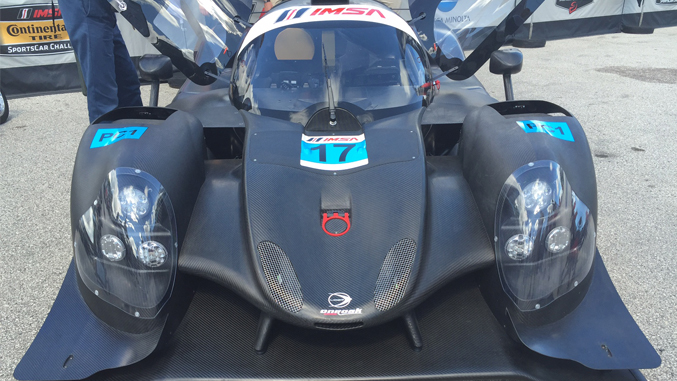 We were at Road America for IMSA's recent announcement of a new prototype grouping for the 2017 season (and beyond). The new Prototype Challenge group will consist of two classes, both running prototype chassis. The front of the field should be headed by LM P3 race cars while the quite quick Elan DP02 IMSA Lites cars compete at the same time in the IMSA Prototype Challenge presented by Mazda.
The PC1 class will feature LM P3 chassis from as many as six different constructors powered by identical V8 engines. The Onroak Automotive Ligier JS P3 that was displayed at Road America (shown here) is representative of the class. It features a Nissan 5L VK50 V8 making 420 hp running through an X-TRAC paddle-shifted sequential gearbox. The chassis is a full carbon fiber monocoque, with total weight of 1980 lb. As you can see from the photos, aero bits are looking pretty serious and extensive attention has been paid to driver fit in the P3 spec. There are also cost caps on components, in an effort to keep run costs from skyrocketing.
The PC1 cars will come from Onroak (Ligier), Adess, Dome, Ave-Riley and others. There is a price cap on the cars of approximately $225,000, which is about the same as a 2017 Pirelli World Challenge GTS car from Porsche or Aston Martin, but with similar power, 2/3 the weight and full aero.
The PC2 class will use the existing Élan DP02 chassis powered by Mazda engines currently used in the Lites 1 class of the Mazda Prototype Lites Presented by Cooper Tires, the foundation for the new IMSA Prototype Challenge series. Over 50 of these cars have been built, so there is a used car market, potentially making this $150,000 car even more accessible. For additional information on the DP02,
check out our Racecar Profile
.
The new championship will race a 13-round schedule at seven premier North American circuits. This is a little-discussed feature, but by limiting the number of events to seven, IMSA helps to keep the cost of running a team for the season in check. Nine of the rounds will be during five events of the IMSA Weathertech Championship. The season kicks off at Sebring during the 12 Hours weekend, then goes to Barber Motorsports Park, Watkins Glen (6 Hours), Canadian Tire Motorsports Park, Lime Rock, Trois-Rivieres and Road Atlanta (Petit Le Mans).