Hyundai Debuts Blue-Will Plug-In Hybrid Concept Ahead Of Detroit Auto Show Reveal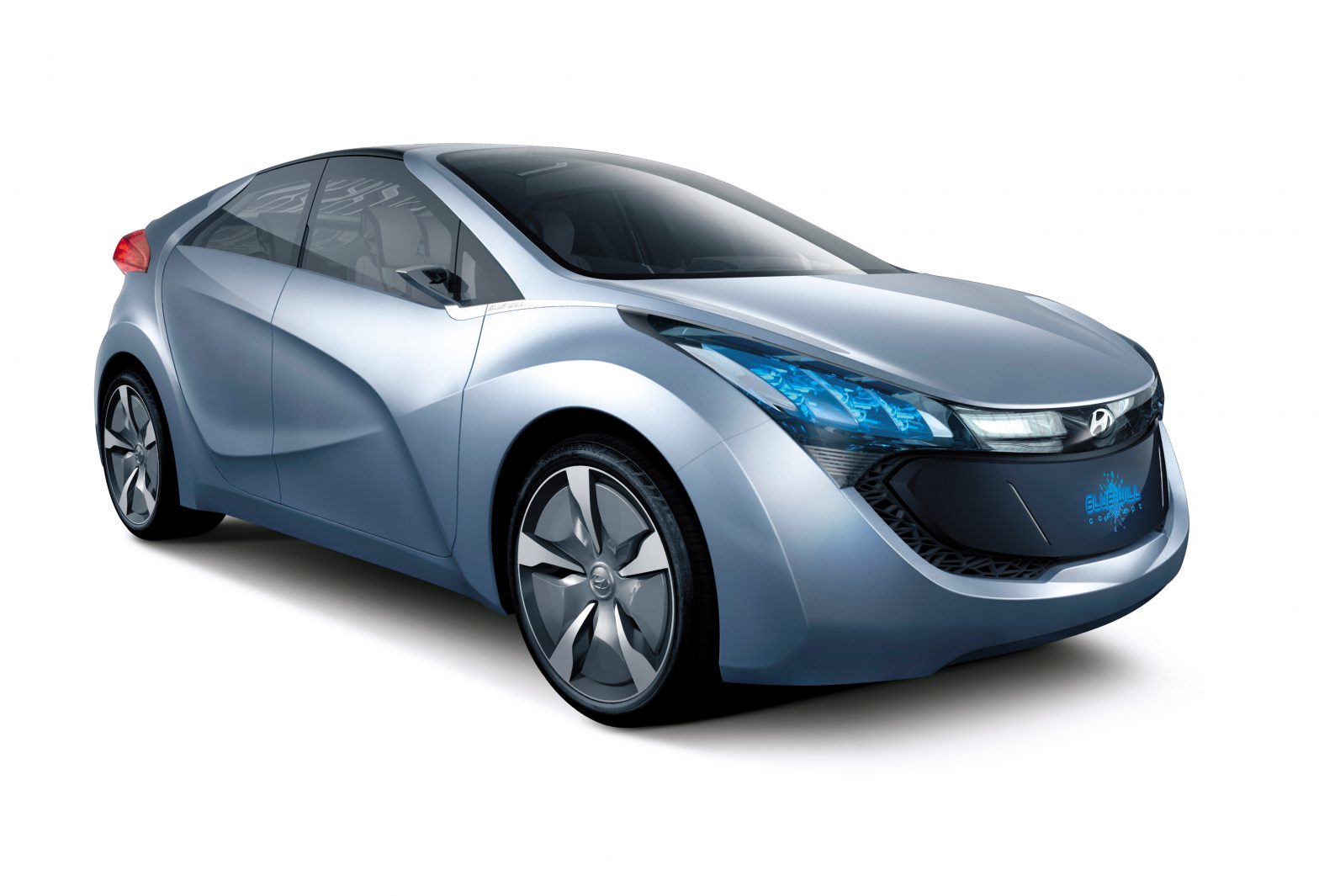 Under the bright lights of the Detroit Auto Show (which is only one week away), Hyundai will be unveiling its first ever plug-in hybrid, the Blue-Will. And while the show car is only a concept at this point, it showcases the future technologies that Hyundai could implement into its full lineup, such as roof-mounted solar cells, lithium polymer batteries, touch-screen controls, and drive-by-wire steering.
Visually, the Blue-Will has a very futuristic, forward-thinking design, integrating a full LED panel into the front fascia. A bike rack is even incorporated into the rear of the car, adding a bit of functionality. Inside, the standard gauge cluster has been replaced by an ultra-thin LED diplay mounted on the steering column, and is adjustable for both rake and reach.
Powering the Blue-Will is an all-aluminum, direct-injected, 1.6-liter four which produces 152 horsepower. This conventional mill is paired with a 100-kilowatt electric motor, in line with Hyundai's parallel hybrid drive architecture which will make its first debut on the Sonata hybrid coming later in 2010. On top of that, energy produced by hot gases in the engine's exhaust are recaptured by a thermal generator which can convert the heat into electrical energy to power auxiliary features.
Overall fuel economy is estimated to be in the range of 50 to 55 miles per gallon. If the Blue-Will does come to market as a hybrid-only model, it will certainly give the Toyota Prius a run for its money. On top of that, Hyundai states that the concept nets 106 mpg in plug-in hybrid mode. The Blue-Will can go up to 40 miles on a single charge.
HYUNDAI BLUE-WILL CONCEPT MAKES NORTH AMERICAN INTERNATIONAL AUTO SHOW DEBUT
Blue-Will Concept is the First Plug-in Hybrid from Hyundai
DETROIT, Jan. 11, 2010 – Following Hyundai's successful ascent to the top of the Environmental Protection Agency's (EPA) Corporate Average Fuel Economy (CAFE) report in December, the Blue-Will Plug-in Hybrid concept makes its U.S. debut at the 2010 North American International Auto Show.
Blue-Will serves as a test bed of new ideas that range from roof-mounted solar cells to drive-by-wire steering, lithium polymer batteries and touch-screen controls. Blue-Will could see the road as a hybrid-only model, similar to the Toyota Prius in the future. Blue-Will promises an electric-only driving distance of up to 40 miles on a single charge and a fuel economy rating of more than 100 miles per gallon. Codenamed HND-4, the Blue-Will is the fourth in a series of highly innovative concept vehicles to come out of the Namyang Design Center.
"Blue-Will's bold character lines and innovative design language give the perfect expression to the advanced eco-friendly technologies found beneath the skin," said Oh Suk-Geun, executive vice president of design, Hyundai Motor Company. "At a time of rising concern about the environment and our energy future, Blue-Will demonstrates to eco-conscious car buyers everywhere that Hyundai has practical hybrid solutions that will appear on the next generation of vehicles."

EXTERIOR
"Eco-sleek" was the core concept driving the design process. Its sweeping character lines and detailed form elevate this next-generation hybrid to an entirely new level. Blue-Will's slippery surface treatment extends to the underbody where a full-length cover has been applied to minimize aerodynamic drag while maximizing fuel economy.
The LED panel on the front expresses a highly distinctive, futuristic image. The rear bike rack, neatly integrated into the trunk, adds an extra measure of convenience. To minimize weight, advanced materials such as carbon-fiber reinforced plastics and nano composites have been applied to the side sills, moldings and fenders.
Recycled PET material was used for the headlamp bezel, and PLA and PA11 bioplastics have also been used on interior and exterior parts.
INTERIOR
Thanks to the rapid advances in information technologies, designers had a completely free hand to redefine the interior of a compact car achieving a "digital flow" throughout the cabin. The conventional gauge cluster has been replaced by an ultra-thin Transparent Organic Light Emitting Diode (LED) display mounted on the steering column that is adjustable for rake and distance. Thin-film TOLED technology allows information to be displayed in high resolution color.
HND-4 designers designed the center stack with a simple and clean look thanks to high-tech touch-screen control technology which operates the HVAC, drive (PRNDL) selector and infotainment systems. The focal point of this display is the Eco-Coach. Eco-Coach graphically promotes fuel-saving habits by providing continuous feedback on fuel consumption and driving efficiency. Infotainment capabilities include Bluetooth-enabled speakers.
HYBRID BLUE DRIVE ARCHITECTURE
The Blue-Will concept is powered by an all-aluminum 152-horsepower Gasoline Direct Injected (GDI) 1.6-liter engine mated to a Continuously Variable Transmission (CVT). A 100kw electric motor is at the heart of Hyundai's proprietary parallel hybrid drive architecture. The wheels are turned by power coming directly from the gasoline engine, the electric motor, or both together, as conditions demand. This parallel hybrid drive architecture serves as the foundation for future Hyundai hybrids, starting with the Sonata hybrid coming later this year in the U.S.
For maximum luggage space, the fuel tank is located under the rear seat where it is neatly bundled alongside the Lithium Polymer battery that can be recharged using household current. Hyundai will be the first automaker in the world to apply Lithium Polymer in a mass production vehicle this July when the Elantra LPI Hybrid Electric Vehicle goes on sale in Korea.
A further expression of the Blue-Will's design flexibility is found on its panoramic roof where the glass integrates dye-sensitized solar cells without impeding visibility. The solar cells provide a trickle charge that helps operate a cabin cooling fan, reducing interior temperatures while the car is parked in the sun.
THERMAL GENERATOR: ENERGY-SAVING INNOVATION
Energy from hot exhaust gases is recaptured by a thermal generator which is fitted into the exhaust manifold. The thermal generator then converts the heat into electrical energy to help power auxiliary systems.
Efficiencies are further improved by low-rolling resistance tires and low-drag brakes, where special attention has been paid to the engineering of the brake pads and calipers.
SPECIFICATIONS
Length – 169.3 inches / 4,300 mm
Width – 70.9 inches / 1,800 mm
Height – 57.5 inches / 1,460 mm
Wheelbase – 106.3 inches / 2,700 mm
Tires – 245/40 R20 low-rolling resistance
Engine – 1.6-liter Gamma 152-hp GDI engine / 100kw electric motor
Transmission – CVT / fixed gear
Batteries – Lithium ion polymer
Fuel Economy (Pure HEV Mode) – 50-55 mpg
Fuel Economy (Plug-in HEV Mode) – 106 mpg
Vehicle Range – 652 miles
Steering – Drive-by-wire
Gauge Cluster – Ultra-thin transparent organic LED
Drive Selector & HVAC – Touch-screen control
AUXILIARY POWER GENERATION
1. Exhaust manifold-mounted thermo-electric generator
2. Roof-mounted dye-sensitized solar cells
3. Regenerative braking