Honda's New Turbo V-6 LMP1 Engine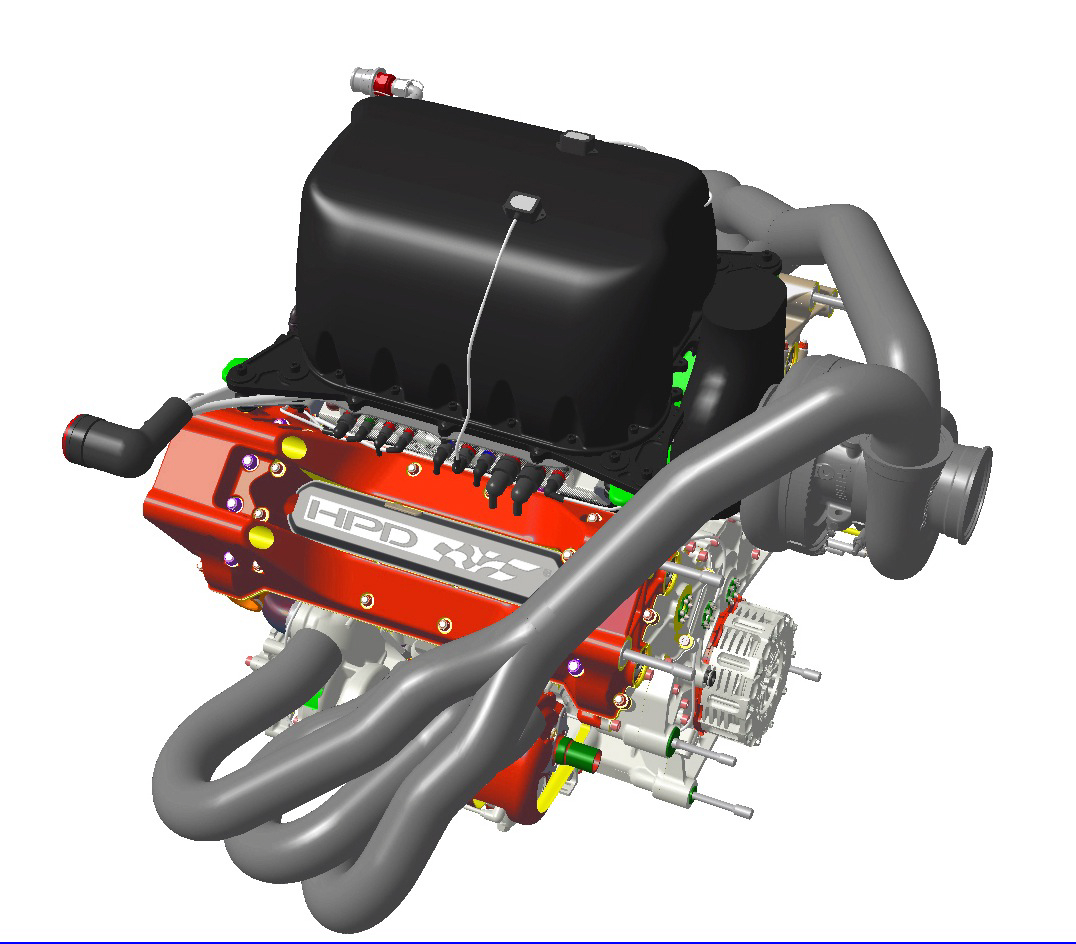 Honda Performance Development has introduced a new LMP1 customer engine. The Honda HR22T is a direct-injection, turbocharged 2.2-liter V-6 based on the Indianapolis 500-winning motor from the IndyCar race series.
The HR22T is designed to be able to use energy recovery systems, of which Honda will offer a range of options in 2015. This provides private teams a technologically updated alternative to the Honda LM-V8 with a blown engine that conforms to the new LMP1 regulations. The new rules restrict fuel-flow rate rather than displacement or air-inlet restrictor limits, and allows teams the option of using energy recovery options up to eight megajoules.
Honda is also updating the ARX chassis used in the American Le Mans Series with a coupe version designed around the new turbo V-6.
Scroll down for more details in the press release, below.
HPD Prepares New 2014 LMP1 Customer Engine
Providing advanced power train solutions in LMP1 and LMP2
08/07/2013 – SANTA CLARITA, Calif.
Honda Performance Development, the racing arm of American Honda Motor Co., Inc., is continuing its commitment to customer LMP1 endurance sports-car racing with the 2014 introduction of an all-new, turbocharged V6 engine, to be followed in 2015 by a range of bespoke energy recovery options, for FIA World Endurance Championship competition.
After several successful seasons supplying the normally aspirated Honda LM-V8 engine to private teams in both the WEC and American Le Mans Series, HPD engineers and designers made the decision to offer their partner teams access to updated technology which the company believes will be necessary to successfully compete on the world stage, under the ACO's new LMP1 energy-based power train regulations.
The new engine, to be designated the Honda HR22T, is based on the same architecture used in the Indianapolis 500-winning, 2.2-liter direct injection turbocharged V6 engine used in IZOD IndyCar Series competition since 2012, designed to be coupled with a new energy recovery system developed in concert with HPD technical partner Magneti Marelli.
"This is an exciting new program for HPD and our customer teams in the World Endurance Championship, as it brings manufacturer-level engine technology to privateer teams," said Steve Eriksen, HPD Vice President and COO. "A small-displacement, direct injection, turbocharged engine with a range of energy recovery options will provide private teams with the technical sophistication they need to compete under the challenging new LMP1 regulations."
A completely revised rules package being introduced for the WEC in 2014 opens the door for HPD to introduce this new powertrain system, specifically tailored to meet the needs of private teams engaged in top-level endurance sports-car racing competition.
Starting in 2014, rather than any set engine displacement or air inlet restrictor limits, the technical regulations for the series will specify a maximum fuel-flow rate into the engine, with or without energy recovery systems.
"The new rules say that if you are a private team, you can either run without energy recovery systems or choose to add the level of energy recovery that best suits your needs. This will allow our customers to choose the ERS solution that meets their needs – everything from no energy recovery up to the full eight Megajoule maximum," Eriksen said. "This new regulation direction that is more conscious of environmental technologies will encourage HPD to participate from the perspectives of both developing future technologies and nurturing engineers."
HPD's highly successful LMP2 program – which has recorded multiple ALMS championships, won its class title in the inaugural 2012 WEC and has twice won at the 24 Hours of Le Mans – will likewise continue in 2013 with the cost-capped ARX-03b chassis and production-based Honda HR28TT twin-turbocharged direct injection V6 engine, the only engine in its class to feature such production-relevant technology. The engine/chassis package remains eligible to compete in both the WEC and the newly combined United Sports Car Racing series in North America.
One of the most successful prototype chassis designs in recent years, the HPD ARX series has posted 58 victories and six endurance-racing championships since its introduction – and debut LMP2 victory – at the 12 Hours of Sebring in 2007. At the 2013 Strakka Racing took its HPD ARX-03c Honda to victory in the LMP1 Privateer category; and HPD-equipped teams have won the LMP2 class at Le Mans twice in the last four years (2010 and 2012).
The most recent wins for the ARX came in last weekend's American Le Mans Series event at Canadian Tire Motorsports Park in Bowmanville, Ontario, where Muscle Milk Pickett Racing won overall in an LMP1 ARX-03c, while Level 5 Motorsports claimed the LMP2 class with an ARX-03b.
In addition to the new engine and its energy recovery system, HPD and chassis technical partner Wirth Research are also developing a coupe version of the successful ARX chassis series that will provide a fully integrated solution for the new V6 Honda powerplant and ERS.
The landmark 50th win for the ARX design came last year at the ALMS season-ending Petit Le Mans at Road Atlanta, scored by Level 5 Motorsports. HPD has also been the most successful competitor in the LMP Green X Challenge, with 21 Green X Challenge awards under the HPD and Acura banners since the program, recognizing "clean, fast and efficient" performance, originated in 2006.
Honda Performance Development (HPD) is the Honda racing company within North America. Located in Santa Clarita, Calif., HPD is the technical operations center for high-performance Honda racing cars and engines. The company is marking its 20th anniversary in 2013.
As an engine supplier to the IZOD IndyCar Series, Honda has scored 202 race victories in both CART and IZOD IndyCar Series competition since 1994.
HPD takes part in both the American Le Mans Series – where the company swept all manufacturer, engine, team and driver awards in the 2012 ALMS LMP1 and LMP2 categories – and the FIA World Endurance Championship, winning the inaugural LMP2 World Championship in 2012 along with the 24 Hours of Le Mans.
HPD offers a variety of race engines for track applications from prototype sports cars to karting; and showcases "fun-to-drive" products for professional, amateur and entry-level racers.