Honda Announces New Turn-Key Type R For TC America's TC Class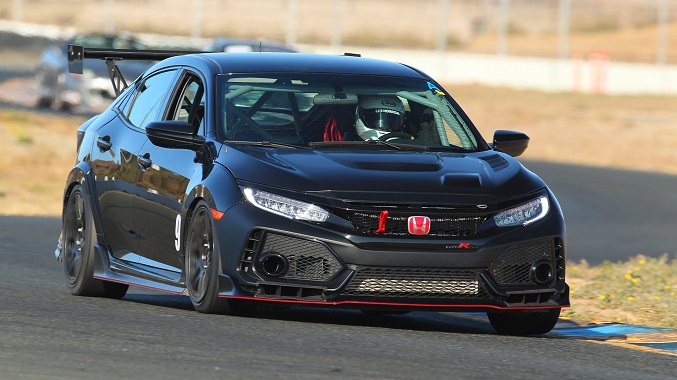 TC America/Honda
Proving their deep commitment to touring car racing, Honda recently announced a new turn-key version of their Civic Type R to compete in the SRO TC America TC class. For the past few years they've had a strong showing in both TCA and TCR, with the former based on the Civic Si coupe and the latter being molded from the 5-door Civic Type R.
Developed and tested by Honda's HPD division in Santa Clarita, California, the Type R TC is finished by Gradient Racing in Austin, TX, and is available to HPD members with racing licenses starting at $89,900; not bad for a body-in-white Civic hatchback that's a racecar from the ground-up. It isn't just a de-tuned/de-modified TCR car, either, and is eligible to compete in various SCCA and NASA classes as well.
Regarding the parts that set it, apart, from its siblings in other classes:
"The Type R TC retains the stock vehicle's exterior sheet metal, but adds racing components developed in-house and in partnership with select suppliers to build a ready-to-race vehicle that saves racers the time and money of doing it themselves. Major modifications to the production Type R include a high-flow front grille, a J's Racing FRP vented hood, CSF-designed radiator and oil cooler; an HPD/Borla downpipe and turbo back exhaust; a 6-speed manual transmission with high-strength 3rd and 4th gears; an HPD/Cusco limited slip differential; HPD Girodisc 2-piece front brake rotors and HPD brake inlet ducts; an HPD/Pyrotect bolt-in FIA 16-gallon fuel cell; a welded multi-point racing cage; and an OMP racing seat with 6-point harness."
L.A. Honda World is the first team to announce its campaigning of the car in TC after a lot of success last year in Michelin Pilot Challenge TCR with Tom O'Gorman, Shelby Blackstock, Mike Lamarra, and Matt Pombo behind the wheel.
A great benefit for utilizing such a versatile FWD chassis is the ladder system it creates to cater to racers' varying aspirations and budgets all over the world. One could theoretically cut their teeth in TCA, gain experience, podiums, and partnerships, and work their way up to TCR where there are tons of opportunities to race world-wide.