Hertz Would Like To Rent You A Lotus Evora, European Car Guy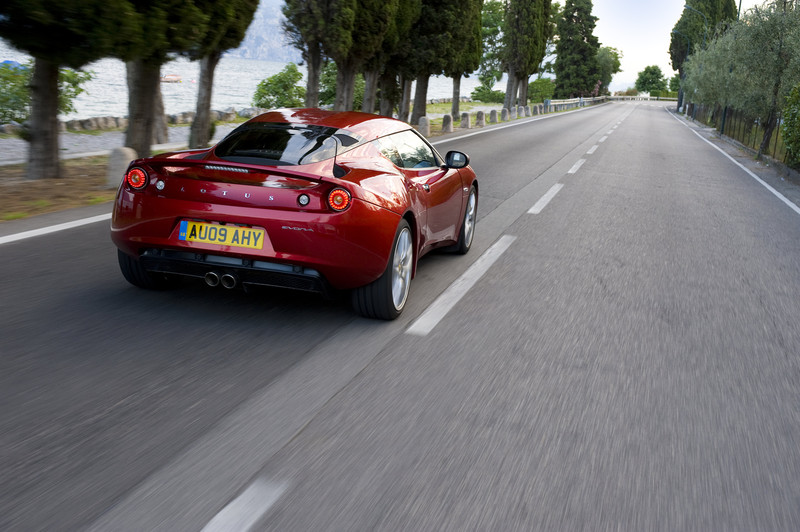 Got a European vacation planned in the near future? Wondering what kind of highway robbery you'll be subjected to, just to gain the use of some one-liter-diesel powered, most-likely French city car? Think that you might want to splash out on something just a bit more, um, enthusiastic instead?
Well, get ye to the nearest Hertz, son. Your very own Lotus Evora could be waiting.
Today car-rental giant Hertz and Lotus announced that the two-plus-two Evora will join the ranks of the Adrenaline Range—a group of pulse-pounding vehicles that make you think twice about the term "rental car."
Asking price for the Evora rental starts at 250 Euro per day (about $360) before the fine print gets added in, meaning your weekend of motoring bliss won't come cheaply. But, with availability in the UK, Italy, France, Spain, and Germany, the Evora will make for a terrific driving indulgence across most of the Old Country. We haven't asked yet, but we're betting that there's a Nürburgring Clause in the rental agreement somewhere.
Find the full Hertz press release below.
Hertz Brings the Lotus Evora for Exclusive Hire in Europe as the First Sports Car in Hertz Europe's New Adrenaline Range
Hertz customers in key European markets will now be able to drive one of the finest sports car brands in the world as Hertz extends partnership with Group Lotus plc
PARK RIDGE, NJ, July 26, 2011 – Hertz (NYSE: HTZ), the world's largest general use car rental brand, has introduced the Lotus Evora for exclusive hire in several European markets, following a successful launch of the coupe in Italy in 2010, and an extended partnership with Group Lotus plc, which began in 2009. The Lotus Evora is the launch car of the new Adrenaline Range in the Hertz Fun Collection of Germany, Spain and the UK, and also joins as a special car in the Fun Collection in France.
Similar to the Hertz Adrenaline Collection in the U.S., the Adrenaline Range in Europe will showcase the most exciting new vehicles in Hertz's fleet with high quality, enhanced performance, and beautifully designed vehicles, with the Lotus Evora as the hero car.
The Lotus Evora provides car fans the opportunity to drive a hand-crafted, award-winning sports vehicle with stunning visual impact, exhilarating all-round dynamic performance, innovative chassis technology and high levels of luxury. With its 2 + 2 seating, the Lotus Evora is ideal for customers wishing to add sporty glamour to their holidays, country rides and city breaks.
Michel Taride, President of Hertz International, said: "We are very proud to offer the Lotus Evora for exclusive hire in Europe following its rental success in Italy, thanks to our extended partnership with Group Lotus plc.
The hugely popular Lotus Evora is the perfect ambassador for our new Adrenaline Range, combining style, elegance, agility and sportiness to make driving journeys a dream come true."
"We are pleased to extend our agreement with Hertz; the exclusive collaboration provides the perfect opportunity to make our stunning world class sports car available to the luxury rental market. The lightweight, mid-engined rear wheel drive configuration performs like no other and the 2 + 2 seated Lotus Evora is the perfect choice for those who desire exclusive and high performance motoring. Driving an Evora during a weekend will be an unforgettable experience for any sports car enthusiast," said Group Lotus plc Director of Sales Guillaume Chabin.
The Lotus Evora will be available to hire from Hertz France's Biarritz, Bordeaux, Marseilles, Nice and Paris Charles De Gaulle airports and Paris Porte Maillot, Germany's Frankfurt Rhein-Main and Munich airports, Italy's Rome Fiumicino and Milan Linate airports, Spain's Madrid and Barcelona airports and Madrid, Barcelona and Marbella downtown locations, and the UK's London Heathrow airport.
Rates start from 250 euros per day, and confirmed reservations are guaranteed.
European customers can book online from their Hertz country website via www.hertz.com. Customers from outside of Europe can make their reservations by contacting the locations directly as follows:
France
Biarritz Airport
Bordeaux Airport
Marseille Airport
Nice Airport
Paris Downtown (Porte Maillot)
Paris Charles De Gaulle Airport
Germany
Frankfurt Rhein-Main Airport
Munich Airport
Italy
Rome Fiumicino Airport
Milan Linate Airport
Spain
Barcelona Airport
Barcelona Downtown (El Prat de Llobregat)
Madrid Airport
Madrid Downtown (Hotel Villamagna)
Madrid Downtown (Las Mercedes Business Park)
Marbella Downtown (Avenida Arias Maldonado)
UK
London Heathrow Airport
+33 8 25 38 78 78
+33 8 25 00 24 00
+33 8 25 09 13 13
+33 8 25 34 23 43
+33 1 45 74 97 39
+33 8 25 88 97 55
+49 69 69 59 32 44
+49 08 99 78 86 19
+39 06 65 01 15 53
+39 02 70 20 02 56
+34 93 2 98 36 37
+34 93 3 78 87 64
+34 91 3 33 83 31
+34 91 5 76 90 48
+34 91 7 47 28 20
+34 95 2 77 31 91
+44 84 33 09 30 09
The minimum driving age for the Lotus Evora is 30 years old, and customers need to show two credit cards