Hennessey's Twin-Turbo Ferrari 458 Makes 738 Horsepower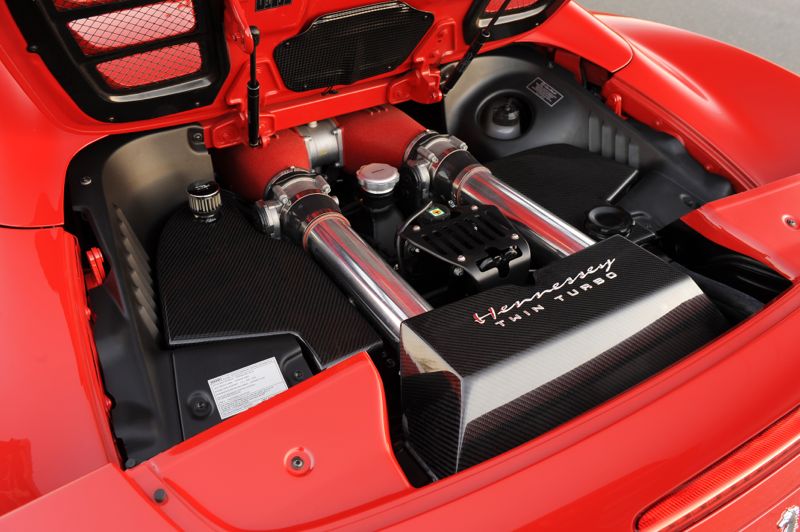 Hennessey is debuting its first modified Ferrari at Concorso Italiano, and it's 738-horsepower, biturbocharged Ferrari 458 Spider.
Adding twin turbos (and seven psi of boost) to the 458's 4.5-liter V-8 allows it to produce 738 horsepower at 8400 rpm, and 532 pound-feet of torque at 5600 rpm. It can do 0-60 in 2.8 seconds, and hits a quarter mile in 10.5 seconds at 137 miles per hour.
The kit includes the twin low-inertia ball bearing turbochargers, dual wastegates, dual air induction filters, stainless steel downpipes and exhaust, a fuel system upgrade, custom oil and transmission lines, and an air-to-water intercooler. The ECU gets some new programming, too, to optimize fuel injection and spark. The $59,995 price tag for the kit includes installation, badging, serialized plaques, and a 1-year/12,000-mile warranty.
Other optional upgrades include Hennessey's CarbonAero carbon fiber exterior upgrades, Hennessey monoblock wheels, Michelin Pilot Super Sport tires, KW adjustable suspension, custom interior leather, and carbon fiber interior upgrades.
Listen to the sound of the twin-turbo Ferrari 458 in the video below, or have a closer look in the photo gallery. Scroll down for more details and specs in the press release, below.
Hennessey Set to Unleash 738 HP Twin Turbo Ferrari 458 at Monterey
With forced induction, Maranello's prancing horse becomes a crazed stallion
August 13, 2013
Monterey, California–Hennessey Performance (HPE) will unveil the company's first modified Ferrari on Friday, August 16th at Concorso Italiano, a display of Italian machinery that's part of the annual celebration of classic and historic cars informally known as the Monterey Weekend. The car will be shown at Concorso's home, the Laguna Seca Golf Ranch off Highway 68, in conjunction with Meguiar's, a maker of premium car care products. On Saturday, August 17th, the car will be on display in Laguna Seca's paddock as part of the MEGUIAR's display at the Rolex Monterey Motorsports Reunion.
"The HPE700 Twin Turbo 458 delivers a sound and driving experience that few road cars can offer," said company founder John Hennessey. "Aventador owners beware–this car will take you by surprise!"
The Hennessey HPE700 Twin Turbo upgrade for the Ferrari 458 delivers 738 horsepower at 8,400 rpm and 532 lb-ft of torque at 5,600 rpm. The additional thrust, approximately 170 more crankshaft horsepower than stock, pushes this already magnificent steed from Maranello to an even higher performance plateau, with a compelling, raw soundtrack to match its explosive quarter-mile time: 10.5 seconds at 137 mph. It's a rarefied group of supercars that can sprint to 60 mph in under 3.0 seconds, and the HPE700 Twin Turbo Ferrari easily qualifies at 2.8.
Most of the upgrade's componentry is concealed beneath custom-made carbon-fiber covers, but if you stripped them away you'd see the low-inertia ball-bearing turbochargers tucked up neatly toward the tail end of the dual-clutch sequential 7-speed gearbox, the TIG-welded, mandrel-bent T304 stainless tubing, the twin wastegates and blow-off valves and an especially trick aluminum plenum that contains the air-to-water charge-cooler element.
At the other end of the self-contained charge-cooling loop is a rear-mounted heat exchanger, paired with dual electric fans that work to reduce inlet temperatures that come with a maximum boost pressure of 7 psi, and holding 6 psi through the 4.5-liter V-8's 9000-rpm redline. A Hennessey reflash of the engine-control computer works in concert with the Ferrari's direct injection to optimize fuel delivery and spark. Overall, it's an elegantly engineered system, finished to Ferrari standards and expertly packaged in the 458's tight hindquarters.
Further personalization will be possible with optional upgrades including Hennessey's CarbonAero exterior pieces (currently under development) consisting of a carbon-fiber front splitter and rear lip spoiler designed to accentuate the 458's seductive lines. Hennessey 20-in. monoblock forged wheels are available, as is a KW suspension system with 2-way adjustable shocks and threaded spring perches for easy corner weighting and ride-height adjustment. Interior upgrades can be as extensive as the buyer desires, with custom leather/Alcantara color combinations, special stitch patterns and carbon-fiber trim for the dash and instrument cluster.
The Ferrari 458's HPE700 Twin Turbo upgrade sells for $59,995 installed and includes a 1-year/12,000-mile limited warranty and full dyno tuning and road testing. Serial-numbered aluminum plaques for both the engine compartment and dash are part of the upgrade, as is Hennessey exterior badging.
"This is car will impress any Ferrari owner," said Don Goldman, HPE CEO and longtime Ferrari owner. "Most purists would shudder at the thought of modifying their Ferrari. However, the HPE700 Twin Turbo 458 would easily change their mind."
Ferrari 458 with Hennessey HPE700 Twin Turbo upgrade
Explosive power; not for the timid!
If engines were cartoon characters, the Ferrari 458 Spider's powerplant, as modified by Hennessey Performance, would be the Tasmanian Devil. Lay into the throttle, the twin low-inertia ball-bearing turbos spool and the 458 Spider—a moment ago a static, Pininfarina-penned sculpture—whirls to life, spitting, hissing and fur flying in a mad, gyroscopic ball of energy. Even gentle throttle after start-up awakens the turbos, whose ascending siren-like moan feeds any paranoia about a car so capable of effortless speed that you feel a little pre-arrested just buckling in. Before the Hennessey update, the Ferrari's 4.5-liter V-8 was angry; now it's just flat pissed off and looking to vent its full 708-horsepower fury on some innocent stretch of road.
The urgency and immediacy of both power and sound are startling; you have to re-acclimate to the fast-forward pace of the road rushing up toward you as the rear tread blocks claw desperately for a pavement foothold. A Grand Touring experience this is not. There is a touch of lag when you're down low, way out of the powerband, but when boost hits, it's all you can do to slap the right shift paddle like you're hammer-fanning a revolver. Did I click through six speeds or only five? Now to tell you the truth I forgot myself in all this excitement.
Before, engine and chassis were in near perfect synchronicity; now, the power-to-grip equation favors power, so treat the throttle like the precision rheostat it is to maintain rear grip. Wrest those 295-width rear Pirellis loose and most often it's a quick yaw moment and then traction is regained, the Ferrari's close-coupled moment of inertia fending off the long, lurid slide—assuming you've eased out of the throttle. It takes some work to put the immense power down cleanly, but gawd, it's rewarding when everything clicks and the car tears forward, uncaged. With the a twist of the steering wheel's manettino switch, you can soften or sharpen the powertrain's demeanor, but for true debauchery you'll at least want to click it from Sport to Race.
The sounds alone are nearly worth the price of admission. Hammer it through an underpass (for full echo effect) and you'd swear you're at Monaco with Formula 1 cars erupting from the tunnel, then hard on the brakes into the Nouvelle Chicane. Each tuned exhaust pulse is a hammer-blow; back off, and the there's that ragged, guttural melody on overrun. The sequential LED shift lights built into the top of the wheel—itself an exotic near-hexagonal piece trimmed with carbon fiber and perforated leather, incorporating turn signals, engine start button and manettino—flit from left to right, struggling to keep pace with engine revs. It's a wild ride, a prancing horse turned maniacal stallion with a burr beneath its saddle.
Doug Kott, Communications Manager for Hennessey Performance, brings 25 years of automotive journalism experience and vehicle evaluation skills to his current position.
HPE700 Twin Turbo Performance Upgrade
Power:

• 738 Horsepower @ 8,400 rpm
• 532 lb-ft Torque @ 5,600 rpm
Performance:
• 0-60 mph: 2.8 sec.
• 1/4 mile: 10.5 sec. @ 137 mph
HPE700 Twin Turbo Ferrari 458 Upgrade Includes:
• Twin Ball Bearing Turbochargers
• Fuel System Upgrade
• Stainless Steel Inlet Piping
• Dual Wastegates
• Air-to-water Intercooler System
• Dual Air Induction Filters
• Stainless Steel Turbo Downpipes
• Stainless Steel Exhaust System
• Custom Oil & Transmission Lines
• Professional Installation
• HPE Engine Management Calibration
• Dyno Tuning & Road Testing
• Serial-Numbered Dash & Engine Plaques
• Hennessey Exterior Badging
• 1 Year / 12,000 Mile Limited Warranty
Additional Upgrades Available:
• CarbonAero® Carbon Fiber Exterior Body Upgrades
• Hennessey Monoblock Wheel Upgrade
• Michelin Pilot Super Sport Tires
• KW Adjustable Suspension Upgrade
• Custom Interior Leather Upgrades
• Carbon Fiber Interior Upgrades