GT4 SprintX Coming To Long Beach Grand Prix In 2020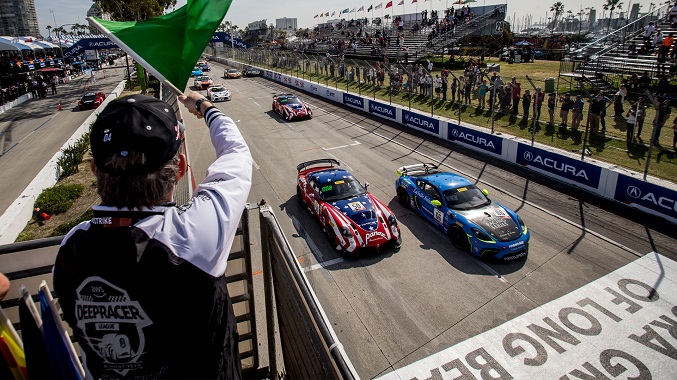 The 2020 Pirelli GT4 America SprintX Series will run at next year's Acura Grand Prix of Long Beach for the first time, according to SRO Motorsports Group and Grand Prix Association of Long Beach.
Taking place on Sunday, April 19, what makes this type of race particularly well-suited for Long Beach is the pit stop with driver change. The LBGP in a very spectator-friendly event; in addition to being able to see almost every corner of the circuit pretty easily, fans can get quite up-close to the action. The pit row isn't as visible as other sections, but watching the driver change happen will still be quite viable.
"We are delighted to bring the GT4 America SprintX to Long Beach," said Jim Michaelian, president and CEO of the Grand Prix Association of Long Beach. "The driver-change format should make for some excitement for our fans, and the longer race will give everyone more on-track action as part of an enhanced Sunday schedule that we are putting together for the 2020 Acura Grand Prix."
"The Acura Grand Prix of Long Beach is one of the preeminent events on the motorsports calendar every year and we are excited to be bringing our Pirelli GT4 America SprintX series to the 2020 schedule," said Greg Gill, President and CEO of SRO Motorsports America.
"To be able to say that you have won at Long Beach is an honor and I know our teams and drivers will be pushing hard to stand on the top step that day."
Indeed it is; between the rough pavement, changing camber, tight corners, and tricky apexes, the complexity of this street circuit makes for great memories both in the cockpit and in the stands.
Spencer Pumpelly of Northern California-based TRG won in GT4 America this year in his Porsche Cayman.
The Pirelli GT4 America SprintX Series features top GT4-spec sports car teams competing behind the wheel of legendary brands Audi, BMW, Ford, McLaren, Mercedes, Panoz and Porsche.