Going For Glory One Hour At A Time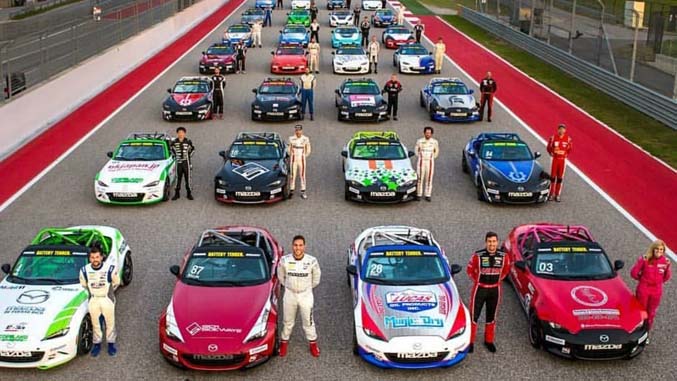 It's no secret that Mazda Motorsports plays an integral role in the creation of a racing culture that provides opportunities, through a ladder system, for drivers to enter the field in amateur events and chart a course towards a successful professional racing career. This Friday, December 7, four drivers will have a chance to wrangle in one of those opportunities.
Check out the full press release from Mazda Motorsports below:
Finalists Announced For Mazda Road To 24 Shootout
Four young drivers to compete this Friday for $100,000 Mazda scholarship
IRVINE, Calif. (December 3, 2018) – This Friday, four young race car drivers will compete for the chance to win a $100,000 scholarship to race in the 2019 Battery Tender Global Mazda MX-5 Cup presented by BFGoodrich Tires at the Mazda Road to 24 Shootout.
At the Shootout, the four drivers will use Global MX-5 Cup cars and will be evaluated by an independent panel of judges. Success in a club racing championship at the wheel of a Mazda is the primary consideration for the Mazda Road to 24 Shootout, with twelve drivers invited to submit a video and written proposal to Mazda Motorsports. Based on those factors, these four drivers have been invited to participate in the Mazda Road to 24 Shootout this Friday, December 7 at Wild Horse Motorsports Park in Chandler, Arizona:
Michael Carter – Carter will arrive at the Mazda Road to 24 Shootout after a strong 2018 season in which he won seven races and podiumed in 18 of 20 races. On the strength of those results, Carter finished second in the SCCA Hoosier Super Tour Points Championship, but clinched the Spec Miata Challenge, earning a two-race sponsorship in the 2019 Battery Tender Global MX-5 Cup. He also added a victory in Spec Miata at the American Road Race of Champions and finished tenth in Spec Miata at the SCCA Runoffs. The eighteen-year-old is a student at the Georgia Institute of Technology majoring in Business Administration.
Matthew Dirks – The youngest of the finalists, sixteen-year-old Matthew Dirks captured the Spec Miata class championship in NASA's Rocky Mountain Region and was also named the Teen Mazda Challenge champion. He captured pole position at the Toyo Tires Classic – the Spec Miata race at the NASA Nationals at Circuit of The Americas – in a field of 77 cars.
Hannah Grisham – Grisham finished in third place in the Teen Mazda Challenge at the Toyo Tires Classic NASA National Championships at Circuit of The Americas in Austin, Texas and finished second in the Spec Miata championship in the NASA So Cal region. Grisham, eighteen years old, attends San Diego State University and is majoring in Business Administration.
Loni Unser – A relative newcomer to wheel-to-wheel racing, Unser has put together competitive results in two years of racing in both the Spec Miata class of the SCCA Rocky Mountain Region and World Racing League. The twenty-one-year-old is a student at the University of Boulder, studying Environmental Design, but is also part of the CU Boulder Racing team as a driver as well as social media director. She is the latest of racers from one of America's most famous racing families, with nine victories at the Indianapolis 500 in the Unser family.