Geneva Preview: 2013 Mitsubishi Outlander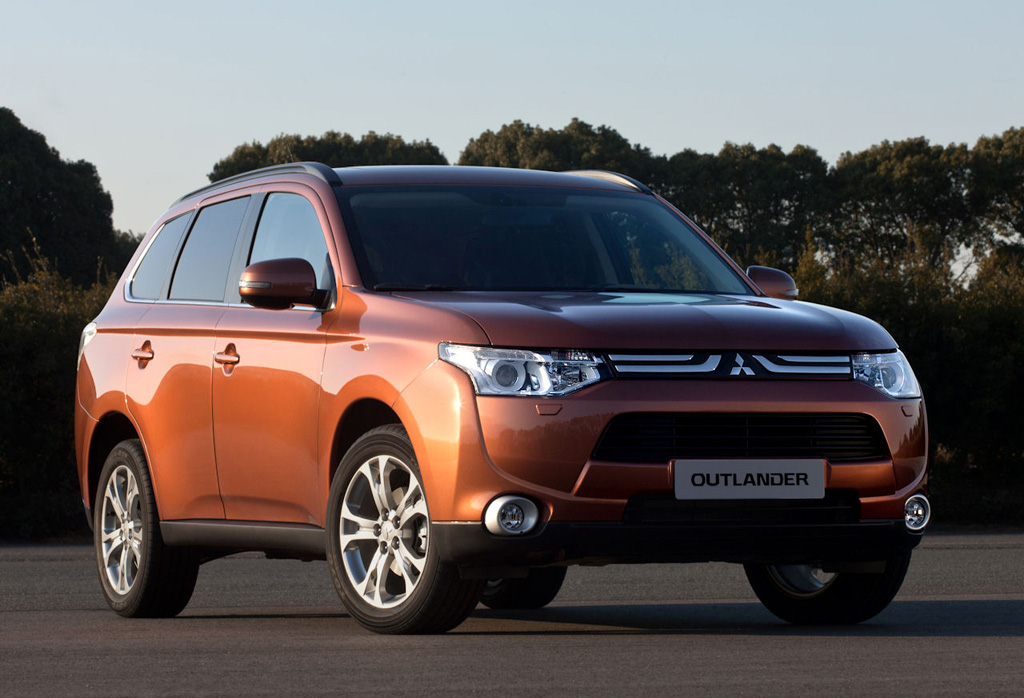 Mitsubishi has given us a glimpse off of its new-for-2013
Outlander
, ahead of its debut at next month's Geneva Auto Show. The look of the new car is a significant departure from the Evo-schnozzed crossover on sale today. Unfortunately, we'll need to wait until March 6 to get a more detailed look at the new Outlander. Here's what we know though.
The Outlander goes on sale in Russia first, before making its European and North American debuts. When it does, it'll be with a 2.0-liter four-cylinder as the base engine. There will also be a 2.2-liter turbodiesel (although North American consumers won't have to worry about that).
It'll feature frontal collision warning, adaptive cruise control, and blind spot monitoring (all of which are firsts for Mitsubishi). As with the current car, a third row will also be available.
The Outlander makes its official debut in a few weeks, at which time we'll have a lot more information for you.
Please scroll down for the official press release from Mitsubishi.
Mitsubishi Motors to Debut the New Outlander at the 2012 Geneva International Motor Show
Cypress, California, February 9, 2012 – Mitsubishi Motors Corporation (MMC) will present the global debut of the all-new Mitsubishi Outlander at the 82nd Geneva International Motor Show which runs from March 6 through March 18. The new-generation Outlander was built to be eco-friendly and it accomplishes this as it delivers fuel efficiency and CO2 emission levels that are among the best in its class. Also on display at the Mitsubishi Motors stand among a lineup of 13 models (8 on the first Press Day) will be the MiEV House, a model for a near-future "Electric Vehicle (EV) lifestyle" that maximizes household energy usage with the help of an EV, as well as the fast-selling Outlander Sport (ASX or RVR in some markets) and other models currently on sale in Europe.
In addition to its fuel efficiency and CO2 emission levels that are among the best in its class, other features distinguishing the all-new Outlander include enhanced levels of safety from the adoption of advanced safety technologies and a user-friendly interior that reflects pure quality.
The all-new Outlander will be launched first in Russia this summer, after which it will make its debut in European, Japanese, Oceania, Chinese and North American markets.
During fiscal 2012 Mitsubishi Motors will also be adding to its lineup an EV-based Outlander model which will use a plug-in system derived from MMC's already existing EV technology.
New Outlander Features
1. Outstanding environmental performance with fuel consumption and CO2 emission levels that are among the best in its class
The European-market specification Outlander is offered with a choice of gasoline and diesel engines. Gasoline models are powered by the 4J11 2.0-liter inline 4-cylinder SOHC MIVEC*1 engine which employees an all-new valvetrain. Diesel models use the 4N14 2.2-liter inline 4-cylinder turbocharged MIVEC engine with a very low compression ratio of 14.9:1 that meets stringent European diesel emission regulations.
The diesel Outlander (2WD drivetrain, 4N14 engine with 6-speed manual transmission) will provide a superior level of environmental performance with target CO2 emissions of under 130 g/km*2 thanks to MMC's Auto Stop&Go idle-stop system and its lighter body that stems from optimization of the body structure, the use of high-tensile strength paneling and from improved aerodynamics. Furthermore, the new Outlander will be equipped with an "eco-friendly driving system" that notifies the driver when he or she is driving at maximum efficiency. With this system, the driver can choose to drive at maximum efficiency to enhance actual fuel consumption of the vehicle.
*1: Mitsubishi Innovative Valve timing Electronic Control system (named for engines fitted with Mitsubishi Motors' variable valve timing system).
*2: Target for European model that is subject to final homologation. Models for other countries may differ according to local homologation.
2. Enhanced levels of safety borne from advanced safety technologies
The new Outlander offers outstanding safety through the use of the following advanced safety technologies:
· FCM (Forward Collision Mitigation System): Detects obstacles on the road ahead of the car and automatically applies the brakes to prevent a collision.
· ACC (Adaptive Cruise Control System): Operates to maintain a safe distance between the car in front even at very low speeds experienced in heavy traffic congestion.
· LDW (Lane Departure Warning System): Functions to warn the driver that their vehicle is about to depart from its lane.
3. High-quality, user-friendly interior
· The new Outlander's interior expresses quality with the use of a glossy black instrument panel, the switches decorated with silver accents and the use of soft-touch dashboard trim material. The new Outlander also features easily-operable steering wheel controls together with high-resolution and easy-to-read instrument displays.
· The comfortable second- and third-row seats can be easily configured to provide a number of seating patterns and also a long luggage space with a flat floor.
· A power-operated tailgate facilitates loading and unloading.
About Mitsubishi Motors Corporation
Mitsubishi Motors North America, Inc., (MMNA) is responsible for all manufacturing, finance, sales, marketing, research and development operations for Mitsubishi Motors in the United States. MMNA sells coupes, convertibles, sedans and sport utility vehicles through a network of approximately 400 dealers. In November of 2011, MMNA launched the battery-powered electric vehicle Mitsubishi i as part of a corporate mission to offer consumers more environmentally responsible modes of transportation. This battery-powered electric vehicle technology addresses the need for vehicles that produce zero tailpipe emissions and support a growing agenda for sustainability.