Geneva 2012: Nissan Invitation Concept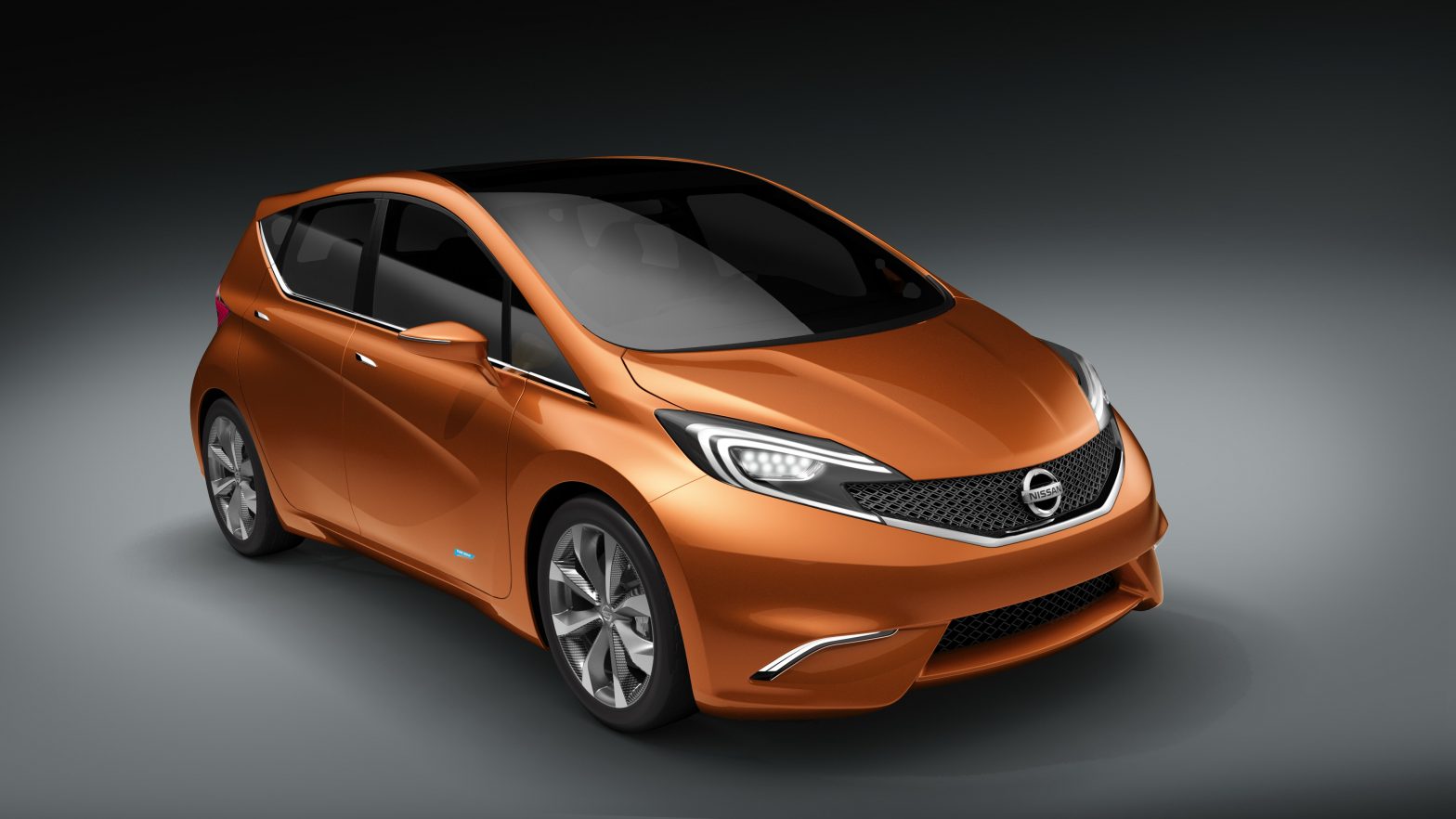 Joining the
Hi-Cross
and
Infiniti Emerg-E
at the Nissan exhibit is this diminutive hatchback. Called the Invitation, this concept car previews a future B-segment entry from Nissan that will slot between the tiny Micra city car and the relatively portly
Juke
crossover.
Nissan doesn't elaborate on what sort of drivetrain the Invitation might have. Instead, we're told that the concept packs advanced engine technology, and that in conjunction with a lightweight chassis and aerodynamic body, it should achieve class-leading economy numbers. It's also expected to net under 100 grams of carbon dioxide per kilometer.
The styling is a pleasant departure from the more radically styled Micra and Juke. Whereas those cars took to almost organic styling with their headlights, sheetmetal, and grilles, the Invitation looks much more industrial. It's body is tighter, lacking the curves and plumpness of the Micra, while its headlights have more in common with Nissan's larger American offerings, rather than the frog face look of the Juke. Overall, it's a more aggressive and assertive design than the cars it's meant to slot between.
The press release doesn't mention what vehicle the Invitation previews (were it our money, we'd say Versa Hatchback), only saying that it'll be launched in 2013. As of right now, the only market mentioned is Europe.
Please scroll down for the official press release from Nissan.
NISSAN'S INVITATION TO ALL
Dynamic new concept bursting with technical innovation introduces the company's next generation mainstream B-segment contender
INVITATION concept underlines Nissan's commitment to compact car segment
An inspiration for Nissan's forthcoming new offering in the compact hatchback segment in Europe, to join Micra and Juke
Concept combines dynamic design, packaging and well balanced performance to appeal to sophisticated European consumers
Technology includes advanced safety features as well as strong fuel economy and low emissions
Nissan has revealed the first details of a head-turning hatchback concept which previews the company's next generation compact car, a mainstream B-segment contender to be sold alongside the Micra city car and innovative JUKE B-segment crossover in Europe.
Called INVITATION, the dynamic concept – which will be unveiled at this year's Geneva International Motor Show (8-18 March) – shows some of the innovation and excitement promised for the new model, which is due to be launched in Europe from 2013.
Design dynamism
INVITATION is an energetic design, bringing fresh style, innovation and excitement to the mainstream market. The clean fluidity of the silhouette hints at its dynamic potential and showcases class-leading aerodynamics for enhanced efficiency.
The side of the car is dominated by a distinctive character line, known internally as the 'Squash Line', which adds a powerful dynamism to its profile with distinctive sculpted front and rear wings giving INVITATION a confident stance.
Inside, a refreshingly open cabin combines practicality and modernity with impressive levels of quality and purposeful technology features.
François Bancon, Deputy Division General Manager of Product Strategy and Product Planning Division, said: "The name we have given to this concept is self-explanatory… the key benefit of this compact car is to be inviting.
"It is inviting thanks to its sensuous exterior design and generous and comfortable interior space, cleverly packaged within compact overall dimensions. It is Nissan's invitation to buyers in the compact hatchback segment."
Class-leading performance and efficiency
Combining advanced engine technology, Nissan's acclaimed lightweight platform and an aerodynamically efficient body mean INVITATION achieves class-leading levels of fuel efficiency and emissions. Nissan is aiming for an ultra-low CO2 emission target of under 100g/km for the best model and with all versions eligible to wear Nissan's Pure Drive badge.
At the same time, responsive agile handling will ensure that when it comes to driving dynamics, INVITATION will compete with the top performers in the segment.
Advanced safety technology
But INVITATION is more than just a great looking car that's fun and frugal to drive. The concept packs some of the most advanced technology ever seen in the B-segment, all of which is designed to ensure the car is as safe as possible.
Among the features is Nissan's advanced Around View Monitor (AVM) safety technology – seen for the first time on a B segment car – which makes reversing and parallel parking as stress-free as possible. In addition, INVITATION also incorporates Nissan Safety Shield Technologies, which interact with the driving environment keeping the driver aware of what is happening around the car.
Conclusion
INVITATION's combination of energetic exterior style, thoughtful interior, advanced safety features and class-leading emissions, fuel economy and dynamic performance demonstrates Nissan's commitment to offering innovation and excitement to all car buyers, no matter what type of car they are looking to buy.
About Nissan in Europe
Nissan has one of the most comprehensive European presences of any overseas manufacturer, employing more than 12,500 staff across locally-based design, research & development, manufacturing, logistics and sales & marketing operations. Last year Nissan plants in the UK, Spain and Russia produced a range of vehicles including mini-MPVs, award-winning crossovers, SUVs and commercial vehicles. Nissan now offers 24 diverse and innovative products for sale in Europe today, and is positioned to become the number one Japanese brand in Europe.