Geneva 2012: Infiniti Emerg-E Concept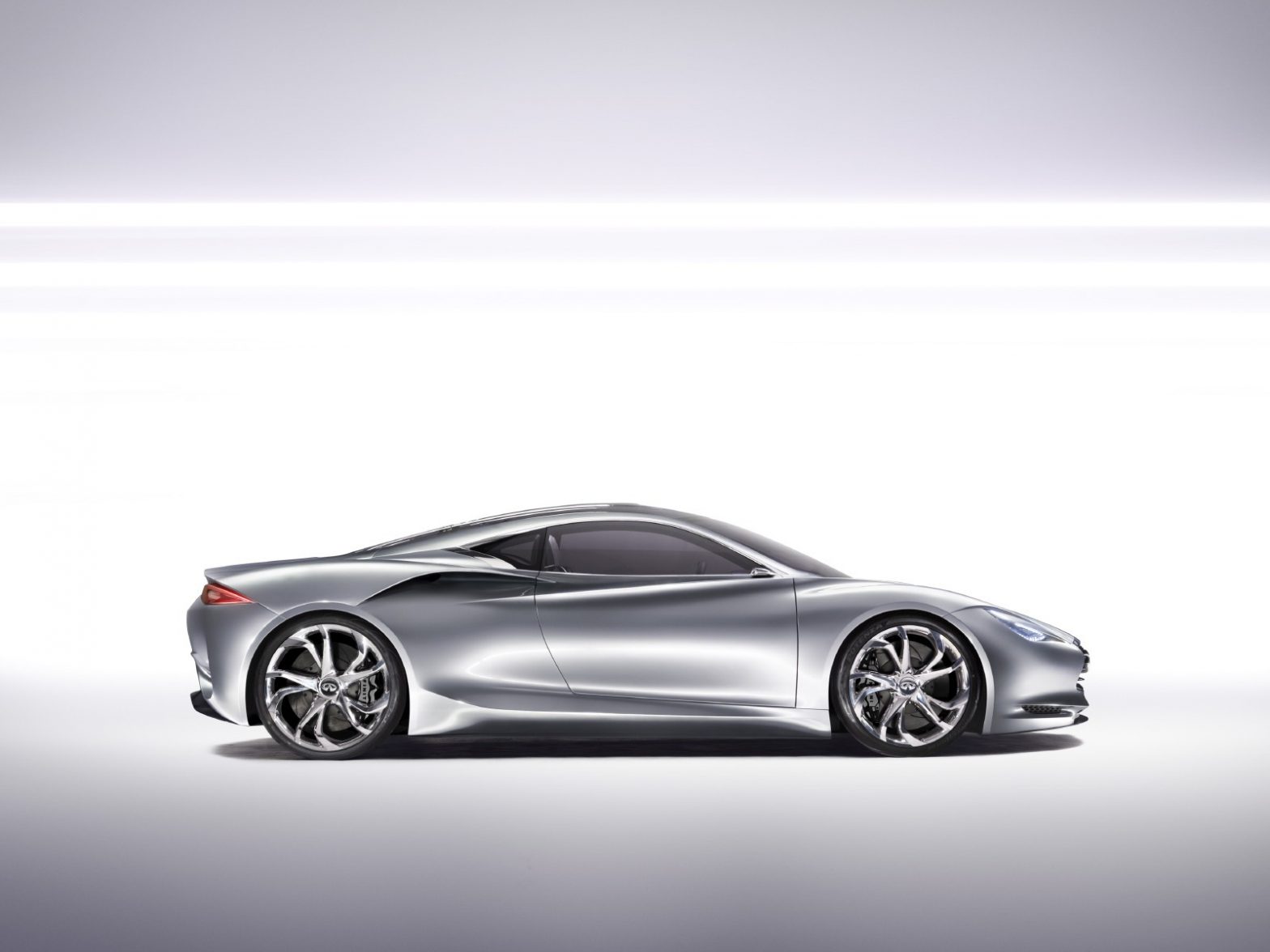 Infiniti's newest concept car, the slinky Emerg-E Concept seen here, plays up several recently prominent themes from within the larger Nissan world. First, the idea of an Infiniti "halo" car to bring further credibility (in this case, performance cred) to the luxury brand. Second, the importance of EV and range-extended-EV tech in Infiniti's future portfolio.
If this is the future of the brand, we say, "Bring it on."
[Click here to read our review of the 2011 Nissan Leaf.]
Despite is overly concept-car-ish name, the Emerg-E is a pretty impressive proposition. Twin electric motors reside amidships, producing a heathy 402 horsepower between them. The power is good for an emissions-free 0-60 sprint of under 4 seconds, and a run up to 130 miles per hour in about 30 seconds.
The Emerg-E will run on electric power only for up to 30 miles (though probably not that far if you keep doing impressive 0-60 runs), and also makes use of a gasoline engine to extend overall driving range, ala the Chevy Volt and Fisker Karma.
Please scroll down to read the full Infiniti press release.
INFINITI EMERG-E: AN ELECTRIFYING NEW TAKE ON THE SPORTS CAR
The INFINITI EMERG-E Concept, which makes its debut at the Geneva Motor Show 2012, is a highly advanced mid-ship sports car that provides an exciting glimpse into Infiniti's future.
INFINITI EMERG-E is physical proof of Infiniti's intension to produce a bold halo model befitting the brand's promise of Inspired Performance, and also signals an array of exciting new technologies that the brand will adopt in its quest to build dramatic and sustainable high performance cars. INFINITI EMERG-E also provides a fresh expression of Infiniti's design language applied to a high performance, mid-ship sports car for the first time.
INFINITI EMERG-E is also significant for being the first Infiniti that has been developed in Europe. More than that, its advanced technology deliberately draws on the knowledge of suppliers beyond Infiniti's usual base in the quest to uncover the most innovative hardware and the deepest knowledge base. That quest has seen Infiniti become a part of the UK government's Technology Strategy Board initiative, whose aim is to speed the arrival of low carbon vehicles to our roads.
INFINITI EMERG-E is the ultimate expression of Infiniti's inspired performance. This 402bhp (300kW) mid-engined, twin motor, electric motors powered sports car is capable of accelerating from 0-60mph in just four seconds – and from zero to 130mph in a single, seamless 30 second burst. Yet it also operates as exciting, zero emission urban transport over a 30-mile range. And when the range-extender petrol engine functions in concert with its twin electric motors, it produces a CO2 output of only 55g/km (NEDC cycle).
Within its compact 4.464m length the two-seater INFINITI EMERG-E contains a pair of electric motors, a lithium-ion battery pack, four inverters, a three-cylinder range-extending internal combustion engine and a petrol tank. All this is efficiently wrapped within highly aerodynamic, light bodywork characterised by a design fluency that could only come from Infiniti.