Geneva 2012: Ford Fiesta ST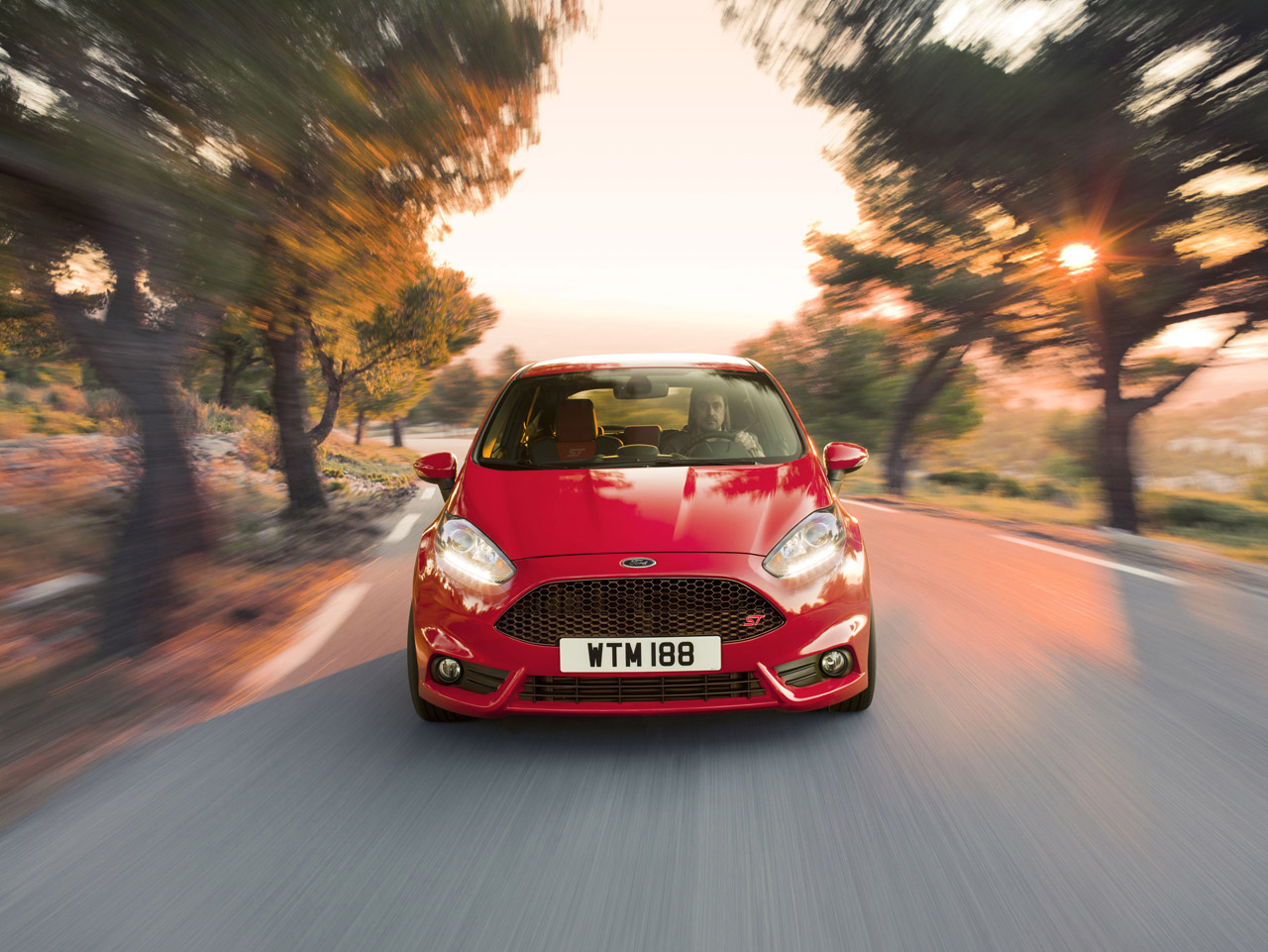 First, the good news: Ford is going to show what it calls a "production-ready" Fiesta ST to the awestruck show-goers at the Geneva Motor Show this week. Also of note: this ST is radical.
A punchy 177-horsepower, EcoBoosted 1.6-liter four will propel the hottest Fiesta to 62 miles per hour in just under 7 seconds, meaning the ST will be a legitimate threat to the fun-to-drive-small-car hegemony of the
Mini Cooper S
and the
Fiat 500 Abarth
.
The bad news, for you glass-half-empty types, is that this particular three-door Fiesta ST isn't entirely likely to come to North America. We were told, back at last year's LA Auto Show, that a four-doored ST is more likely for global sale though, so don't give up yet.
Europeans will get first crack at the Fiesta ST, when the car debuts across the pond, sometime in 2013.
Scroll down for Ford's full press release.
Production-Ready Fiesta ST Debuts at 2012 Geneva Motor Show
– Dynamic new Fiesta ST unveiled as a production-ready model at the 2012 Geneva Motor Show and confirmed for introduction in Europe in 2013
– New Fiesta ST is powered by a 1.6-litre EcoBoost engine that delivers 180PS – 20 per cent more power than the previous model – accelerates 0-100km/h in less than seven seconds and can reach a top-speed of 220km/h-plus
– Class-leading driving dynamics delivered by enhanced Torque Vectoring Control system, specially-tuned chassis and three Electronic Stability Control settings – all tested extensively at Germany's world-famous Nürburgring Nordschleife
– Ford remains open to the idea of introducing the high-performance small car to North America for the first time, following a positive response to the five-door Fiesta ST concept at the 2011 Los Angeles Auto Show.
GENEVA, Switzerland, March 5, 2012 – Ford Motor Company is unveiling the new production-ready Fiesta ST at the 2012 Geneva Motor Show in advance of the performance hatchback's launch in Europe in 2013.
Customers have clamoured for a new Fiesta ST since the last model disappeared from European showrooms in 2008. The all-new model will take Fiesta ST performance to a new level. The numbers tell the story: 180PS 1.6-litre EcoBoost, 240Nm of torque, 0-100km/h in under seven seconds, and top speed of more than 220km/h. At the same time, the EcoBoost technology delivers a 20 per cent reduction in CO2 emissions compared with the previous Fiesta ST.
Developed by Ford's Team RS, the new Fiesta ST delivers significant ride-and-handling improvements through the introduction of a specially tuned chassis that sits 15mm lower than the standard Fiesta; Ford's enhanced Torque Vectoring Control system; and three Electronic Stability Control modes. The technologies were put to the test over 5000 kilometers of driving on Germany's Nürburgring Nordschleife.
"We believe Ford customers will be blown away by the new Fiesta ST, and not only by the exhilarating performance but by the styling and specification, too. This dynamic new hot-hatch is undoubtedly our best Fiesta ST to date," said Jost Capito, Ford's director of Global Performance Vehicles.
The high-contrast interior features unprecedented levels of equipment and specification to suit the sporting driver, with standard Recaro sports seats appearing in a Fiesta ST for the first time. It also will be equipped with MyKey, which allows owners to limit performance and ensure activation of safety features for when less-experienced drivers use the vehicle; and SYNC, Ford's voice-activated in-car connectivity system. A new bold and dynamic exterior design drives home the high performance message and features the latest Ford design signatures including a large trapezoidal grille.
The new Fiesta ST was engineered using Ford's global Performance Car DNA and developed by Ford Team RS, the European arm of the company's Global Performance Vehicles group.
The experience of the engineering team in working with Ford's motorsport partners to develop the Fiesta RS WRC, Fiesta Rallycross and Racing Fiesta vehicles, also proved invaluable for developing the new Fiesta ST.
With production of the new Fiesta ST confirmed for Europe, Ford also remains open to the idea of introducing the high-performance small car to other regions, including North America for the first time following a highly positive response to the five-door Fiesta ST concept that made its North American debut at the 2011 Los Angeles Auto Show.
"We're delighted to be bringing a new generation Fiesta ST to our European enthusiasts in 2013 and we'll have more to say about our plans for other markets in the near future," said Capito. "With the Fiesta ST joining the new Focus ST, we will again be able to deliver a choice of affordable small performance cars that are designed to deliver a unique blend of stand-out styling and dynamic on-road performance with true practicality for everyday use."
# # #
About Ford Motor Company
Ford Motor Company, a global automotive industry leader based in Dearborn, Mich., manufactures or distributes automobiles across six continents. With about 164,000 employees and about 70 plants worldwide, the company's automotive brands include Ford and Lincoln. The company provides financial services through Ford Motor Credit Company. For more information regarding Ford and its products worldwide, please visit http://corporate.ford.com.
Ford of Europe is responsible for producing, selling and servicing Ford brand vehicles in 51 individual markets and employs approximately 66,000 employees. In addition to Ford Motor Credit Company, Ford of Europe operations include Ford Customer Service Division and 22 manufacturing facilities, including joint ventures. The first Ford cars were shipped to Europe in 1903 – the same year Ford Motor Company was founded. European production started in 1911.