Gamer: Twisted Metal Bows At E3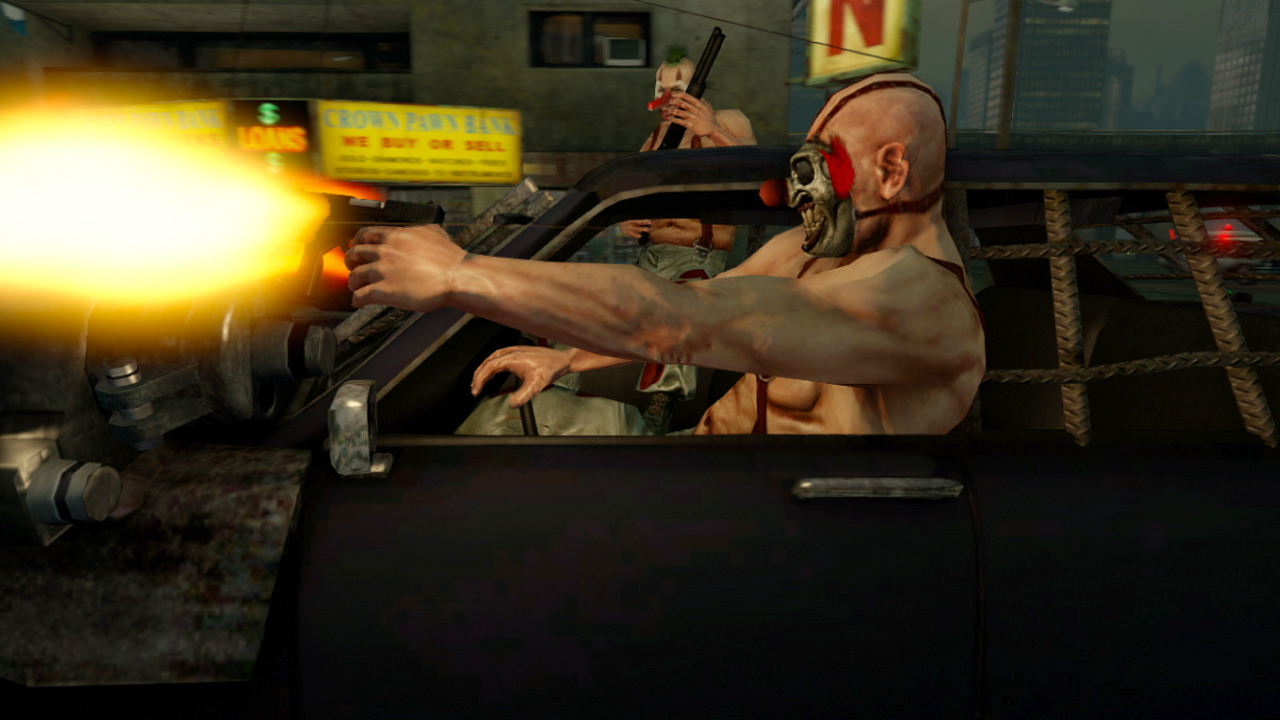 In case MotorStorm: Apocalypse isn't quite destructive enough for you, Sony announced Twisted Metal for the PS3 at E3.
In case you're unfamiliar with the franchise, Twisted Metal is less a racing game than it is a dark, automobile-centered combat game, with a focus on multiplayer gaming. It combines cars, motorcycles, helicopters, guns, and, of course, clowns. Up to 16 players can bloody each other online.
Yes, there is a storyline in there somewhere, but, really, who cares? We just want to drive around and blow stuff up, as the developers intended.
For more information on the new Twisted Metal, check out the fact sheet, below.
Twisted Metal®
FACT SHEET
Publisher: Sony Computer Entertainment America LLC
Developer: Eat Sleep Play, Inc.
Platform: PlayStation®3 computer entertainment system
Genre: Car Combat
Players: 2-4 player Split Screen / up to 16 online
Release: 2011
Rating: Rating Pending
OVERVIEW
Twisted Metal®, the longest running franchise in PlayStation® history and the multi-million selling series is now back, exclusively on the PS3™ system. David Jaffe and Scott Campbell, co-founders of Eat Sleep Play and the original creative team behind Twisted Metal, bring back the dark humor, fast-action gameplay and a world of cars, guns and destruction.
With four factions battling for control, players step into the combat boots of a twisted disciple in a high octane, highly destructible world. Players fight for the prize of one wish fulfilled by the stylishly evil Calypso, the mastermind behind the Twisted Metal tournament. Disciples strategically dismantle opponents in vehicles loaded with weapons of Twisted destruction.
With a robust online system, players unleash destruction with up to 16 players through PlayStation®Network ("PSN") and battle through a variety of favorite and new game modes.
Twisted Metal carved out its own unique gaming genre. No other title has Twisted Metal's perfect mix of dark humor and personality along with massive destruction in a distinctive atmosphere and vehicles and weapons that act as extensions of each character.
STORYLINE
High atop his penthouse office, a mysterious ringleader named Calypso lords over the contest of vehicle combat known as Twisted Metal. He returns again to host the ultimate contest of skill and destruction. Contestants have been chosen to compete and, should they emerge victorious, win whatever prize their heart desires.
GO ONLINE AS A DISCIPLE
• Fight online as a disciple of one of four factions, each based on a classic Twisted Metal character.
• Supports up to 16 players online through PSN.
• Play with friends in 2- 4 player split-screen and online as well.
• Featuring a variety of gameplay types including series' favorite and new, unique game modes.
MASSIVE DESTRUCTION
• With the power of PS3 system, unleash massive amounts of destruction in brand new, never before seen Twisted levels.
• Deliver destruction to strategically change the face of the level, or just cause incredible chaos.
NEW VEHICLES, NEW WEAPONS, NEW ENVIRONMENTS
• Featuring a complete arsenal of weapons that make for more creative kills, from missiles and miniguns to giant magnets and flying mascots; players always have a way to take someone out.
• Choose from over a dozen Twisted vehicles, each outfitted with special weapons to strategically dismantle opponents.
• Flight is a first for the franchise. One of the new vehicles in Twisted Metal to take full advantage of flight is the Talon, a helicopter armed to the teeth with a minigun turret.
• Disciples team their rides up in various modes to wreak havoc on the enemy such as using the Talon as a magnet to pick up teammates and rain double the destruction down below.
UNIQUE SINGLE-PLAYER CAMPAIGN
• Fight for the prize of one wish fulfilled by Calypso, the Twisted Metal mastermind.
• Twisted Metal will feature full PSN Trophy support, making players' accomplishments that much more satisfying.
About Twisted Metal
Twisted Metal franchise for the PS3 system is regarded as carving out a unique combat genre. Famed creators David Jaffe and Scott Campbell have once again brought Twisted Metal to PlayStation.