Gamer: Turn 10 Unveils Forza Horizons At E3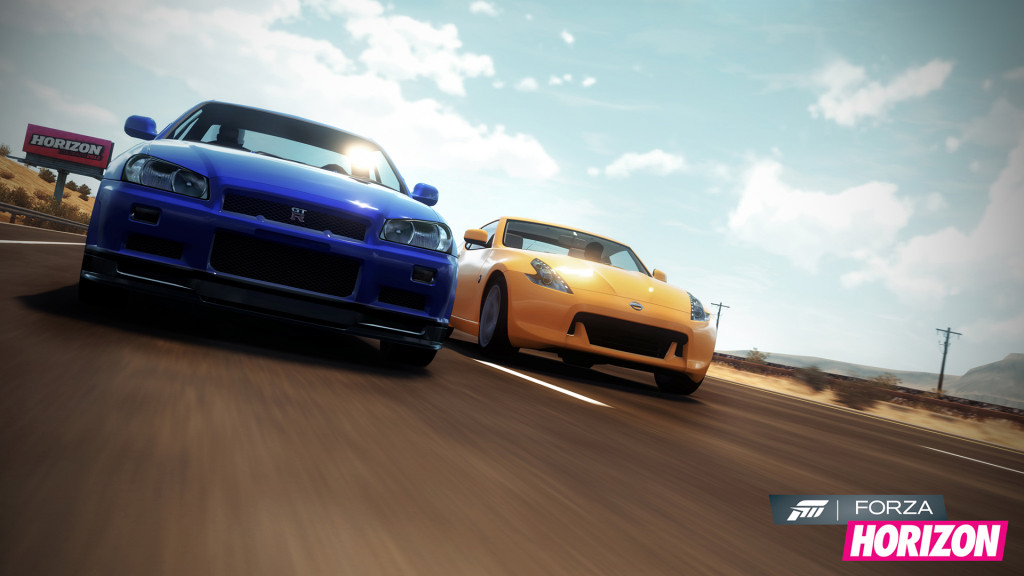 The Electronic Entertainment Expo, or E3, is to the world of video games and electronics what the Geneva Motor Show is to the auto world. It's the pie-in-the-sky, newest-of-the-new trade show that sets the trend for the next 365 days of gaming.
Because of its prestigious place in the gaming world, a few of our favorite developers tend to cook up new game debuts for the show. So far, we've got this new game from our friends at Turn 10, creators of the Forza Motorsports series.
Called Forza Horizons, it's a new take on the series, which sees its first departure from the race tracks of the world.
Horizons is centered on the fictional Horizons Festival in Colorado. While the location changes, the basics of the game are the same. Drive, customize, trade, and show off your virtual garage. The difference in Horizons is the way the racing is done. The entire game is set in a wide-open, virtual Colorado. Players will have an expansive road network at their disposal with challenges interspersed along the way. Point-to-point and circuit races feature prominently, but there'll also be public street races, in the same vein as the Need For Speed series.
We've included the E3 trailer (it's heavy on dubstep, you have been warned) and the press release below if you want to really dive into what Forza Horizons is all about. The game will be out on the XBox360 on October 23, 2012.
Please scroll down for the official press release from Turn 10 Studios.
Forza Horizon has been unveiled to the world! At this week's Electronic Entertainment Expo, Microsoft, Playground Games, and Turn 10 Studios lifted the curtain on the year's biggest racing game—Forza Horizon—which will be released exclusively for Xbox 360 on October 23. Forza Horizon represents not just a new Forza game but a fresh and exciting direction for the Forza franchise, one that pushes the boundaries of the racing genre, and sets a new standard of excellence for the Forza series. All this week at E3, we're introducing Forza Horizon to the international press, retailers, and, most importantly, Forza fans all over the world.
Here's your look at why Forza Horizon is set to redefine everything you know about the Forza universe!
Welcome to the Horizon Festival
The Horizon Festival is your backdrop in Forza Horizon, a lively music and automotive festival full of people, music, and the hottest cars around. In Forza Horizon, your goal is simple: Race your way to the top and be recognized as the best driver at the Horizon Festival. Prove your driving mettle in the many challenges that will take place through the back roads, highways, and mountain passes of Colorado and take on increasingly challenging opponents on your road to the top. In the meantime, you'll increase your popularity as your stylish and skilled driving moves you up the ranks.
The Horizon Festival is also the hub around which Forza Horizon revolves. Go here to buy or sell cars to and from your personal collection; design and paint the cars you own using Forza's incredibly flexible livery editor; upgrade your cars to take them to the next level of performance; upload your automotive masterpieces and browse your friends' in-game creations. The Festival is the ultimate destination to show off your favorite cars, experience cutting-edge music, and immerse yourself in the world of Forza Horizon.
This is Action Racing
Action racing defines Forza Horizon. Throughout the expansive open world of Forza Horizon, you'll find new places to explore, new challenges to tackle, and exciting ways to put your driving skills to the test. Horizon is more than just a circuit racing game—you'll be attacking some of the most challenging and scenic driving roads in the entire world across a variety of race types—from traditional point-to-point and circuit racing to specialized events like drifting, stunt driving, and more.
In addition, Forza Horizon will let you take your favorite cars off-road in a variety of dirt and mixed-surface racing events. There are more than 60 surface types in Forza Horizon, meaning you can test your car-handling skills in ways never before attempted in the Forza franchise.
And it hardly ends there. Forza Horizon is jam-packed with specialty events the likes of which you've never seen in the Forza series, such as non-sanctioned street races that take place only at night, pitting you against the legendary Forza AI in a white-knuckle winner-take-all sprint to the finish line. There are PR Stunt events that will reward you with massive credit bonuses for driving with both speed and style. Showcase events that will pit your car against everything from helicopters to fighter planes. Smash through fences and drift through civilian traffic on your way to victory. Unparalleled diversity, an unmatched sense of speed, and all of it supported by the legendary car handling you've come to expect from the Forza franchise.
Emergent, Open Road Gameplay
The world of Forza Horizon is a vast automotive playground, modeled after a location that offers one of the most spectacular driving experiences in the world: Colorado. With an compelling combination of stunning natural beauty, unparalleled diversity of scenery, and some of the best driving roads to be found anywhere, Colorado is the ideal backdrop for Forza Horizon. From the peaks of the Rocky mountains to the expansive plains that will test your car's upper limits; the Colorado of Forza Horizon just begs to be explored and conquered in whichever car you choose.
There are hundreds of roads to choose from in Forza Horizon, each leading to new events to try, new rivals to face, and new surprises to keep your hands on the wheel and your foot mashed to the floor. Forza Horizon will also offer off-road racing, as well as a dynamic day/night cycle that will test your driving as you explore the expansive roads of Colorado in every kind of lighting condition.
You'll be driving against some of the toughest competition around in Forza Horizon, thanks to the evolution of Forza's patented Drivatar AI technology. Weave and dodge through civilian traffic on the open roads. Chase down the checkered flag and pit your skills against an increasingly challenging set of AI opponents in your bid for the top. The same complex and personality-driven behavior you expect from Forza AI has been adapted in Horizon, providing a living world to explore and exciting challenges to be found around every bend.
Competition Meets Culture
The Forza Horizon Festival is teeming with thousands of music lovers, car fans, and skilled race drivers looking to make a name for themselves at the Horizon Festival. This is where automotive culture and music collide–with a cutting-edge soundtrack curated by BBC Radio 1 DJ Rob da Bank. Add to this a world of Forza Horizon players via Xbox LIVE and you've got the makings of a social revolution in online racing. Compare your times and scores with your friends across a huge variety of multiplayer events. Experience the evolution of Rivals Mode as every event in Forza Horizon can be raced online. Take traditional playground game modes like Cat and Mouse and Tag (virus) to the next level in an open-road world where there are no limits. This is social gameplay set against the backdrop of a music and car festival. This is where competition meets culture.
Authentic Forza DNA
The absolute best physics in any driving game available today. Setting the standard for online play. Unmatched graphical beauty. The open-road thrills of Forza Horizon are bolstered by the same DNA that has gone into every Forza Motorsport game. Developers Playground Games have worked to infuse Horizon with unrivaled innovation, while keeping and improving upon the same heralded Forza features you know and love.
From the moment you pick up a controller in Forza Horizon, you will feel right at home. Right away you'll feel, see, and hear that legendary Forza DNA in every aspect of the game. Cars feel alive as you push them through the corners. Engines snort and roar and growl and purr; tires squeal and scream at the limit of grip—this is a feast of automotive audio delights that's just as noteworthy as Forza Horizon's epic musical soundtrack. And, hands down, Horizon features the most accurately modeled, beautifully lit cars you'll find anywhere; all travelling through a gorgeous automotive paradise full of stunning diversity and awe-inspiring scenery. These are roads that need to be driven to be believed.
Forza Horizon is an action racing game that's bursting with that authentic Forza feel; an open road racing game with a lively music festival backdrop. A world that just begs to be explored. Whether you want to cruise around with your friends with your car's radio blasting tunes or you want to push your driving skills to the brink in one of the most brilliant driving locations ever created, there's a place for you here. After all, this is Forza Horizon, and this is where cars belong.