Ford Goes Bull Riding With The 2013 F-Series Super Duty Platinum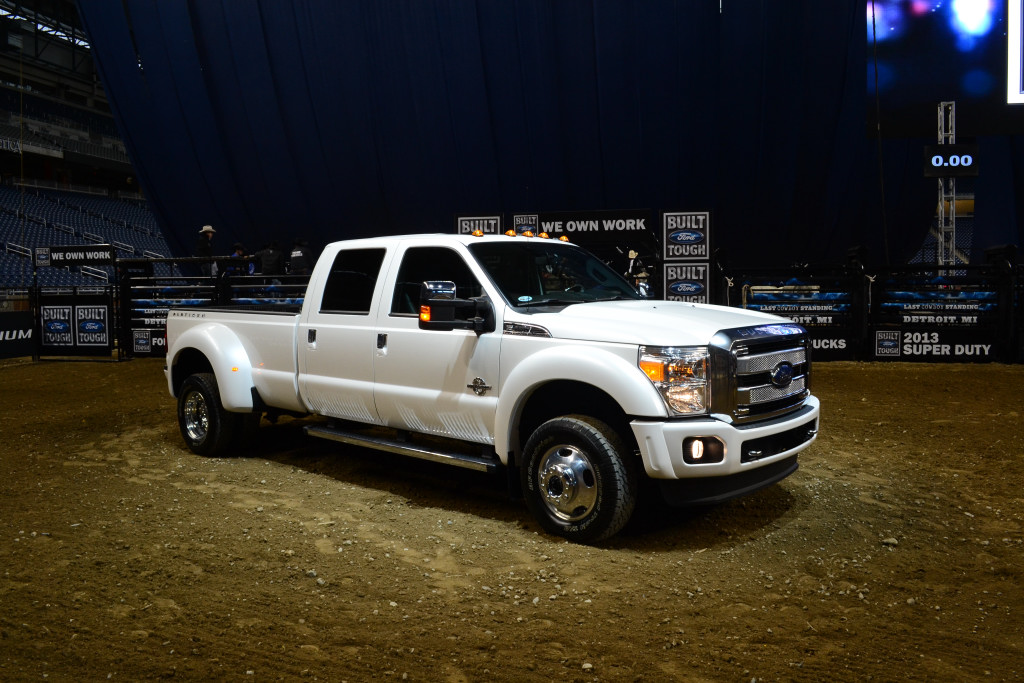 New model unveilings usually happen at an auto show, or more often than not, consist of just a press release. Not so, with the 2013 Ford F-Series Super Duty. Which is why we found ourselves, in cowboy boots we might add, standing on a layer of dirt at Ford Field in Detroit.
You see, Ford is the title sponsor for the Professional Bull Riding series, and the cowboys were in town for one leg of their 30-city, 23-state tour. That made for a perfect opportunity to debut a truck that is very popular with the sort of folks who are in to bull riding. According to Ford, 50 percent of PBR fans own heavy duty pickup trucks, so their sponsorship of the series makes quite a lot of sense.
For 2013, the Super Duty has been, what can best be described, as tweaked. Powertrains remain unchanged, as are important things like towing capacity and fuel economy. What has changed is the new top-dog Super Duty. It's no longer the King Ranch trim, which has been tops since it debuted in 2003. Now there's the Platinum series, based off the F-150 Platinum.
The exterior, as befitting of a luxury pickup, is slathered in chrome. A satin chrome grille surround starts things off. The rest of the grille is finished in chrome as well, as are the door pulls, mirror caps, and the "Platinum" lettering that adorns the boxsides. Unique, Platinum series twenty-inch wheels round out the exterior changes.
On the inside, leather and wood cover the large majority of surfaces. Wood is the material of choice on the door trim, center stack, and instrument cluster, while leather covers the arm rests. The ten-way power leather seats are finished in fine hides, and feature "Platinum" embroidered backrest.
Anyone that's tried using an iPhone or Android with gloves on knows how difficult the experience can be. Since Super Duty customers, apparently, spend a lot of time wearing gloves, Ford has made some big functional changes to the MyFord Touch system. A new, eight-inch touchscreen display dominates the upper dash, while a set of redundant buttons sit below it. This allows customers to easily access the infotainment system, whether wearing gloves or not.
After the product demonstration, we were treated to a bull riding demonstration with some of the top guys on the circuit. The goal of a bull ride is to remain on the back of a very large, bucking animal for eight seconds or more. Scores are only eligible after the rider has been on for eight seconds, and are then scored from zero to 100, with 50 points going to the difficulty of the bull and 50 to the talent of the rider. Generally, the best scores are in the 85 to 90 range, with anything higher being exceedingly rare. Unlike the mechanical bull at your local country bar, the bovines these guys were riding are some seriously scary animals.
To protect the riders, there's a saftey rider on horseback ready to lasso the raging bull, as well as a pair of bullfighters (more commonly known as rodeo clowns) to distract the bull, allowing the riders to get out of harm's way. The exhibition was a great opportunity to experience a sport that doesn't get quite so much air time, especially in a northern state like Michigan. It's something we'll be keeping an eye on in the future.
The 2013 F-Series Super Duty, and the Platinum trim package, go on sale later this year.
Please scroll down for the official press release from Ford.
More Luxurious Than Ever: 2013 Ford F-Series Super Duty to Offer Platinum Series, SYNC with MyFord Touch
2013 Ford F-Series Super Duty brings no-compromise truck luxury to the market with the first-ever Platinum heavy-duty pickup, complete with unique design cues inside and out
Super Duty Platinum will offer a wealth of standard features including SYNC®, MyFord Touch®, navigation, rear view camera, Remote Start System, power-telescoping mirrors and power-adjustable pedals
For the first time, the 2013 F-Series Super Duty will also be available with a truck-specific version of SYNC with MyFord Touch, offering tactile button controls and large rotating knobs to accommodate truck users who may be wearing work gloves
DEARBORN, Mich., March 9, 2012 – Ford F-Series Super Duty customers demand a truck with toughness and capability, yet they still appreciate the amenities that make their driving experience more enjoyable. The 2013 F-Series Super Duty offers both, with a first-ever Platinum series model and the addition of SYNC® with MyFord Touch®.
"The F-Series Super Duty Platinum is the latest expression of Built Ford Tough truck luxury," said Brian Rathsburg, F-Series Super Duty Marketing manager. "It has a distinct appearance and a long list of features to deliver a superior experience. Along with that, it has all of the capability F-Series trucks are famous for."
Building on the success of the F-150 Platinum light-duty series that debuted in 2009, the F-Series Super Duty Platinum offers customers the ultimate in truck luxury.
Ford pioneered the high-end luxury truck segment in 1999 when it introduced the special-edition 2000 Harley-Davidson F-150. In 2003 the first King Ranch Super Duty arrived, followed by the 2004 Harley-Davidson Super Duty. Today, Ford sells a rich mix of high-end Lariat and King Ranch Super Duty models; the new Platinum will further meet the growing luxury needs of customers and dealers.
Available only in the Super Duty crew cab, it can be ordered as an F-250, F-350 or F-450 pickup and with the Ford-designed and Ford-built 6.7-liter Power Stroke® diesel engine or the 6.2-liter V8 gas engine.
The Platinum series makes a bold statement with a grille that features a satin chrome surround highlighted by perforated mesh inside. The updated grille is enhanced by a monochromatic bumper and chrome tow hooks.
The exterior of the Super Duty Platinum is lavished in chrome, including the door handles, mirror caps, running boards and exhaust tip. The boxside on both sides of the truck sports the "Platinum" name in chrome letters and the tailgate is trimmed with a satin chrome appliqué, similar to the one used on the F-150 Platinum. Twenty-inch polished-aluminum wheels with painted black inserts round out the stunning exterior design of the Super Duty Platinum.
The interior showcases luxury in the form of unique wood grain appliqués. The steering wheel is heated and leather-wrapped, with genuine wood accents. The instrument panel, center stack and door trims are wrapped in premium wood grain. A new storage area on top of the dash includes two USB ports, audio-video connections, SD card slot and a 12-volt charging port for cell phones and other digital devices.
The driver's seat has 10-way power-adjustable seating and both captain's chairs are upholstered with softer, premium leather, which is also used on the armrests and console. Other evidence of fine craftsmanship includes the seats and floor mats, which feature the embroidered "Platinum" logo.
Other standard features include:
SYNC with MyFord Touch
Navigation System
Power-adjustable pedals
Rear view camera
Remote Start System
Universal garage door opener
Power-telescoping mirrors
Super Duty Platinum is available in Ruby Red, Kodiak Brown, Tuxedo Black, Ingot Silver and White Platinum. Interior color offerings include Pecan and Midnight Black. Another new exterior color, Blue Jean Metallic, will be available for Super Duty models other than Platinum.
Working harder and smarter
Unlike the past when a truck was often little more than a spartan work vehicle, today's truck customers won't compromise, and they expect capability, efficiency and refinement. The 2013 F-Series Super Duty eliminates any thought of compromise.
Standard Ford SYNCbrings award-winning voice-controlled connectivity into the cab of the most capable heavy-duty trucks available. With SYNC, Super Duty drivers can connect compatible mobile phones and media players via Bluetooth® or USB to make calls and play back music using voice control. In addition, drivers will get access to Vehicle Health Report and 911 Assist®, both no-charge lifetime features, and SYNC Services including traffic alerts, business search and more – all while keeping their hands on the wheel and eyes on the road.
The 2013 F-Series Super Duty builds on the foundation of SYNC with MyFord Touch, which is available for the first time. A new 8-inch, high-resolution touch screen display gives drivers easy access to phone, climate control, entertainment and navigation features along with a dramatically expanded voice control vocabulary.
The 8-inch display screen also provides a large, clear view behind the truck when in reverse to help drivers maneuver in tight spaces or line up conventional trailers with the truck's hitch.
Unique to Ford F-Series, designers have optimized the physical interface for MyFord Touch to accommodate truck users who may be wearing work gloves by providing easy access to climate controls and audio presets on the center stack. For video of MyFord Touch in Super Duty, click here.
The latest example of F-Series leadership in truck design, innovation and technology can be found in the 2013 Super Duty Platinum, available later this year.