Forbidden Fruit: Skoda Citigo Sport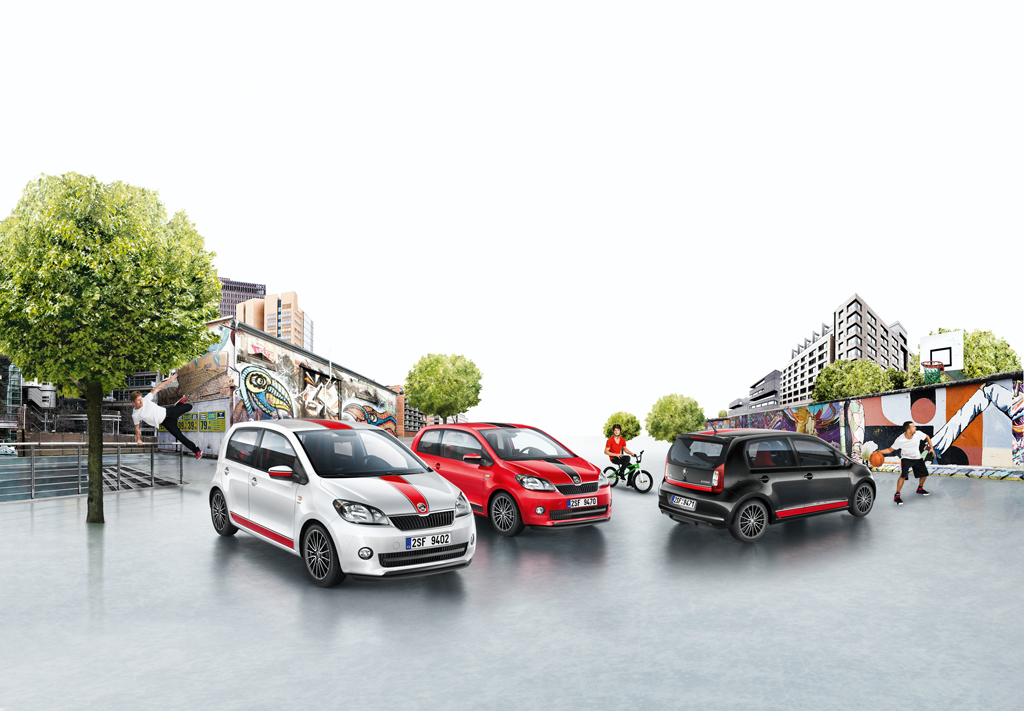 This is the Skoda Citigo Sport. It's based on the Volkswagen up!. The Citigo Sport, though, has stripes. And adorable alloys. And we want one.
The Citigo Sport is the very definition of cheeky, European city cars. It's powered by a 1.0-liter gas engine, which can be had with either 60 horsepower or a heady 75 ponies. While an automated-shift gearbox (we're assuming that's Skoda for some kind of sequential auto or DSG) is available, we'd opt for the classic five-speed manual. It only uses 4.1 liters of fuel per 100 kilometers traveled (around 57 US miles per gallon).
The Citigo Sport is set apart by its black, 15-inch alloy wheels. The suspension has been dropped 15 millimeters (or .6 of our inches). Adding to the cheekiness, the Citigo Sport features a "styling kit" that adds spoilers at the front and back, and the world's cutest diffusor out back. There are also stripes.
The Citigo Sport will make its official debut at the 2013 Geneva Motor Show.
With short front and rear overhangs, and a reasonably short wheelbase (just under eight feet), the Citigo promies to be a tossible, fun-to-drive little thing. The tweaked suspension and alloy wheels of the Sport are sure to add to that.
Despite its role as an afforadable city car, the Citigo doesn't look like a terrible place to spend some time. We're partial to the colored fabrics found on the Sport's seats. We like that the Citigo Sport doesn't take itself too seriously.
The subtle aerodynamic tweaks and the Sport-specific wheels are nice touches that add personality to the the tiny Citigo.