Five Reasons Why B-Spec Is One Of The Best Inexpensive Classes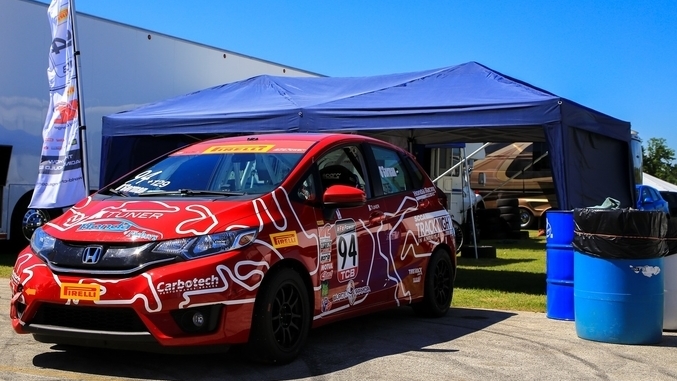 It seems as though there will always be a quest to find the least expensive, best bang-for-your-buck class in club racing. Opinions vary quite a bit on this journey of optimally balancing costs: some folks say that Spec Miata is the cheapest, others say Spec E30, some say H-Production, etc. All of these can be the ticket to low-cost, fun racing, but since opinion varies so much it's hard to place a Cheapest Class in Racing ribbon on one class over another. To add to the quest, we'd like to highlight a few reasons why B-Spec should also be considered as one of the cheapest and funnest classes.
Cars-A-Plenty With Lower Mileage, For Cheap!
Because B-Spec debuted in Pirelli World Challenge in 2012 as TCB at the same time as its debut in SCCA club racing, there are many suitable race cars out there which have never seen public roads. The only miles they've put on are from the track, and while they're hard-earned miles, these cars haven't experienced the same detrimental conditions as their streetcar counterparts (i.e. potential careless, non-enthusiast ownership). Though, even that's not always a big deal, as the subcompacts that qualify for B-Spec have proven to be very reliable with minor maintenance requirements.
They're also much newer than cars in other spec classes; the R56 Mini Cooper might be the most vintage as it arrived in 2007, and the 2nd gen Honda Fit came to our shores in 2009. Have you seen what 2009-2012 Fits with reasonable mileage fetch on Craigslist? Even in America's most expensive used car markets, you can find a great starting platform for around $7,000.
Ease of Maintenance
Because the class allows for very little modification, all that drivers have to worry about are brake pads and rotors, brake fluid, tires, keeping their alignments in check, and basic maintenance like keeping the air filter clean, ensuring bushings and engine mounts are in good shape, etc. Certain manufacturers offer performance tunes (i.e. Mazdaspeed offers a B-Spec tune for the Mazda2), but its nothing that would require any fiddling throughout the season.
Easy On Consumables
Slicks last longer on B-Spec cars, as do brake pads and rotors. Fuel mileage at race pace is also very good. Plus: no expensive, hard-to-find race gas. The spec tire size is 205/50/15 which is among the cheapest sizes by Hoosier, Toyo, and BFG. Mileage may vary by track, surface, temperatures, etc., but I've heard racers express joy over saving money on tires compared to their previous experiences in faster classes, including Spec Miata. That's right, I'm stating that Spec Miata is faster than B-Spec, which conveniently leads me to my next point:
Truly Learning Momentum
Not to get on a soapbox, but Miata drivers don't know how great they've got it. They're working with somewhere north of 120 wheel horsepower, rear-wheel drive, and are blessed with independent double wishbone suspension at all four corners. Let me tell you something: most B-Spec cars have far less power, McPherson front suspension, and ultra-basic torsion beam suspension in the rear (though the basic suspension can also be a blessing; its less to worry about and is cheap to replace). B-Spec racers have to get quite a bit more creative with husting around a track and do every little thing they can to maintain momentum. Late-braking and trail-braking are crucial, as is using every inch of the track (including 2-wheeling over curbs). Getting on the gas as soon as possible out of a corner without a limited-slip differential is an art in itself. When B-Spec drivers want to try other platforms and classes, all of these hard-earned skills become quite valuable in Spec Miata, T4, GT3, and so on. When has a pro driver ever said that thoroughly learning momentum doesn't help one's skill?
A Little Help From Our OEM Friends
OEM support for this class is a big benefit: it takes the guess work out of choosing some of the components and makes the preparation a bit easier. Mazdaspeed offers their B-Spec kit which includes essentially everything except a roll cage, safety equipment (that's where we come in!), wheels, and tires. Honda's kit is quite similar. The lack of allowance in modification makes this all a bit easier too; the spec Bilstein coilovers for the Mazda2 are only height adjustable and can be easily re-valved by qualified shops, which takes a little more strain off of drivers' pocket books.
A nice bonus: because most B-Spec cars start life as roomy, haul-anything hatchbacks, they can accommodate a larger variety of driver body types and are generally easier to get in and out of. I consider myself to be reasonably athletic, but even I have a heck of a time getting in and out of caged Miatas.
There is a lot of joy to be had in mobbing around a track in a little hatchback with tons of grip and great handling characteristics. Utilizing every bit of it's contact patch, suspension, and tiny brakes to find the best line and speed through a tricky corner, especially when there are several cars within the same spec right nearby, makes for great racing. B-Spec should not be ruled out by anyone looking for an inexpensive class that possesses a lot of value in teaching racecraft, momentum, throttle, and braking. Plus, there is a Facebook group that offers a lot more insight than what I stated above and demonstrates that it's a class of sportsmanship and camaraderie.