Five Cars That Prove Automakers Won't Forget About Enthusiasts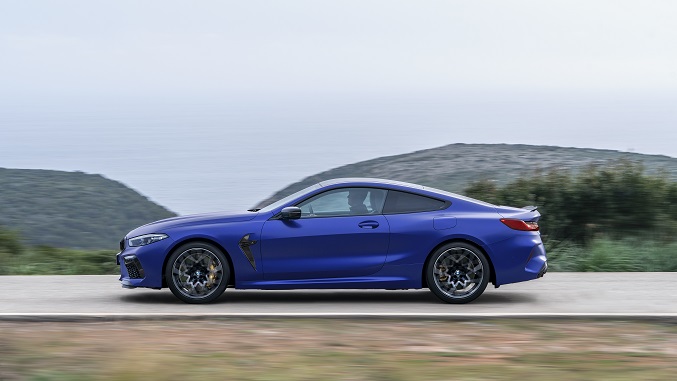 Press.BMWGroup.com
Upon first glance, one might conclude that the future is looking bleak for North American car enthusiasts. Between the continued rise in SUV/crossover sales, Ford USA pulling the Fiesta ST and Focus ST from our market, tossable little b-segment cars vanishing almost en masse from dealership lots, and manual transmissions becoming harder to find, our options are certainly decreasing.
Though, one could also say that fun-to-drive options aren't necessarily decreasing… but rather altering.
What do we mean by this? Some companies are stepping up to the plate to build cars that are not only targeted towards people who love to drive, but also significantly cut down the sacrifices we have to make for our devout, performance-oriented choices in the process. Others might not offer three pedals and a stick in the same numbers they used to, but their dual-clutch transmissions are sharper and more intuitive than ever.
Some manufacturers are living up to their track record of hearing enthusiasts' grievances, and bringing some really cool cars back to the USA that haven't occupied their respective segments in a while (well, spoiler alert, it's really just one: Audi with their RS6 Avant). They're coming back fists-raised as well, as factory horsepower numbers are higher than ever, but with fuel mileage that doesn't suffer as much as it would've fifteen years ago. Finally, while the pickings are slim in the b-segment region of the new car market, there are at least a couple of fun-centric options that are only a mild step-up in size.
Here are a few cars, in no particular ranking or order (we'd expect to be 5150'd if they were), that were on display prominently at Automobility LA at the Los Angeles Auto Show in late November, and help ensure that manufacturers won't forget us in the coming years.
WR
2020 Hyundai Veloster N – this chassis proves that FWD is faster and more-fun than ever. We've written at length about why this is true. We're not the only ones, either, considering its recent accolades both here in the USA and its chassis-mate the i30N in Europe. Plus, Hyundai's is so in-tune with enthusiasts that they put sound clips of the Veloster's exhaust on the N website; We tip our caps to that kind of aural marketing.
WR
Hyundai's got some wild plans, too; word is their mid-engine Veloster-based development hatch, the RM19, will hit dealership lots as a street-legal monster sometime in the not-too-distant future.
Press.BMWGroup.com
The new MINI John Cooper Works GP – BMW will keep cranking out a juiced-up version of the short wheelbase, turbocharged hatchback, and with more power than ever. They're going hard in the paint (no pun intended regarding its various bright-red accents) and it shows with its rather ostentatious design. But hasn't the JCW GP always been that way?
The GP's 0-60 and power figures are definitely nothing to scoff at: 5.2 seconds and 306 horsepower. That's a whopping 75 more than the standard JCW, and comes with supporting oil and cooling mods to keep it running reliably (hopefully). It only comes with a dual-clutch gearbox this generation, a unit chocked full of 8 forward gears, which means close ratios, nice launches, and good highway mileage. We'd love to have a go in one to find out.
Media.AudiUSA.com
2020 Audi RS6 Avant – Audi does its heritage proud by continuing to produce some of the most awe-inspiring, proper fast wagons ever. The new RS6 Avant is perhaps the most awe-inspiring ever: 0-60 MPH in 3.6 992-911-Carrera-chasing seconds, a 600 horsepower, twin-turbo 4.0-liter V8 with 590 lb.-feet of torque, quattro AWD, RS adaptive suspension, and all the wagon functionality in the world.
We can confidently report that it's tall-guy-wearing-a-helmet friendly, too; bless the Germans for building fast cars that everyone can fit in and play with on track. Word on the street is MSRP will exceed $100,000, which is a certainly lofty, but right around its direct competition at Mercedes. However, those in the know and possessing the means won't blink an eye.
WR
2020 Toyota Corolla Hatchback SE Nightshade Edition – Finally, some fun and great looks thrown at the latest-gen Corolla. While it doesn't compete with any of the more enthusiast-centric offerings from Hyundai, VW, Mini, etc., it certainly looks the part of a fun-to-drive hatch, and has received some good remarks. Unfortunately, the SE Nightshade Edition cannot be optioned with the 6-speed manual transmission that's optional in the more-expensive XSE and less-expensive SE trims. Though, at least it has independent rear suspension to improve the handling a bit over previous generations, and it has paddle shifters to brighten up one's commute. Its mileage is quite commuter-friendly as well, achieving as much as 41 MPG highway and 35 in mixed driving.
Power is rated at 168 horsepower and 151 lb.-feet of torque, which isn't enough to lug around its 3060 lb. self with much gusto. Though no surprise to anyone: reliability is great, as are amenities and tech, which ensures this is a solid buy for anyone looking for something that's well-equipped and a bit snazzier than the average everyday commuter.
Press.BMWGroup.com, Pictured: Gran Coupe 4-door version
2020 BMW M8 – the return of BMW's big, fast grand tourer. Who doesn't love a big, comfortable, 4,300 lb. coupe that possesses figures that give supercars a run for their money? The new M8 can reach 60 MPH in a mere 3 seconds in it's Competition trim, claws its way up to 190 MPH on the highway, and produces a healthy 600 horsepower (a whopping 17 more with the Competition trim!). It's not just for comfortable cruising with performance potential, either: they've homologated the M8 for the GTE and GTD classes in FIA World Endurance Championship and other high-level racing. Sure, the race car is entirely different from the EPA/DOT-friendly street car, but that doesn't mean us enthusiasts won't still be a tad more motivated to check them out at our local dealers because it has similar badging to a full-blown GT racecar.
Press.BMWGroup.com