First Look: Conquest Evade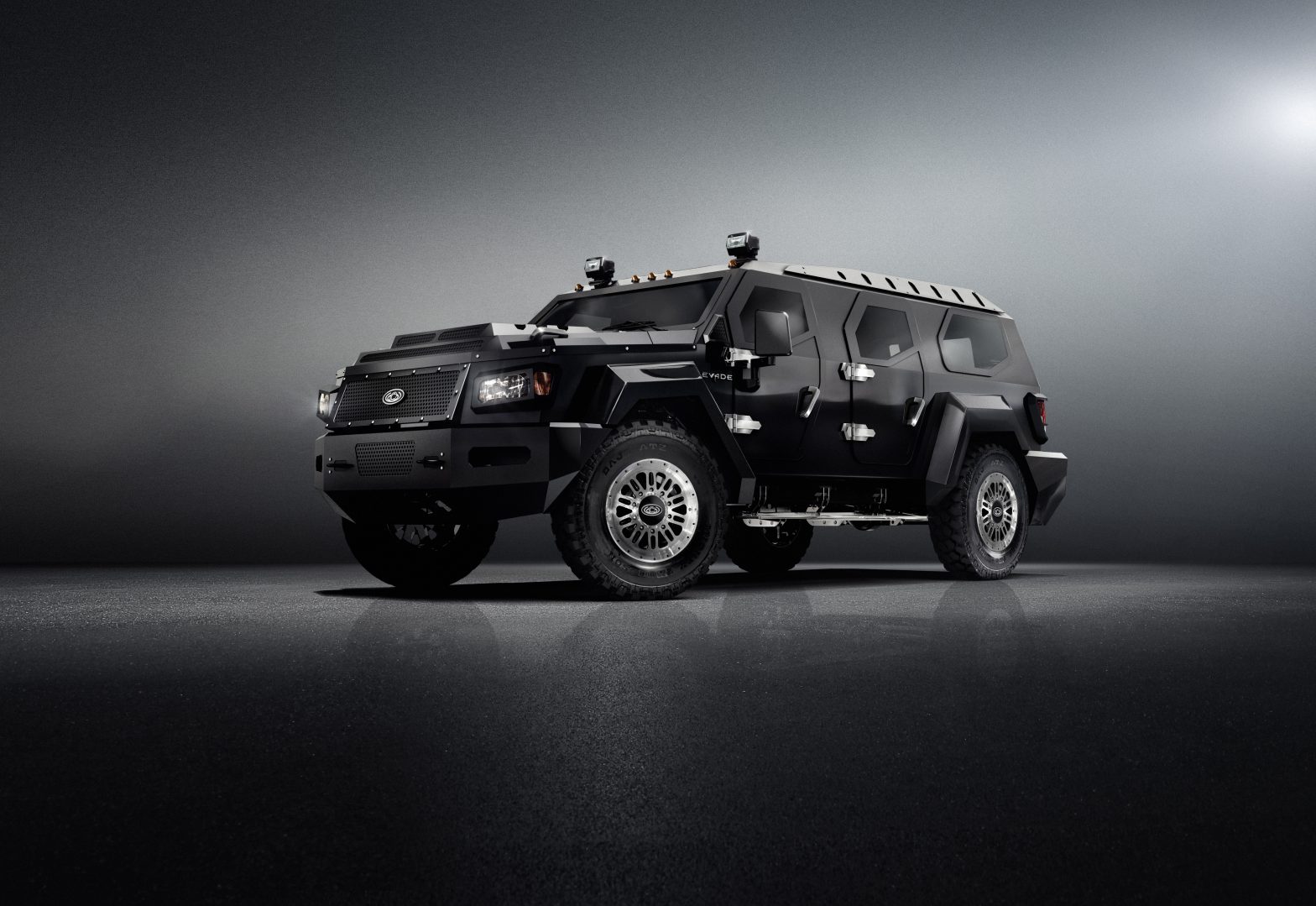 Canadian company
Conquest Vehicles
has been touting its original, luxurious armored vehicles since 2008. It was in that year, at the SEMA show, that the company first showed a prototype of its XV SUV—a heavily armored vehicle with such optional niceties as a built-in oxygen survival kit, a black box system, ballistic steel and fiberglass, etc. Top-of-the line equipment for those who fear for their lives while on the road.
Now, Conquest is back with a new model, the Evade, that is considerably less beefy. Operating under the idea that the armored car segment may have room for a lighter-duty, "lifestyle" entry, the Evade plays the role of a road-going tank, without all the hassle of actual armor.
The SUV is built up on a Ford F-550 Super Duty chassis, but features bodywork made from aluminum and steel rather than bullet-stopping plate. The cabin is a pastiche of military styling touches with high-tech, high-luxury items like touch screens, televisions, laptop trays, "executive style" seats, and more. Billet aluminum, stainless steel, alcantara, and high-grade leathers all abound in and on this thing, helping to explain its price tag of $579,000.
Wait, we'll say that one more time. The Evade runs $579,000.
Now, we'll grant you that, even for half a million, it's often hard to spec roof-mounted, joystick-controlled searchlights on any other large luxury SUV. And front and rear-mounted night vision systems, a custom air ride suspension, and…forget it.
Please scroll down to read the full Conquest press release.
A New Standard
Elegant, intelligent and utilitarian…EVADE is the new standard in luxury handcrafted SUVs.
A New Design
EVADE's unarmored new body style, design and aesthetic includes new headlights and taillights sleekly wrapping around the sides of the vehicle, narrower fender flares, a redesigned grille, hood scoop, the addition of a third tandem sunroof and a wider backdoor to accommodate EVADE's wider body frame to allow for exit/entry of executive security though the rear of the vehicle. The rear bumper now features an integrated step to simplify this access.
A New Experience
EVADE's luxurious interior cabin space provides over 400 cubic feet and carefully blends military inspired design cues with elegant and rich finishes and houses a new ergonomically designed cockpit and cabin while offering both driver and passengers touch screen technology.
EVADE is offered in newly designed ergonomic 2+2 limousine-style seating. Also available are 2 electronic executive style reclining seats with the option of either a driver partition or retractable flat screen television. The interior also offers lap top trays, a third sunroof and more cabin space.
Offered at (USD) $579,000, EVADE incorporates various composite materials, metals, high grade leathers and high grade alcantara to create luxury finishes throughout the vehicle.
Conquest Vehicles' mandate of `hand crafted' is populated throughout EVADE whereby elements including the vehicle's steering wheel, proprietary hinges, running boards and even the key itself are machined out of solid stainless steel. The vehicles' handles are machined out of a solid block of aluminum.
Built on a Ford F550 Super Duty Chassis, EVADE's massive unarmored skin is made from an aluminum-mild steel blend, making it significantly lighter then its armored cousin, the Knight XV.
Standard features includefront and rear commercial grade air ride suspension, power windows, and 360-degree roof mounted, joystick-controlled searchlights. EVADE is offered in 4×4, and is available with either a gasoline or diesel engine. EVADE will also come equipped with FLIR night vision camera systems in the front and rear of the vehicle.
EVADE's prominent exterior design cues, layers and angles will be seamlessly incorporated into the interior of the vehicle's cabin design without losing the feel of being in a luxury SUV.