First Look: Campagna Motors V13R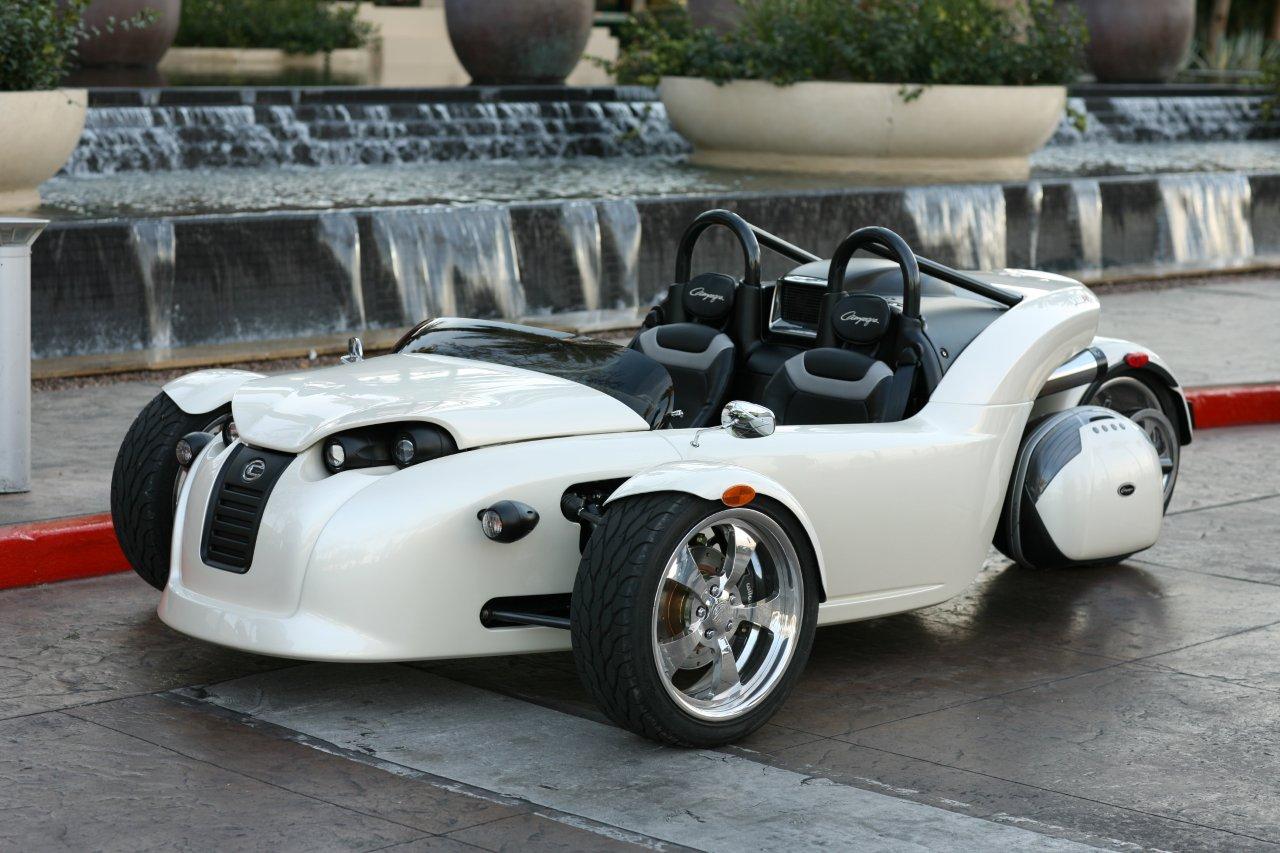 Campagna Motors, makers of the T-Rex reverse trike (two wheels in front, one in the rear), has announced its newest offering, the V13R reverse trike.
The Canadian company's new three-wheeled car/motorcycle hybrid is powered by a 1250cc Harley Davidson engine, producing 122 horsepower. The V13R seats two people side-by-side, and is offered in five colors.
The V13R's official launch is scheduled for this spring, but a limited number of pre-sales are available. It starts at $47,999.
Scroll down to read more in the press release.
AFTER THE T-REX, CAMPAGNA MOTORS WILL LAUNCH ITS V13R THIS SPRING

The new model, equipped with an Harley Davidson®'s engine will be presented in a pre-launch at Daytona's Bike Week
BOUCHERVILLE, March 2, 2011 – After spending five years in research and development, Campagna Motors is proud to announce the beginning of the limited production of its new model: the V13R. Even though the official launch is only scheduled for this spring, this hybrid between a motorcycle and a car is now ready to roll worldwide and a limited number of vehicles are offered during the pre-sale period. For those impatient to see the V13R in action, it will be possible to get a first peek of this dream machine during Bike Week at Bruce Rossmeyer's Destination Daytona from March 4 to 13. "This vehicle has all the driving quality of our well-known T-REX, but it now offers a style much closer to a roadster, which should please a whole new category of clients, explains David Neault, associate vice-president at Campagna Motors. Over the years, we have realised that there was a demand for a new model, something different and more classic than the T-REX. With the V13R, we know for sure that we will surpass all expectations." Following the rumour that a new model was to be offered by Campagna Motors, several orders coming from the United-States, Canada, the Middle East and Japan have already been placed.
An extraordinary vehicle.
Entirely handmade, this reversetrike is powered by a 1250cc Harley Davidson's engine that develops 122 horsepower. The V13R is offered in five colours with a few options. This unique vehicle, offering the driving quality of a sport car and the freedom of a motorcycle, is offered at a starting price of $47,999. It is usually necessary to possess a motorcycle driver's licence to drive it. Contrary to what one may think, the V13R is very spacious. As an example, Hugo Girard (the Determinator), one of the world's strongest man, as also fallen for the V13R. "With my 6'2" and 330 pounds, it is very hard for me to find a vehicle that is exotic and comfortable. What I like about the V13R is that on top of offering a killer look and room for my legs, it has a powerful Harley Davidson's engine!"
About Campagna Motors
Campagna Motors is a growing enterprise that designs, hand builds and distributes powerful, stylish and innovative reverse trike motorcycles. Located in Boucherville (Quebec) it employs about thirty people. For more information, it is possible to visit www.campagnamotors.com or to go on the Facebook page of the company (www.facebook.com/CampagnaMotors).