First Look: 2014 Nissan NV200 Taxi Of Tomorrow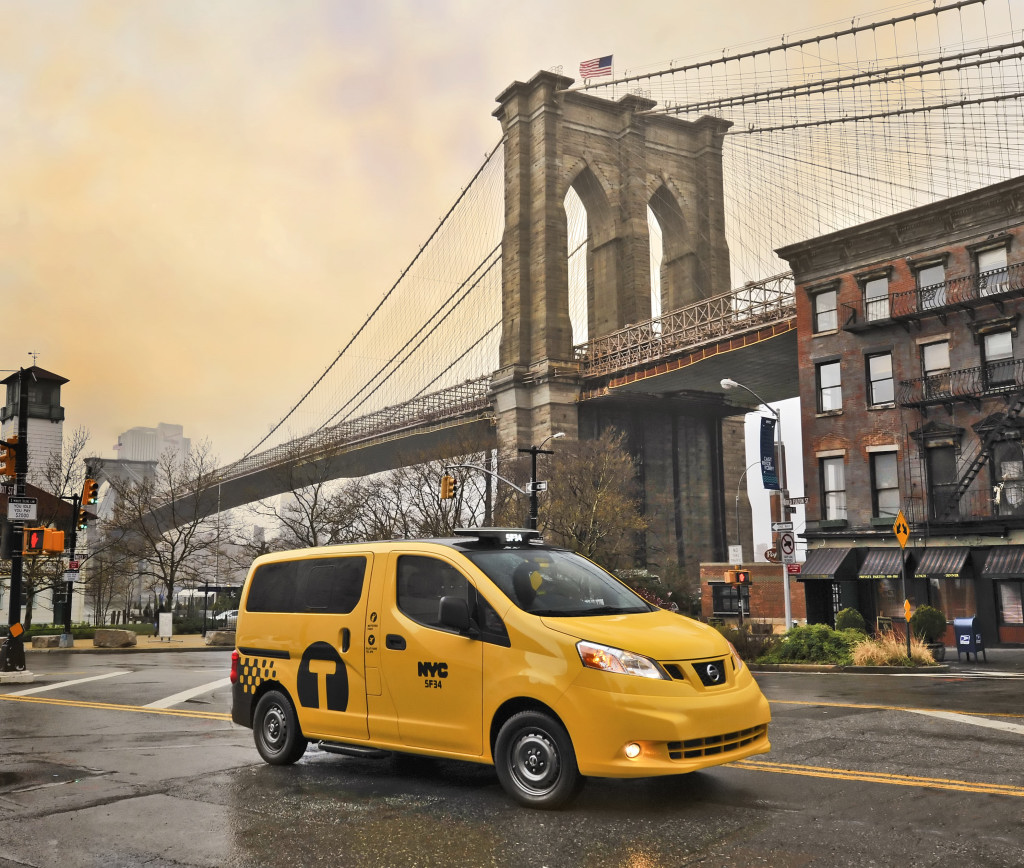 Nissan unveiled the newest mode of transportation for millions of New Yorkers at the 2012 New York Auto Show. The Nissan Taxi Of Tomorrow is an NV200, refitted for the rigors the Big Apple.
The new taxis will boast room for four passengers plus luggage, as well as sliding doors and a transparent roof panel. Added convenience comes from independent rear air conditioning controls, and a 12-volt outlet and two USB ports (so it'll be that much easier to forget your phone in the taxi).
Power comes from a 2.0-liter, four-cylinder engine and should promise a serious improvement in fuel economy over the 4.6-liter V-8s found in the Ford Crown Victorias that currently patrol NYC. Fleet managers should also appreciate the 150,000-mile powertrain warranty.
The NV200 Taxi will be available to taxi fleets beginning in 2013 at a price of $29,700.
Please scroll down for the official press release from Nissan.
Nissan Taxi Of Tomorrow Makes World Debut On Eve Of 2012 New York International Auto Show
Available for public viewing beginning April 6; Driver and passenger input informs key vehicle features; Coming to New York City streets next year
Each day, 600,000 New Yorkers hop in the back of a taxi – the iconic yellow cab that is a symbol of New York City around the world. Starting today, the first full vehicle prototype of the Taxi of Tomorrow can be seen by drivers, passengers and owners. The 2014 Nissan NV200 Taxi, New York's Taxi of Tomorrow, will make its global debut tonight at a special event in SoHo with Nissan President and CEO Carlos Ghosn and New York City Mayor Michael R. Bloomberg.
Following the event, the Taxi of Tomorrow is headed to the 2012 New York International Auto Show, where it will be on display for New Yorkers and visitors from around the world. The auto show at the Jacob Javits Center is open to the public April 6-15.
"We're proud to introduce a new era of urban mobility to New York with the Nissan NV200 Taxi – New York City's Taxi of Tomorrow," Ghosn said. "The exclusive Taxi of Tomorrow draws on Nissan's global experience in commercial vehicles, as well as insight from New York City taxi drivers and passengers, who helped identify important improvements over today's cabs. The Nissan taxi will deliver unprecedented levels of innovation and comfort to New York's 600,000 daily taxi riders."
After a rigorous, two-year competitive bid selection process, the New York City Taxi and Limousine Commission (TLC) selected the Nissan NV200 Taxi in May 2011 as the exclusive taxi of New York City beginning in late 2013. The Cooper-Hewitt National Design Museum, the Design Trust for Public Space and Smart Design also have engaged with Nissan and the TLC in the vehicle's design.
"The Nissan NV 200 unveiled today will be the safest, most comfortable and most convenient taxi the City has ever had," said New York City Mayor Michael R. Bloomberg. "New York City cabs have always been iconic, and now they will set a new standard. The 600,000 passengers who use taxis to get around every day deserve the cutting-edge technology and top-of-the-line safety features that this model delivers."
Designed from the inside out, using input from New York taxi drivers, medallion holders, fleets and passengers, standard interior features and passenger amenities include:
Ample room for four passengers and their luggage, offering substantial improvements over current taxi models
Sliding doors with entry step and grab handles, providing easy entry and exit
Transparent roof panel, presenting unique views of the city
Opening side windows
Independently controlled rear air conditioning
Active Carbon Lined headliner to help neutralize interior odors
Overhead reading lights for passengers and floor lighting to help locate belongings
A mobile charging station for passengers, including a 12-volt electrical outlet and two USB ports
Breathable, antimicrobial, environment-friendly, durable and easy-to-clean seat fabric, simulating the look and feel of leather
Flat "no hump" passenger floor area for more comfortable ride
Other notable vehicle features are:
Proven 2.0L 4-cylinder powertrain, engineered to enhance the emission performance and fuel efficiency of the taxi fleet
150,000 mile powertrain warranty
A low-annoyance horn with exterior lights that indicate when the vehicle is honking, so the horn is used less frequently. A 6-way adjustable driver's seat featuring both recline and lumbar adjustments, even with a partition installed
Unique driver's seat material and stitching to promote improved airflow
USB Auxiliary audio input and charge port for driver
Standard navigation system with integrated rearview backup monitor
Hearing Loop System for the hearing impaired
Driver and passenger intercom system
Pre-wiring for taxi T-PEP system
In addition, important safety features of the Taxi of Tomorrow include:
Only taxi ever to be safety tested and certified with full taxi partition
Front and rear-seat occupant curtain airbags, and seat-mounted airbags for the front row
Standard traction control and Vehicle Dynamic Control
Sliding doors to lessen risk of pedestrians, cyclists and other motorists getting struck by doors opening unexpectedly
Lights that alert other road users that taxi doors are opening
With more than 13,000 taxis traveling a cumulative 500 million miles per year, building a taxi with the utmost durability is critical to the development process. Drawing on its full range of commercial vehicle experience – including providing taxis for municipalities around the world – Nissan will conduct significant validation testing for the Nissan NV200 Taxi prior to the vehicle going on sale. Additionally, as acknowledged by Mayor Bloomberg during the May 2011 announcement, the Taxi of Tomorrow will be the first New York taxi to be crash-tested with taxi equipment installed, including the partition.
Nissan has also partnered with the Braun Corp., the world leader in automotive mobility products, to develop, engineer and produce a creative solution for a wheelchair-accessible taxi in New York. Drawing on Braun's innovation and experience in the mobility industry, Nissan will offer a mobility solution to New York taxi medallion holders when the taxis go on sale in 2013.
As part of the Taxi of Tomorrow program, Nissan is also working with the City and taxi owners on a pilot program to study the use of zero-emission, electric vehicles as taxis. Nissan will provide six 100-percent electric Nissan LEAFs and three Level 2 charging stations at no charge to taxi owners and New York City to test the electrification of the taxi fleet.
The Nissan NV200 Taxi will be produced in North America at Nissan's manufacturing facility in Cuernavaca, Mexico. Total manufacturer suggested retail price (MSRP) of the vehicle, with all planned standard features, will be approximately $29,700.
To stay informed on news and events related to Taxi of Tomorrow, follow it on Twitter at http://www.twitter.com/taxioftomorrow or visit www.taxioftomorrow.com.
About Taxi of Tomorrow
In 2007, City officials convened a group of stakeholders, including representatives of taxi drivers, owners and passengers, to create a set of goals for the next New York City taxi cab, a project called the Taxi of Tomorrow. Taxi of Tomorrow was the result of a groundbreaking effort by the Design Trust for Public Space and the NYC Taxi & Limousine Commission to re-imagine the entire taxi system – including the vehicle – for the 21st century. In December 2009, the TLC issued a "request for proposals," inviting auto manufacturers and designers to submit their best ideas for a purpose-built vehicle to serve as a New York City taxicab. At the end of the evaluation, the Nissan NV200 was selected and will be the next New York City taxicab for ten years, beginning in 2013.
About Nissan North America
In North America, Nissan's operations include automotive styling, engineering, consumer and corporate financing, sales and marketing, distribution and manufacturing. Nissan is dedicated to improving the environment under the Nissan Green Program 2010 and has been recognized as a 2010 and 2011 ENERGY STAR® Partner of the Year by the U.S Environmental Protection Agency. More information on Nissan in North America and the complete line of Nissan and Infiniti vehicles can be found online at www.NissanUSA.com and www.InfinitiUSA.com.
About Nissan
Nissan Motor Co., Ltd., Japan's second largest Japanese automotive company by volume, is headquartered in Yokohama, Japan and is an integral pillar of the Renault-Nissan Alliance. Operating with more than 248,000 employees globally, Nissan provided customers with more than 4.6 million vehicles in 2011. With a strong commitment to developing exciting and innovative products for all, Nissan delivers a comprehensive range of fuel-efficient and low-emissions vehicles under the Nissan and Infiniti brands. A pioneer in zero emission mobility, Nissan made history with the introduction of the Nissan LEAF, the first affordable, mass-market, pure-electric vehicle and winner of numerous international accolades including the prestigious 2011 European Car of the Year award.