First Look: 2013 Shelby GT500 Super Snake 50th Anniversary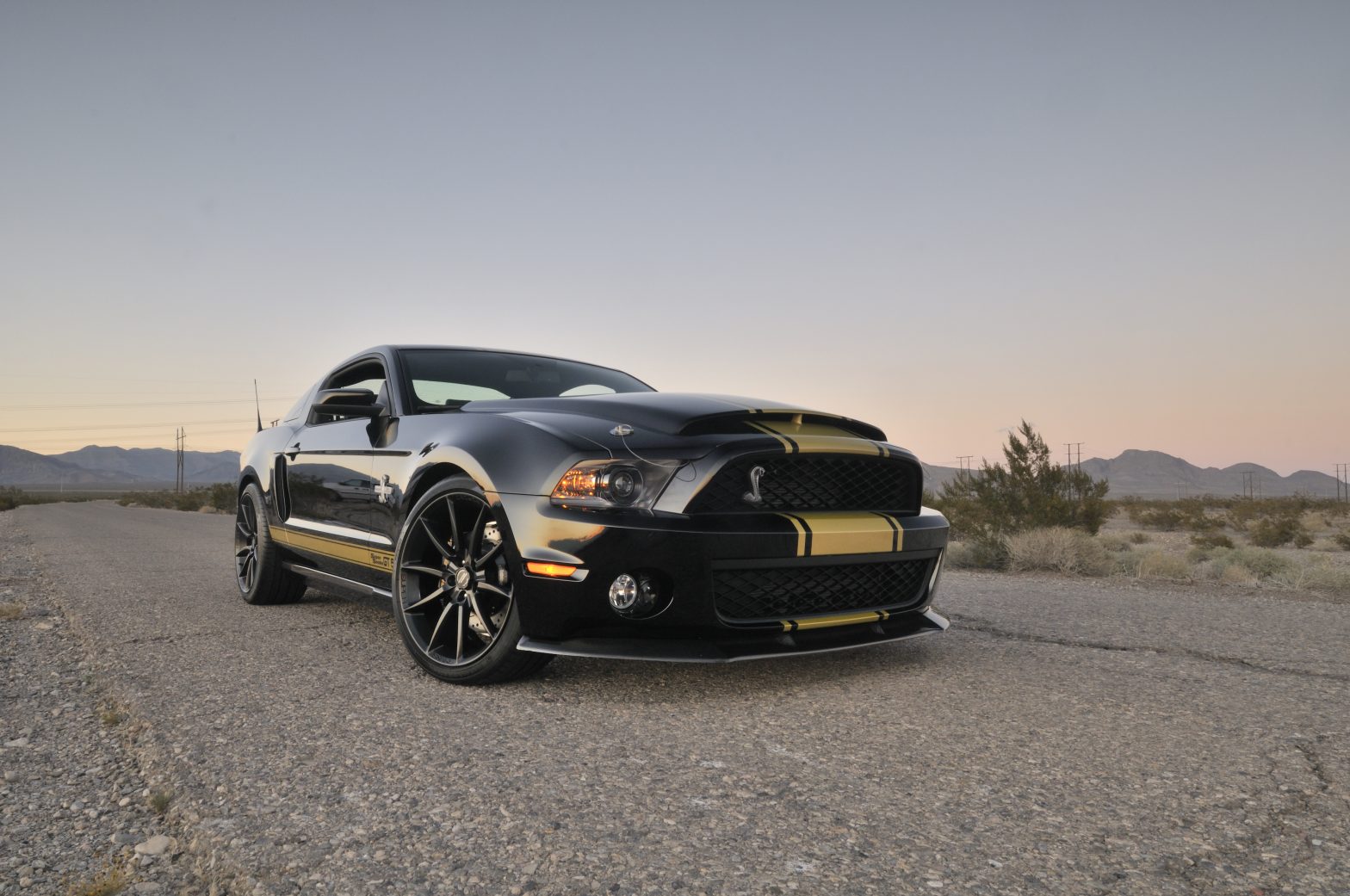 Bright and early this morning, Shelby American unveiled its new 50th Anniversary GT500 Super Snake. The latest post-title Shelby is meant to celebrate 50 years of hot Ford (and occasionally Chrysler) products.
Only 100 of the 50th Anniversary Super Snakes will be produced, coming in either black or white, and bearing distinctive gold Shelby racing stripes. There's also the requisite 50th anniversary badging, interior treatment, and wheels as well.
Where the real interest comes is with the power plants. The GT500 Super Snake will be available at three different power levels: 650 horse, 750 horse, and 800 horse. The kicker is that all three run on pump gas and boast a warranty from Shelby. Let us reiterate this last part; 800-horsepower Mustang, pump gas, and factory warranty.
Snagging one of the rare 50th Anniversary Super Snakes will run you $59,995 on top of the base car, so this won't be a cheap one. If that's a bit too much for you, Shelby will also be offering 50th Anniversary versions of the
GT350
and Shelby GTS, as well as offering non-anniversary cars as well. But considering you'd have more power in the GT500 Super Snake than any Ferrari, Lamborghini, or Porsche on the road, we think the price is worth it.
Please scroll down for the official press release from Shelby American.
SHELBY AMERICAN CELEBRATES 50 YEARS OF HIGH
PERFORMANCE WITH SPECIAL ANNIVERSARY EDITION CARS
DETROIT – Jan. 10, 2012 – To honor its 50th anniversary, Shelby American™, a wholly owned subsidiary of Carroll Shelby International Inc., (CSBI.PK), is unleashing a new line of Anniversary Edition Shelby GTS, GT350® and Super Snake® vehicles. Only 50 white and 50 black of each post title Shelby model will be manufactured, making it an instant collector's item and an iconic piece of automotive history.
"Few thought that Shelby American would make it in the car business for 50 years," said Carroll Shelby. "We built the first Cobra in a rented garage and then GT350's in an old hanger. But our company is still here, manufacturing the best cars that I've ever made. The next 50 years will be even better for Shelby American."
The Shelby American name is synonymous with high performance worldwide. Over the past five decades, the company has relentlessly pushed the envelope with a string of superior vehicles and parts.
"Our golden anniversary is a remarkable milestone worthy of this limited edition line of Shelby vehicles," said John Luft, president of Shelby American. "On the heels of the unprecedented sellout of our 50th Anniversary Edition Cobra 289, we expect demand for these new Shelby's to be strong."
Only 50 white and 50 black 50th Anniversary Edition cars are available; each will boast gold stripes to signify the golden anniversary. In addition, each Shelby comes with commemorative 50th anniversary badging, custom interiors, special wheels, 6 piston front brakes, car cover and a unique VIN number that will be entered into the official registry. A special museum delivery ceremony at the Shelby factory in Las Vegas is also included in the package, as well as exclusive collector merchandise.
Shelby American Launches 50th Anniversary Edition Cars (2/2)
The most powerful Shelby built yet, the GT500 Super Snake is available in 650, 750 or 800 horsepower configuration as a coupe or convertible. Based on the Ford Shelby GT500, the car is enhanced at the Shelby American facility with more powerful brakes, better handling and updated styling cues to match the higher horsepower motor. The 50 white and 50 black anniversary edition cars will carry gold stripes, a first and one- year only option for the Shelby. The anniversary package begins at $59,995, not including base car.
In 2010, Shelby American returned the storied GT350 name plate to the road. Based on the Ford Mustang 5.0 GT, the car is turned into a high performance muscle car by the Shelby American team. From the LeMans style racing stripes to the 430, 525 or 624 horsepower engine, big brakes and razor sharp suspension, this Shelby is a worthy descendent of the pony car that cemented the Shelby legend. The car is available as a coupe or convertible with the supercharged engine only with a manual transmission, while an automatic is
available with the normally aspirated 430 horsepower engine. Previously only offered in red, white or blue, the black version with gold stripes is a one-year anniversary exclusive option. The post title package begins at $59,995, not including the base Ford 5.0 Mustang GT.
The Shelby GTS post title package can be based on either the V6 or 5.0 Ford Mustang. Starting at only $19,995 for the V6 post title package ($24,995 for the V8), the Shelby features upgraded brakes, suspension, tune and appearance. Many options are available for the GTS, including superchargers to boost performance.
"From the 800 horsepower Shelby Super Snake to the agile GT350 and nimble GTS, each 50th anniversary Shelby is built to run," noted Luft. "A 50-year anniversary only comes around once in life. These limited edition Shelbys will mark that milestone for a select few who have a chance to own a piece of history."
Visit www.shelby50th.com or www.shelbyamerican.com for more information about the 50th Anniversary Edition vehicles and the 2012 Shelby American 50th Anniversary Tour.
About Shelby American, Inc.
Founded by legend Carroll Shelby, Shelby American™ manufactures and markets performance vehicles and related products. The company manufactures authentic continuation Cobras®, including the 427 S/C, 289 FIA and 289 street car component vehicles. The company offers the GT350®, GT500® Super Snake® and GTS post title packages for the current generation Ford Mustang. For more information, visit www.shelbyamerican.com.