First Look: 2013 Nissan Sylphy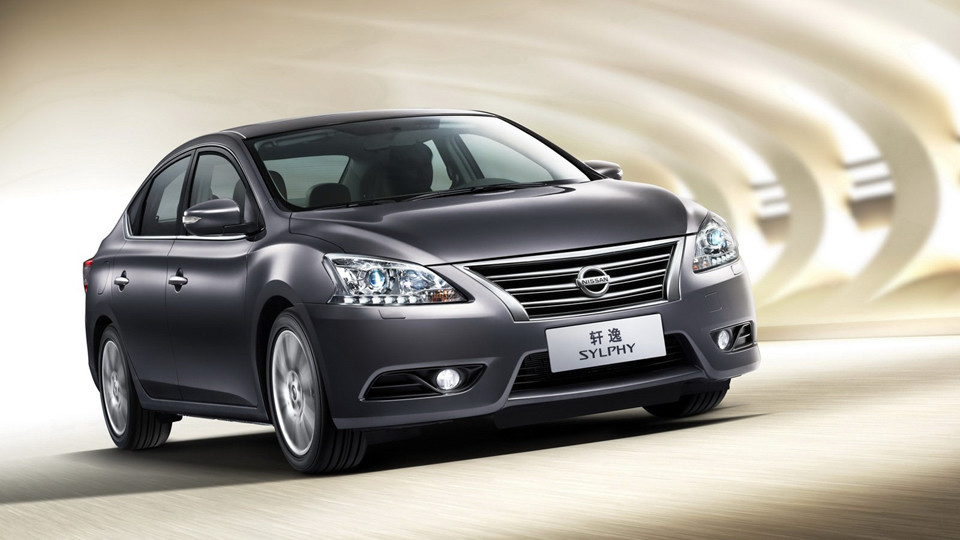 The Sylphy is Nissan's new global sedan, and as such, is more than likely going to come Stateside as the new Sentra.
The Sylphy is powered by a 1.8-liter four-cylinder, and transmits its power through Nissan's XTronic continuously variable transmission. While there's no confirmation, we think there's a fair chance that this powertrain will be sold in the US-spec Sentra at some point.
The Sylphy will be launched in China in the middle of 2012, with major markets getting unique versions during the remainder of the year. Nissan is planning on selling the Sylphy (or its regional variant) in 120 countries by 2014.
Please scroll down for the official press release from Nissan.
Nissan's Re-imagined New Global Sedan World Previewed at Beijing
Beijing (April 23, 2012) – Nissan Motor Co., Ltd. today revealed an all-new global sedan along with three zero-emission concepts at the 2012 Beijing International Automobile Exhibition, joining the selection of production models.
Highlights of the Nissan show:
All-new global sedan featuring elegant modern design and one-class-above cabin comfort smartly balanced with Nissan's advanced technology. The new model will premiere in China as the next-generation Nissan Sylphy.
Three zero-emission concept vehicles: PIVO 3, a smart urban EV of the near future; ESFLOW, a pure EV sports car; and e-NV200, a versatile EV small van.
Advanced technology exhibit showcasing Nissan's leadership in zero-emission mobility and safety.
Re-imagined Sedan
Nissan developed a one-class-above solution that exceeds customers' expectations – retaining the popular features of the current model while upgrading design, perceived quality, roominess and performance. In fact, Nissan has virtually re-imagined the category, delivering high quality styling outside and spacious, quiet comfort inside with the latest "smart" amenities, plus remarkable fuel efficiency.
Design with Excitement and Confidence
Just looking at the all-new global sedan inspires excitement and confidence. The lowered stance and well-proportioned aerodynamic body create a strong presence, while the elegantly upswept character line expresses dynamic yet refined performance. The front grille and LED-bordered headlamps contribute to the premium image and help create a modern look. LED taillights, a sharply angled trunk lid and eye-catching chrome trim add to the tastefully-styled one-class-above appearance.
Roomy, High Quality Interior
The modern design language of the exterior is carried over to the spacious interior with high quality materials and cabin details crafted to please the senses. Within the roomy cabin, passengers enjoy generous shoulder room and legroom one would expect in more expensive vehicles. The trunk's capacity is among the best in its class. Thorough noise isolation, vibration absorption, and an advanced suspension with optimized high-stiffness body assure a peacefully smooth ride. Amenities for comfort and convenience include dual-zone air conditioning, Intelligent Key and keyless pushbutton ignition.
Impressive Fuel Economy
With its new 1.8 liter engine and next-generation XTRONIC CVT (Continuously Variable Transmission), the all-new global sedan delivers impressive fuel efficiency. A long piston stroke and Twin Continuously variable valve timing control (C-VTC) optimize combustion, while hydrogen-free Diamond Like Carbon (DLC) coating on valve lifters halves friction of previous coatings and beehive valve springs reduce friction and inertial loss. The next-generation XTRONIC CVT is lighter and more compact than previous designs, yet achieves greater efficiency and a wider gear ratio range, thanks to an auxiliary transmission with sub planetary gears and smaller pulleys. This environmentally-friendly performance reflects Nissan's global PURE DRIVE commitment to reducing CO2 emissions through developing fuel efficient internal combustion engine (ICE) technologies and introducing them into the market.
This new model, to be produced at the Dongfeng Nissan Huadu Plant facilities in Guangzhou, will be released in mid 2012. Following its introduction in China, the car will be launched in most major markets worldwide during the course of 2012 and approximately 120 countries by 2014.
Other highlights in the Nissan booth include:
PIVO3
Smart urban commuter EV of the near future features Automated Valet Parking (AVP) and the ability to make a U-turn on a road only four meters wide.
http://www.nissan-global.com/EN/SOCIALCONTRIBUTION/MOTORSHOW/2011/TOKYO/PIVO3/
http://www.nissan-global.com/COMMON/HTML/MOTORSHOW/2011/pivo3_e.html
ESFLOW
Pure EV rear-wheel drive two-seater sports car concept presents an exciting new dimension in sports car handling and performance, using technology pioneered in Nissan LEAF.
http://www.nissan-global.com/EN/SOCIALCONTRIBUTION/MOTORSHOW/2011/TOKYO/ESFLOW/
http://www.nissan-global.com/COMMON/HTML/MOTORSHOW/2011/esflow_e.html
e-NV200
Multi-usage zero emissions small van is designed to provide businesses or families with flexible, roomy interior space, while achieving outstanding environmental performance as a zero-emission vehicle with no tailpipe emissions, including CO2.
http://www.nissan-global.com/EN/NEWS/2012/_STORY/120109-01-e.html
Nissan North America Product Blitz Continues With All-New Sentra Sedan Coming Later This Year
On the heels of the Beijing Motor Show, at which Nissan Motor Company unveiled an all-new global sedan, Nissan North America (NNA) announced that this new model will be the basis for an all-new 2013 Nissan Sentra. In conjunction with the announcement, Nissan released teaser video clips and images of the North American market's uniquely styled 2013 Sentra SR. The all-new Sentra will be unveiled in the United States later this summer and go on sale in the fall.
"Sentra is the third of five all-new core models we'll be introducing in a 15-month product onslaught," said Brian Carolin, senior vice president, Sales and Marketing, NNA. "The all-new Altima goes on sale this summer and will be followed closely by the all-new Pathfinder and Sentra. And when the next two new models launch in 2013, we will have refreshed 75 percent of our volume, rewarding our loyal owners and attracting new customers into Nissan showrooms."
The all-new 2013 Sentra will be launched as the nameplate celebrates its 30th anniversary in the U.S., promising to bring a new level of refinement and innovation to the segment. Nissan will unveil the Sentra and release more details about it this summer.