First Look: 2013 Nissan Altima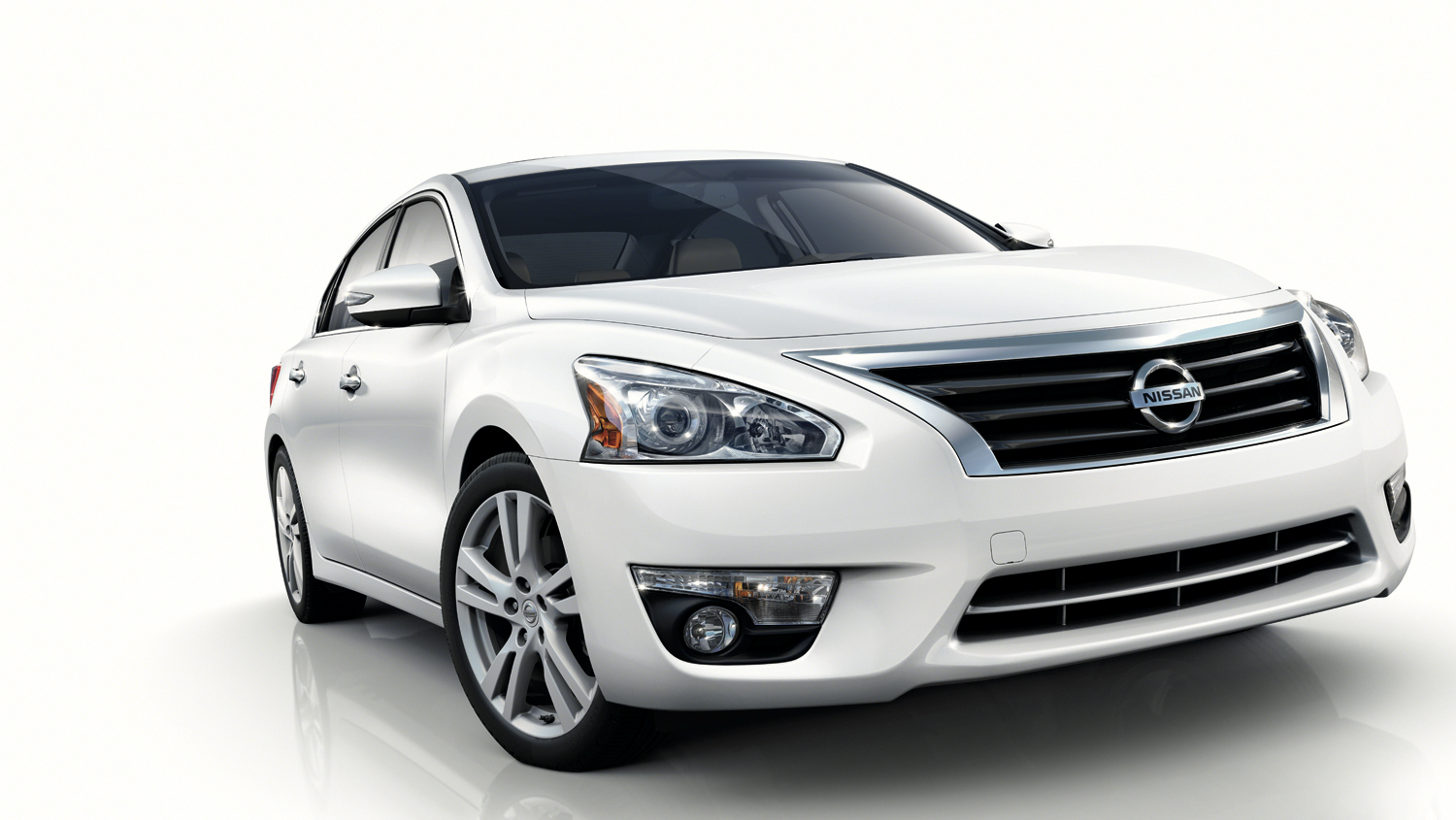 Nissan has debuted the redesigned 2013 Altima at the New York International Auto Show.
The new Altima offers two engine options. The first is a redesigned 2.5-liter inline-four producing 182 horsepower. This engine is targeted to achieve an impressive 38 miles per gallon on the highway. The more powerful option is Nissan's 3.5-liter V-6, good for 270 horsepower. Both engines will be mated to a standard continuously variable transmission.
Bluetooth phone and audi connectivity is standard in the 2013 Altima. NissanConnectSM and NissanConnectSM Navigation are available, offering phone-connected Pandora radio, Google POI, and other features.
The Altima has a standard Advanced Drive-Assist Display between the gauges, integrating available navigation, text message notification, and audio data into the instrument panel.
Read on for more details in the press release from Nissan, below.
2013 Nissan Altima Sedan Makes World Debut at New York International Auto Show
– Innovative Nissan NV200 New York City Taxi Also on Public Display at Javits Center –
A big week in front of a big audience – that's one way to describe Nissan's major presence in New York City prior to the opening on Friday of the 2012 New York International Auto Show. Heading the slate of announcements is today's world debut of the next-generation of Nissan's totally redesigned 2013 Altima Sedan.
The reveal of the most innovative Nissan Altima ever follows the first public showing of the upcoming Nissan NV200 "Taxi of Tomorrow" at an event last evening hosted by Nissan President and CEO Carlos Ghosn and attended by New York City Major Michael Bloomberg and other city officials. Both vehicles will be on display throughout the run of the show, April 6th through April 15th, at New York City's Jacob Javits Convention Center. In addition, the Nissan Pathfinder Concept, a preview of the next-gen Nissan Pathfinder SUV, makes its New York debut at the show.
The new 2013 Altima and Pathfinder are the first of five all-new models Nissan is launching in the next 15 months. The 2011 calendar year was the sixth consecutive year of market share gains for Nissan in the U.S., with the Altima ranking as the second best-selling car in the U.S. The Altima goes on sale at Nissan dealers nationwide in July at a starting M.S.R.P. of $21,500. The new Pathfinder launches later this fall.
"The new Altima hits the consumer bulls-eye dead center by delivering a balance of style, performance and value that will continue to make it one of the most popular cars in America," said Ghosn.
The Nissan NV200 Taxi was selected, after a rigorous, two-year competitive bid selection process by the New York City Taxi and Limousine Commission (TLC), as the exclusive taxi of New York City beginning in late 2013.
"The Taxi of Tomorrow draws on Nissan's global experience in commercial vehicles, as well as insight from New York City taxi drivers and passengers, who helped identify important improvements over today's cabs. The Nissan taxi will deliver unprecedented levels of innovation and comfort to New York's 600,000 daily taxi riders," continued Ghosn.
About the 2013 Nissan Altima
With the arrival in summer 2012 of the all-new fifth generation design – the most innovative Altima yet – Nissan promises to shake up the mid-size sedan segment again with the most engaging, innovative and stylish vehicle in its class. Among the 2013 Altima's many attributes are a targeted best-in-segment* fuel economy of 38 mpg highway (2.5-liter engine), new premium exterior styling with a strong presence and excellent aerodynamics, an upscale interior with premium materials, and an outstanding balance of ride comfort, stability and a fun-to-drive demeanor with projected best-level acceleration.
Building on Nissan's "Innovation for All" philosophy, the new Altima offers standard Bluetooth® Hands-Free Phone System with Streaming Audio via Bluetooth®. Also available are NissanConnectSM and NissanConnectSM Navigation with a suite of Bluetooth® phone connectivity features, including hands-free text message integration, Pandora® playback, real-time Google® POI search and more; along with Easy Fill Tire Alert, and next-generation Safety Shield Technologies, including Blind Spot Warning (BSW), Lane Departure Warning (LDW) and Moving Object Detection (MOD) systems.
The premium interior design looks and feels a class above, with new NASA-inspired "zero-gravity" front seats, available leather appointments, and a new standard Advanced Drive-Assist™ Display in the center of the instrument cluster that integrates key information – including available navigation, text messaging notification and audio data – right in front of the driver.
Dynamic performance is provided by a choice of a redesigned 182-horsepower (est.) 2.5-liter DOHC inline 4-cylinder engine or a 270-horsepower (est.) 3.5-liter V6, with both engines matched with standard Xtronic CVT® (Continuously Variable Transmission).
Altima's next-generation CVT reflects Nissan's more than 20 years of engineering and development leadership with its smooth, fuel-efficient design. Altima's redesigned 4-wheel independent suspension features segment-first Active Understeer Control for refined feel and responsive handling.
The 2013 Nissan Altima is offered in seven well-equipped models to meet a range of customer needs and budgets. It is assembled in the United States.
About the Nissan NV200 New York City Taxi
The Nissan NV200 Taxi design reflects the input of hundreds of taxi owners and drivers, and thousands of passengers from all walks of life, who shared their ideas and priorities with Nissan designers and engineers. It also reflects ongoing collaboration with organizations long at the forefront of the "Taxi of Tomorrow" program, including the Design Trust for Public Space and the Smithsonian's Cooper-Hewitt, National Design Museum.
Interior features planned for the NV200 Taxi include:
· Spacious cargo area to accommodate luggage for four passengers
· A transparent roof panel to provide unique views of the city
· Sliding doors with entry step and grab handles for easy entry and exit
· USB charging access for passengers
· Independent, passenger controlled rear-seat heat/air conditioning with a grape phenol-coated air filter to improve cabin air quality
· Flat floor – with no hump
· Enhanced interior materials intended to help passenger cabin smell fresher
· Breathable, anti-microbial, easy-to-clean and environmentally friendly seat upholstery
About Nissan North America
In North America, Nissan's operations include automotive styling, design, engineering, consumer and corporate financing, sales and marketing, distribution and manufacturing. Nissan is dedicated to improving the environment under the Nissan Green Program 2010 and has been recognized as a 2010 and 2011 ENERGY STAR® Partner of the Year by the U.S Environmental Protection Agency.
About Nissan
Nissan Motor Co., Ltd., Japan's second largest Japanese automotive company by volume, is headquartered in Yokohama, Japan and is an integral pillar of the Renault-Nissan Alliance. Operating with more than 150,000 employees globally, Nissan provided customers with more than 4 million vehicles in 2010.
With a strong commitment to developing exciting and innovative products for all, Nissan delivers a comprehensive range of fuel-efficient and low-emissions vehicles under the Nissan and Infiniti brands. A pioneer in zero emission mobility, Nissan made history with the introduction of the Nissan LEAF, the first affordable, mass-market, pure-electric vehicle and winner of numerous international accolades including the prestigious 2011 European Car of the Year award.
# # #
*Fuel economy comparison against internal combustion gasoline engine-equipped mid-size sedans. Excludes hybrid and diesel models.