First Look: 2013 Mazda CX-5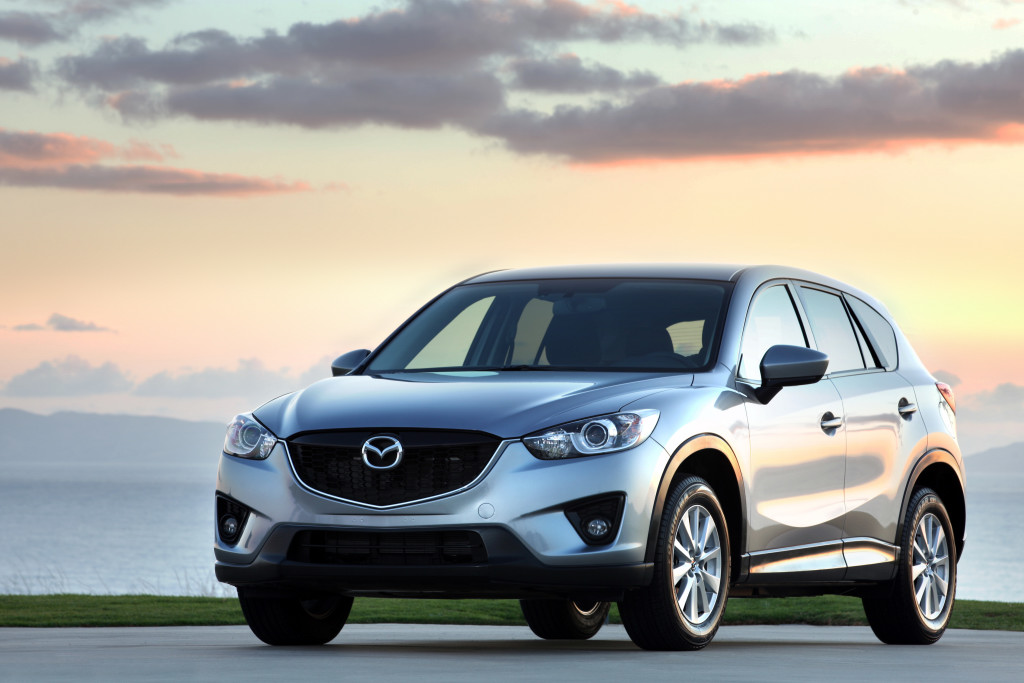 Mazda is jumping into the small SUV/CUV foray, and getting ready to take on vehicles like the
Ford Escape
and
Honda CR-V
. The advantage the CX-5 will have going is that it will come to market with the same Skyactiv 2.0-liter four-cylinder that we tested recently in the
Mazda3
.
The CX-5 Skyactiv will net 155 horsepower and 150 pound-feet of torque, with power going to the front wheels either through a six-speed manual or six-speed automatic. All-wheel drive is also available, but only with the six-speed autobox (darn!).
Those power figures are lower than some of the competition, but the extra mileage netted by the Skyactiv engine should make things tolerable. Manual-transmission-equipped CX-5s will net 26 city and 33 highway miles per gallon, while the automatic robs one highway mpg from that. Opting for all-wheel drive will net drivers 25 city and 30 highway mpg.
Pricing hasn't been announced, but we expect to see the 2013 CX-5 in showrooms before the Spring of 2012.
Please scroll down for the official press release from Mazda.
ALL-NEW 2013 MAZDA CX-5 MAKES ITS NORTH AMERICAN DEBUT IN LOS ANGELES
– Compact SUV Features Full Suite of SKYACTIV Technologies, Offers Best-in-Class Fuel Economy –
LOS ANGELES (November 16, 2011) – Mazda North American Operations (MNAO) today unveiled its all-new 2013 CX-5 compact SUV at the Los Angeles Auto Show. The North American debut is the first Mazda to fully encompass SKYACTIV®1 TECHNOLOGY, the brand's engineering-focused philosophy toward improving all-around vehicle efficiency; the segment newcomer also offers best-in- class fuel economy. A sneak peek into Mazda's new generation of vehicles, CX-5 embodies the perfect balance between the best of all worlds: captivating design, dynamic handling, unexpected efficiency, flexible functionality and first-class safety, with a dash of Zoom-Zoom.
"The 2013 CX-5 is the vehicle compact SUV shoppers have been asking for – that only Mazda can build," said Jim O'Sullivan, president and CEO, MNAO. "Entering an extremely competitive segment, the all-new CX-5 has to offer more than just flash and features, but also has to perform and provide consumers with the dynamic response they've come to expect from Mazda – and it does. With its SKYACTIV underpinnings and best-in-class fuel economy, CX-5 proves that fun needn't be sacrificed for fuel efficiency and that compact doesn't equate compromise."
Reach for the Sky
As the new kid on the block, the 2013 CX-5 had to do more than simply dress to impress on its first day in class. The vehicle needed to walk and talk that it belonged with its peers, but at the same time still evoke a level of emotional connection and driving passion worthy of the Mazda badge. This begins with SKYACTIV TECHNOLOGY.
Developed solely by Mazda, SKYACTIV TECHNOLOGY is not a package or trim level, but an all- encompassing, deeply embedded philosophy that obtaining more power, torque and miles per gallon does not need to come at the expense of fuel economy, design and safety. Its first application was in Mazda's best-selling Mazda3, refreshed for 2012 with a SKYACTIV engine and transmissions. CX-5 is the first vehicle to receive all SKYACTIV components
1 SKYACTIV is a registered trademark of Mazda Motor Corporation (MC).

Under an expansive hood lies the SKYACTIV-G 2.0-liter gasoline engine. At 13:1, SKYACTIV-G features the world's highest compression ratio for a mass-produced car. With its all-new 4-2-1 exhaust system, the 2013 CX-5 delivers 155 horsepower at 6,000 rpm, torque is measured at 150 lb- ft at 4,000 rpm and redline is reached at 6500 rpm. With a choice of transmissions in either the SKYACTIV-MT six-speed manual or SKYACTIV-Drive six-speed automatic, a 2,000-pound towing capacity and an optional all-wheel drive, the 2013 CX-5 truly offers a little of everything for everyone.
And the competition is not nearly as competitive to the CX-5's best-in-class fuel economy. Compared to the compact SUV segment's other gasoline-power makes and models, the CX-5 is not afraid to make a statement by matching the best highway figures and trumping the competitive set's city mileage. Estimated EPA fuel economy for the CX-5 is 26 city/33 highway for a front-wheel drive equipped with SKYACTIV-MT. When equipped with SKYACTIV-Drive, the front-wheel drive model garners 26 city/32 highway. The all-wheel drive version, only available with SKYACTIV-Drive, also is a fuel sipper with an EPA rating of 25 city/30 highway.
Striking Style
A new "signature wing" front grille dominates the front fascia. Its black elongated trapezoidal pattern adds masculine depth, while wing-shaped, wraparound headlamps extend out, seemingly flirting a head-turning "hello" to passersby. This is KODO.
KODO, or "Soul of Motion," is a design language inspired by nature which evokes how both startling beauty and immense power can be captured within a single motion. First unveiled in 2010 on the SHINARI concept car, a long and lean four-door sports coupe, and then on the MINAGI concept SUV earlier this year, from which CX-5 is based, KODO exemplifies the future direction of Mazda's striking sheet metal strokes.
The CX-5's sculptured body features taut, compact lines. Shapely front and rear fenders hug the sporty SUV's available 17- and 19-inch rubber-and-rim packages, projecting a wide, low-slung stance. A sweeping swoosh line bridges the four corners with sleek, artistic expression. Topside, a pronounced crease begins at the A-pillar and darts sharply across the side panels, eventually wrapping itself around stylized tail lamps. The sharply raked A-pillar is matched by the angles of the C-pillar and rear window, topping an aggressive profile which, at the same time, affords all occupants one of the widest fields of view in the segment.
All these cuts in the sheet metal, the rounded surfaces and edgy creases, are as much for finesse as they are for function. With a targeted coefficient of drag of 0.33, the CX-5 aims to be the most aerodynamic compact SUV in the field. Not just for Zoom-Zoom but for the added benefit of improving fuel economy.
Sensible Purpose
Just as the exterior stirs the soul, the CX-5's interior sparks the senses. Intuitive, with a multitude of frequently-used controls within reach, there is nothing you can't do while ensconced in utmost comfort. Long and luxury-laced, the CX-5 sits on a segment-leading 106.3-inch wheelbase, seats five and offers a cabin that is undeniably flexible in order to accommodate the demands of today's active lifestyles of all work and all play.
Rear cargo room is not only cavernous but clever. With a three-piece independent 40/20/40-split fold- flat second row, the CX-5 shows that whatever is thrown its way, it will catch – with room left to spare. A single-action topside button releases the left- and right-side seats to fold down while a looped handle frees the middle seat, which also folds flat – a segment first.
While the driver delights in all the glee of driving one of the most dynamically fun and satisfying compact SUVs on the road, there is no reason passengers can't be allowed to enjoy the ride as well. Amongst the roomiest cabins in the segment, legroom for the second row is ample at 39.3 inches with an equally generous knee clearance of 2.6 inches. The wide cavity under the front seats also offers abundant rear passenger foot space and can be used as additional cargo room to hide personal belongings. Rear headroom is 39.0 inches for vehicles not equipped with a moonroof.
Up front, both the driver and passenger can enjoy 40.1 inches of headroom (when not equipped with a moonroof), 57.5 inches for the broadest of shoulders and 41.0 inches to stretch their legs. Six- and eight-way power-adjustable seats will be standard on all but the entry-level models.
Whether battling those curvaceous roads alone or rolling through town with a full house, commanding the sound studio on wheels is easily within reach for either the driver or front passenger. An all-new 5.8-inch touch screen becomes the center of attention with intuitive phone, audio and navigation functions. Streamlined steering wheel controls also enable a more straightforward operation of the infotainment system. Mazda's advanced keyless entry system and push-button start get the CX-5 going.
Other available features on the all-new 2013 CX-5 include Bluetooth® phone and audio connectivity and iPod® audio playback. A nine-speaker Bose® Centerpoint® Surround Sound system with AudioPilot® was jointly developed with Mazda to please even the most discerning music enthusiasts. The CX-5 also is available with HD RadioTM Technology, a subscription-free digital AM and FM broadcast radio service which provides crystal-clear sound, on-screen information and additional programming choices via HD2 and HD3 channels.
In a first-time partnership with Mazda in North America, a TomTom® technology-based navigation system also will be offered and features premium North American maps, advanced lane guidance, intuitive voice recognition and real-time traffic. USB and auxiliary jack connections can be found in the center console storage bin and be accessed via the infotainment touch screen.
Secure in Safety
While safety never comes second, having the peace of mind to never have to worry about it in the first place is just as important. Being a compact SUV that doesn't compromise, CX-5's SKYACTIV-Body and SKYACTIV-Chassis ensure a vehicle structure as reinforced and quiet as it is rigid and absorbs impacts.
Re-examining the suspension and steering systems, the lightweight construction of the SKYACTIV- Chassis includes a front strut suspension and a multi-link rear format along with an assortment of design changes. Precise and predictable, drivers will feel secure in a vehicle that reacts as they react and balances agility, stability, comfort and safety.
The SKYACTIV-Body is comprised of 61 percent high-tensile steel, creating a lighter, stronger body with superior handling. As a result, the overall structure is eight percent lighter than previous Mazda models. The all-new CX-5 also has the distinction of being the first vehicle ever to utilize 1,800MPa ultra-high tensile steel in manufacturing. Located in the front and rear bumper beams, they are 20 percent stronger and 10.6 pounds lighter than previous generation bumpers. With the all-new CX-5, from the inside out, Mazda has spared no detail.
Standard safety offerings include six airbags (front, side and full side-curtain), four wheel disk brakes, anti-lock brakes (ABS), daytime running lights, active headrests, Dynamic Stability Control (DSC), a Traction Control System (TCS) and a tire pressure monitoring system (TPMS). Also available are a Blind Spot Monitoring (BSM) system, Adaptive Front-Lighting System (AFLS) with auto-levelling bi- xenon headlamps and a rear view camera with distance guide lines.
Mazda North American Operations is headquartered in Irvine, Calif., and oversees the sales, marketing, parts and customer service support of Mazda vehicles in the United States, Canada and Mexico through nearly 900 dealers. Operations in Canada are managed by Mazda Canada, Inc., located in Ontario; and in Mexico by Mazda Motor de Mexico in Mexico City.
For more information on Mazda vehicles, visit the online Mazda media center at www.mazdausamedia.com. Product B-roll may be ordered online by visiting The News Market at www.thenewsmarket.com/mazda.