First Look: 2013 Cadillac ATS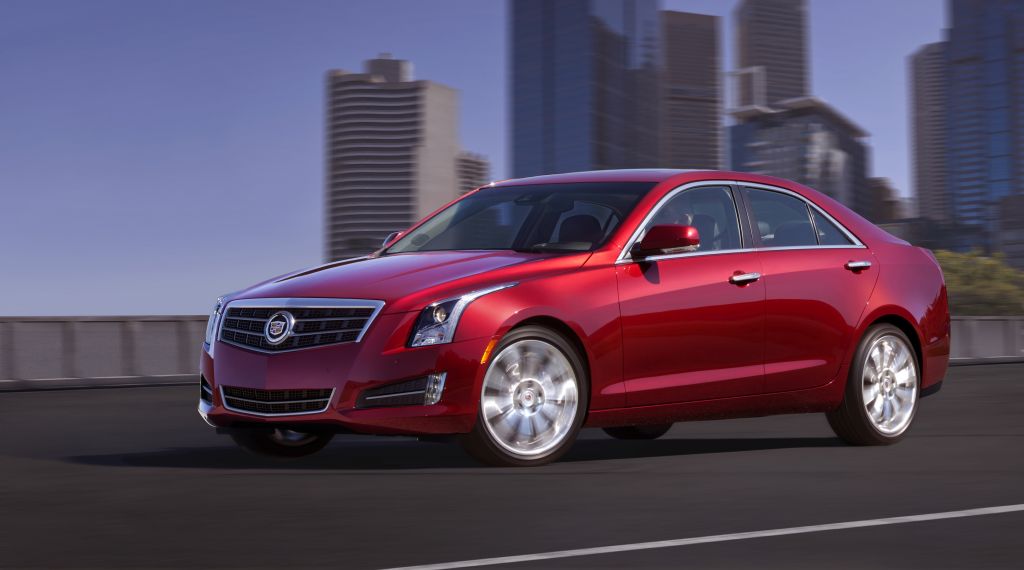 Cadillac has officially taken the wraps off its new
BMW 3-Series
fighter, the ATS. There will be three engine options, with a 2.5-liter four-cylinder powering the base model. Uprated models will feature either a 2.0-liter, turbocharged four-cylinder with 270 horsepower or the 320-horsepower, 3.6-liter V-6 from the bigger
CTS
. Power will be sent to the rear wheels via either a six-speed manual or a six-speed automatic. All-wheel drive will also be available.
In terms of handling prowess, the ATS features a five-link, independent rear suspension, while a multi-link, MacPherson-strut setup is found in front. The ATS also benefits from GM's Magnetic Ride Control. As if this wasn't a compelling package already, the ATS also boasts a sub-3400-pound curb weight, and a near perfect fifty-fifty weight distribution. Brembo branded stoppers will also be optional.
If you want to get your hands on this new small Caddy, you'll have to wait until this summer, when the new model finally hits dealerships. We'll have more on the ATS when we see it first hand, later today at the 2012 North American International Auto Show.
Please scroll down for the official press release from Cadillac.
2013 Cadillac ATS Challenges the Status Quo
All-new, lightweight, rear-wheel-drive architecture with one of the lowest curb weights in the segment – less than 3,400 pounds (1,542 kg)
Broad lineup of engines, including two four-cylinders and a V-6 for North America, capitalizes on lightweight structure for performance with efficiency
Cadillac CUE, a comprehensive, in-vehicle experience that merges intuitive design with auto industry-first controls and commands for information and entertainment data
DETROIT – Cadillac today introduced the 2013 ATS, an all-new compact luxury sports sedan intended to challenge the world's best premium cars. Developed on an all-new, lightweight vehicle architecture, Cadillac's entry into the world's most significant luxury car segment goes on sale this summer.
The rear-drive ATS brings Cadillac's blend of technologically driven performance, elegance and design to a new audience of spirited drivers. Its sophisticated driving experience is enhanced with Cadillac CUE, a comprehensive, in-vehicle user experience that merges intuitive design with industry-first controls and commands for information and media data.
"Designed with quick, nimble and fun-to-drive dynamics, ATS expands Cadillac's portfolio into a crucial global segment," said Don Butler, vice president of marketing for Cadillac. "For a new group of luxury consumers, this is a car that will fit their lifestyle and challenge the segment's status quo."
The Cadillac ATS is a new expression of Cadillac's Art & Science execution philosophy, built on a foundation of driving dynamics and mass efficiency. It is the most agile and lightweight Cadillac, with one of the lowest curb weights in the segment – less than 3,400 pounds (1,542 kg).
Germany's famed Nürburgring served as one of the key testing grounds, along with additional roads, racetracks and laboratories around the globe, ATS engineers balanced performance with Cadillac's trademark refinement. Contributing components and features include:
Nearly 50/50 weight balance
Cadillac's first five-link independent rear suspension using lightweight, high-strength steel and efficient straight link designs
A multi-link double-pivot MacPherson-strut front suspension with direct-acting stabilizer bar
Driver-adjustable FE3 sport suspension with Magnetic Ride Control real-time damping
Underbody aerodynamic shields
Premium (belt driven) electric variable-effort steering gear from ZF Steering Systems
Four-channel ABS with available Brembo performance brakes
Available all-wheel drive
"More than just another new entry, the ATS aims to change the status quo of the European-dominated segment," said Butler. "That is why our approach in all elements of its development is so extensive and focused."
A broad lineup of engines – including two four-cylinders and a V-6 for North America – delivers strong power to the ATS and capitalizes on the car's lightweight structure to complement its performance with efficiency. The optional engines include an all-new 2.0L turbocharged four-cylinder rated at 270 horsepower (201 kW) and Cadillac's award-winning 3.6L V-6, estimated at 320 horsepower (238 kW).
At 135hp/L, the new 2.0T is one of the most power-dense engines in the industry, topping engines from European competitors. ATS will offer both manual and automatic transmission options, along with rear-wheel and all-wheel-drive configurations.
The ATS will deliver peak highway fuel economy of more than 30 mpg.
A spirit of lightness and balance
Making the ATS one of the segment's lightest cars was a fundamental criterion for and the guiding principle during its development, but it was done in a nuanced manner that ensures a refined driving experience.
"Low weight gives the ATS a more nimble and controllable feel, while also optimizing the performance and efficiency of the powertrains," said David Masch, ATS chief engineer. "But we were careful to manage the weight while maintaining Cadillac's signature levels of refinement."
Optimizing the ATS's mass was the result of a four-pronged philosophy that included strict adherence to original architectural goals, measured load management throughout the vehicle, benchmarking components to see if lighter solutions were available and an overall culture that "weighed" the mass of every component in the car against all aspects of its development.
An aluminum hood, magnesium engine mount brackets and even lightweight, natural-fiber door trim panels contribute to the ATS's low overall mass – and reflect the systematic approach of evaluating every gram that went into the car. But some weight was deemed not only beneficial, but essential to the ATS's driving experience. An example is the cast iron differential: Engineers found they could improve fuel economy with a cast iron differential rather than a lighter aluminum version.
And while the rear suspension is mostly steel, the focus on load management and straight links enabled significant weight savings without using alternate materials. This helps offset the weight of the engine and transmission at the front of the vehicle, helping the ATS deliver its near-perfect 50/50 weight balance, while also contributing to lower noise and vibration. A similar approach was taken on the wheels, where extra structural aluminum was strategically added to further reduce vibration.
"We approached development by counting all the grams in the ATS," said Masch. "We minimized them where we could and put them to the best use where they were needed."
Tailored design weaves in signature style and refinement
The 2013 Cadillac ATS interprets Cadillac's Art & Science design language in a new proportion, tailoring the signature styling and refinement cues for the most compact Cadillac while upholding – and advancing – the exemplary attention to detail and technological elements for which the brand is known.
A long, 109.3-inch (2,775 mm) wheelbase and wide front/rear tracks are the cornerstones of the ATS's firmly planted stance, which is enhanced by short overhangs and taut sheet metal that appears to wrap tightly around the tires. Seventeen-inch wheels are standard and 18-inch wheels are available.
Bold vertical lighting elements – including new LED front signature lighting detail – as well as illuminating door handles and active grille shutters lend technologically advanced style and function to the ATS. The grille shutters close at certain highway speeds to reduce aerodynamic drag and enhance fuel economy.
A driver-focused interior with integrated technology and crafted materials complements the exterior elements and supports the ATS's driving experience. Everything from the placement of the pedals to the position of the shifter is designed for effortless and intuitive performance driving. Available performance seats have power-adjustable bolsters to optimize lateral support during high-load cornering.
Contributing to the interior's intuitive feel is an instrument panel that wraps into the doors and a center stack in the mid-instrument panel that flows into the center console. LED lighting for the bold gauge cluster enables clear, at-a-glance viewing in all lighting conditions, while ambient lighting accents functional elements of the console and doors.
Real wood, plated metal plating and carbon fiber trim and Cadillac's cut-and-sew instrument panel, console and doors enhance the emotional connection to the ATS. Choices of many interior color themes, each with unique accent trim material, cover a wide range of flavors – from light, open and warm to black and serious, to bold, technical and sporty.
CUE and ATS technologies
The ATS is offered with Cadillac CUE, a comprehensive, in-vehicle experience that merges intuitive design with auto industry-first controls and commands for information and entertainment data. It is designed to be unique for each consumer, from the "simple user" to the fully connected "super user."
CUE, which stands for Cadillac User Experience, pairs entertainment and information data from up to 10 Bluetooth-enabled mobile devices, USBs, SD cards and MP3 players with a vehicle infotainment system that reduces complexity through customized information, voice commands and fewer buttons and larger icons. For example, most of today's luxury cars have around 20 buttons controlling the radio and entertainment functions. CUE has only four.
The heart of CUE is the eight-inch LCD multi-touch sensitive screen, seamlessly integrated into the top of the central instrument panel and a motorized fully capacitive faceplate at the bottom concealing a 1.8L storage area. The vibrant LCD screen displays CUE's home page, which resembles a smart phone's screen by using large, easy-to-target icons to execute commands. Capacitive technology refers to using electrodes to sense the conductive properties of objects, such as a finger.
In addition to CUE, the ATS is offered with other technologies, including:
Bluetooth phone connectivity with voice recognition
USB, auxiliary and SD memory card ports
SiriusXM Satellite Radio with three-month trial subscription
Keyless access and keyless push-button start
Reconfigurable 5.7-inch instrument panel cluster display
Full-color reconfigurable heads-up display.
The ATS is offered as a well-equipped standard model and in Luxury, Performance and Premium Collections. A Bose® Cabin Surround audio system is offered on the standard model, as well as Luxury and Performance Collections. It is standard with the Premium Collection. A navigation system is also available with Luxury and Performance Collections and standard with the Premium Collection.
'Control and alert' safety strategy
Safety in the ATS is based on Cadillac's "control and alert" strategy that employs advanced technologies – including radar, cameras and ultrasonic sensors – to help prevent crashes.
The safety features bolster driver vision and awareness of road hazards, and intervenes to help the driver avert potential crashes. In some cases, Cadillac's advanced crash-avoidance systems will act without the driver, such as automatic braking, which will activate based on information indicating potential hazards.
Among the most sophisticated of the features is Front and Rear Automatic Brakes. This relies on short-range radar technology and ultrasonic sensors to help the driver prevent front and rear low-speed collisions via a progression of alerts that extend to complete braking, if necessary.
Optional advanced safety features include:
Full Speed Range Adaptive Cruise Control
Intelligent Brake Assist
Forward Collision Alert
Brake Pre-Fill Automatic Collision Preparation
Lane Departure Warning
Side Blind Zone Alert
Rear Vision Camera With Dynamic Guidelines
Adaptive Forward Lighting
Hill Hold/Start Assist (Standard, manual transmission)
The advanced technology safety features complement the ATS's roster of other safety features, including eight standard air bags (10 with optional features), safety belt pretensioners and load limiters, StabiliTrak electronic stability control system with traction control and four-wheel disc brakes with four-channel ABS.
ATS also features OnStar standard for one year. It can use GPS and cellular phone technology to automatically call for help in the event of a crash. OnStar service also includes myCadillac and OnStar myLink mobile apps, which offer vehicle information, controls and OnStar services via the customer's iPhone or Android smart phone.
About Cadillac
Cadillac has been a leading luxury auto brand since 1902. In recent years, Cadillac has engineered a historic renaissance led by artful engineering and advanced technology. More information on Cadillac can be found at media.cadillac.com.