First Look: 2013 Bugatti Veyron 16.4 Grand Sport Vitesse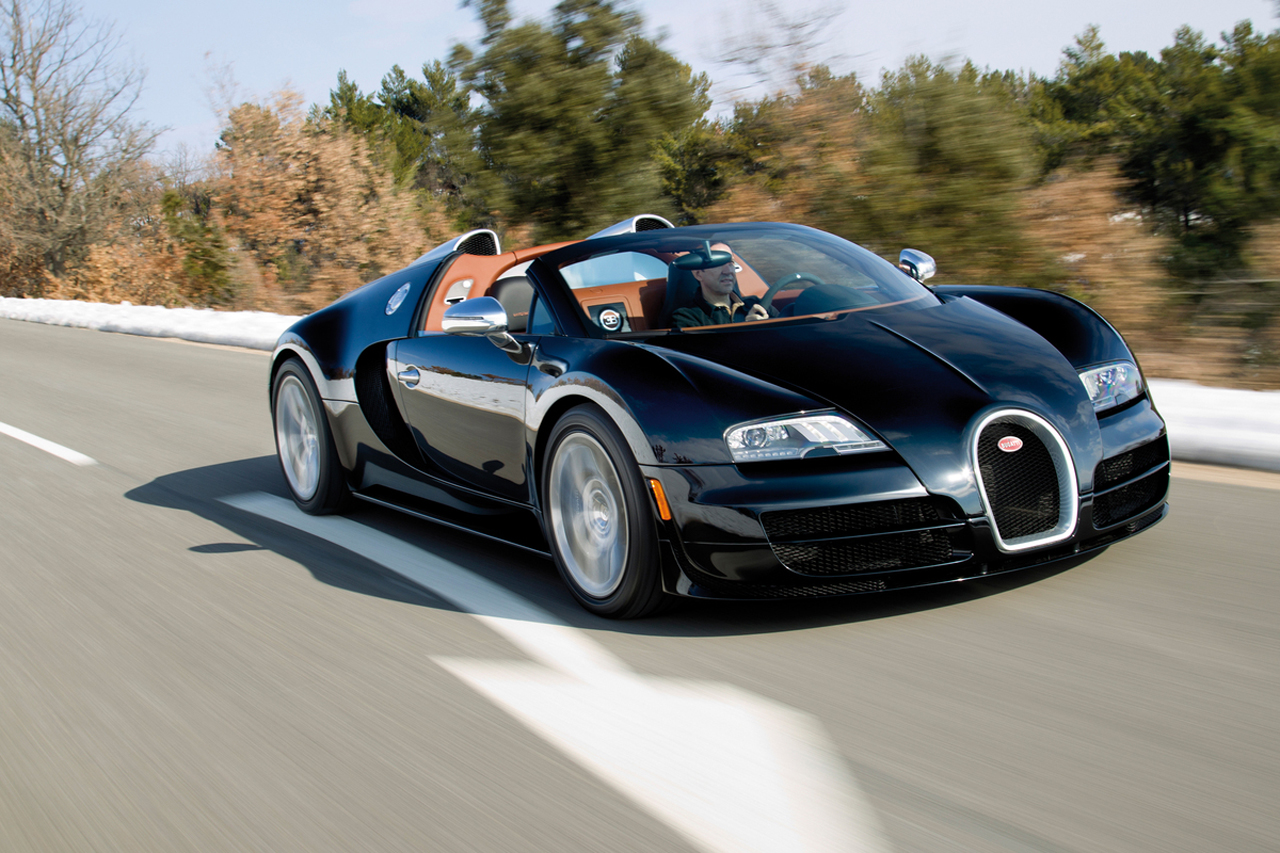 Here is a list of ways to flaunt your wealth: Build yourself an island, have a race track in your front yard, become a space tourist, hire Justin Bieber to perform at your daughter's 16th birthday, and own at least one house on every continent (including Antarctica) and the moon. Also, buy a Bugatti Veyron Grand Sport Vitesse.
This is a car for the one percent of the one percent of the one percent. Essentially a topless
Bugatti Veyron Super Sport
, the Vitesse boasts the same 8.0-liter, 1200-horsepower, 16-cylinder, quad-turbocharged engine as the Super Sport. That car can hit 268 miles per hour (over a
very
long section of road). We expect the Vitesse's top speed to be a bit lower, thanks to the removal of the roof (we can't imagine traveling almost one-third the speed of sound without a roof is safe), though.
The Vitesse is more than just an engine though, packing the same chassis and suspension refinements found on the Veyron SS.
Considering the $2.58-million price tag of the Veyron Super Sport, it wouldn't be surprising if the Vitesse cost over $3 million. Start saving.
Please scroll down for the official press release from Bugatti.
Bugatti Grand Sport Vitesse celebrates world premiere in Geneva
Molsheim/France, 22 February 2012 – Bugatti Automobiles S.A.S. is set to unveil the most powerful roadster of all time at the 82nd International Geneva Motor Show at the beginning of
March.
With an increase in power up to 1,200 HP, the Bugatti Veyron 16.4 Grand Sport Vitesse has entered a new dimension of open-top driving. Optically aligned to the Bugatti Veyron Super Sport, which holds the current world speed record of 431 km/h, the Vitesse also impresses with its dynamic driving characteristics.
Bugatti's engineers have developed the current Grand Sport, with its 1,001 HP and 1,250 Nm, into an even more powerful vehicle. The Vitesse's maximum torque is now an impressive 1,500 Nm. The increased power of the new roadster's 16-cylinder engine is made possible by the four enlarged turbochargers and intercoolers. The chassis has also been modified to support the power increase.
The Vitesse therefore also ensures the supreme range of excellent features one would expect of a Bugatti super sports car, from precise driving dynamics to extraordinary acceleration and braking.
"The rapid success of the Super Sport convinced us to increase the performance of the Bugatti roadster. Once again our engineers worked hard to demonstrate that Bugatti is able to constantly redefine the boundaries of what is technically feasible," reveals Bugatti President Wolfgang Dürheimer. "We gave our all to transfer the achievements of the Super Sport over to the Grand Sport, thereby turning open-top driving itself into an extraordinary experience at high speed."