First Look: 2012 Volkswagen Golf Cabriolet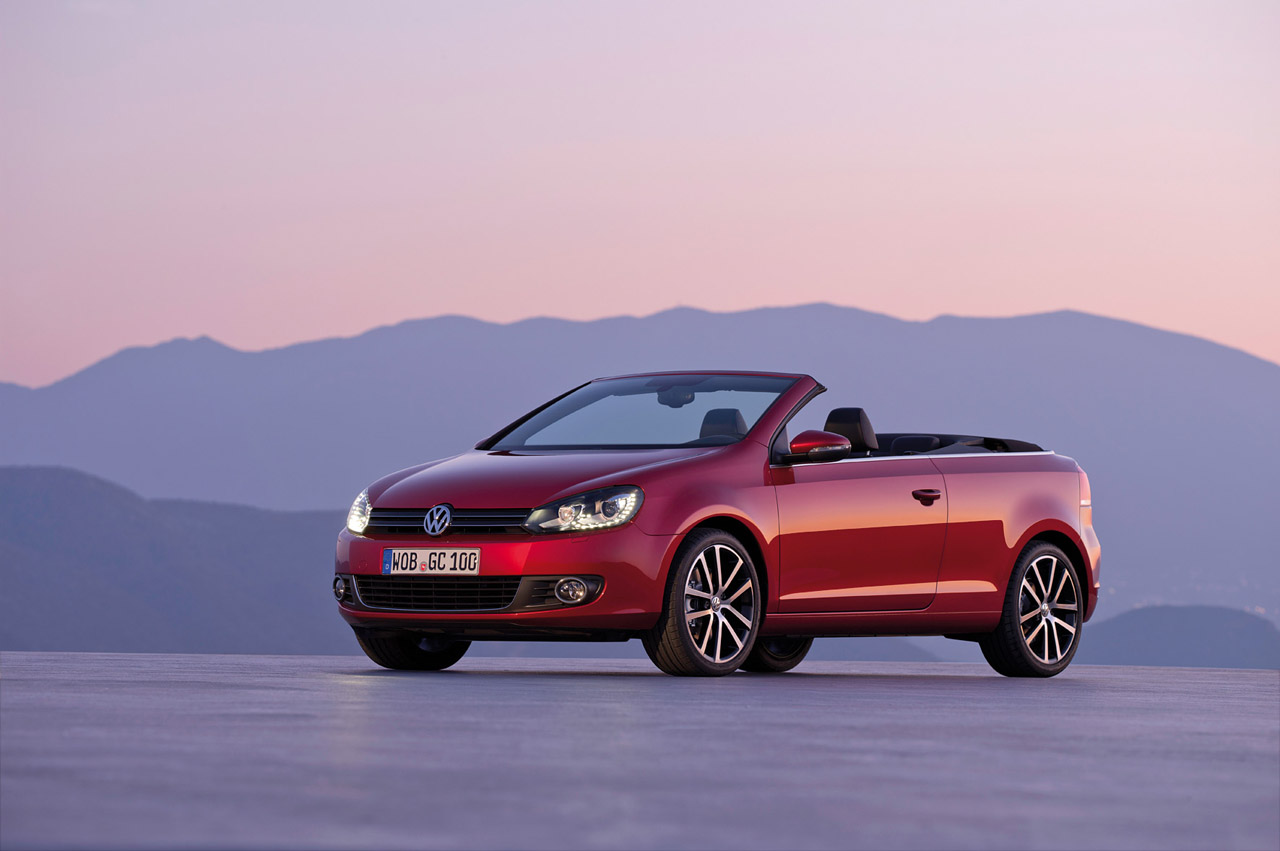 Volkswagen will show a new convertible at the Geneva Motor Show, the 2012 Golf Cabriolet.
VW's small four-seater now gets the ability to go topless with the Golf Cabriolet. Its soft top lowers in just 9.5 seconds, at speeds of up to 18 miles per hour, so occupants can enjoy the elements the moment it stops raining.
Keeping much of the styling of the three-door hatchback, the Cabriolet also gets a lower-profile roofline and more sweeping windshield.
For Europe, it will be powered by the lineup of six turbocharged, direct-injected engines, both gasoline- and diesel-burning. The DSG transmission will also be available with four of those powerplant options.
The Volkswagen Golf Cabriolet is on sale in Germany for the current equivalent of about $32,630.
Read on for more details in the press release, below.
Volkswagen kicks off Open Air Season 2011: World debut of new Golf Cabriolet in Geneva
Wolfsburg, 23 February 2011 – In its presentation of the new Golf Cabriolet at the 81st Geneva International Motor Show, Volkswagen is writing a new chapter of a global success story. The four-seater has an innovative soft top with an electro-hydraulic drive that opens the Golf's top in just 9.5 seconds.
The new Volkswagen's styling follows that of its hard-top three-door counterpart, but it shows a high level of independence with a new rear section, lower profile roof line and more swept-back angle of its front windscreen frame. The convertible's image is especially dynamic when ordered with optional bi-xenon headlights. Always a standard feature: the LED rear lights like those of the GTI. Other standard safety features offering peace of mind are the automatically deploying roll-over bar, front airbags, side head/thorax airbags, knee airbag for the driver and ESP.
The new Golf is one of the quietest convertibles today. Its soothing quietness is attributable to the new soft top that was optimised in specific ways. It also has a standard hydraulic drive that opens the Golf's top extremely quickly. The top can also be opened or closed during driving at speeds of up to 30 km/h.
Ideal for cruising with a convertible are the six turbocharged direct-injection engines whose power outputs range from 77 kW / 105 PS to 155 kW / 210 PS. Four of the petrol engines (TSI) and one diesel (TDI) are available with the DSG dual-clutch gearbox; while three of the engines are available with energy-saving BlueMotion Technology. Just how efficiently the new Golf Cabriolet handles fuel is illustrated by the 1.6 TDI with 105 PS and BlueMotion Technology: It only consumes 4.4 l/100 km (equivalent to 117 g/km CO2).
In Germany, advance sales begin tomorrow with prices starting at 23.625,- Euros. Essentially, all of the features offered in the classic, hard top Golf are also available in the new Golf Cabriolet. The only feature that will definitely not be offered is a sunroof …