First Look: 2012 Range Rover Evoque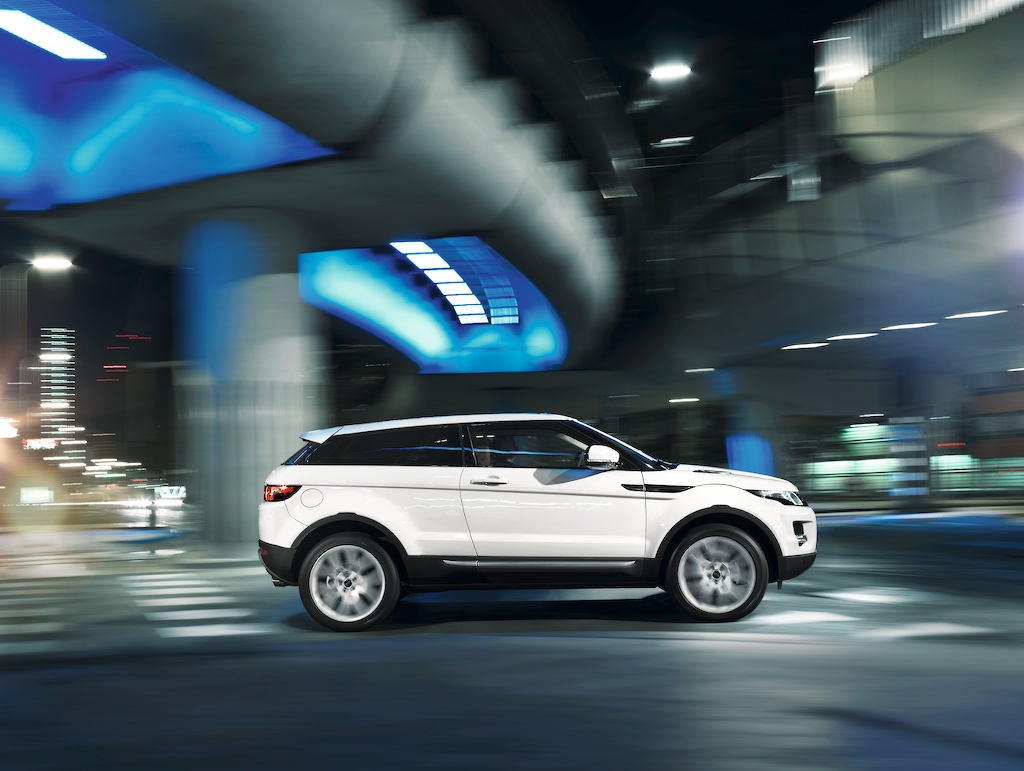 Land Rover has given up details and official images of the 2012 Range Rover Evoque ahead of its Paris debut. When it comes to market next fall, it will be the smallest Range Rover offered.
The compact SUV, with its coupe-inspired architecture, is only 171 inches long. Powered by a 2.0-liter turbo-four, its 240 horsepower will be put to all four wheels with permanent all-wheel drive.
As a Range Rover should be, it is adaptable to different terrains, with Land Rover Terrain Response and optional Adaptive Dynamics with Magneride suspension. Land Rover promises dynamic handling and agility from the Evoque.
Efficiency was a priority in the little Range Rover's development. The 2.0-liter engine and updated six-speed automatic transmission are at the core of achieving good fuel economy. Extensive use of advanced lightweight materials also factor into the equation.
And, of course, it will not be without the creature comforts we expect from the brand. Expect high-quality materials throughout the cabin, as well as Bluetooth technology for phone and audio. The Evoque will also be available with a glass panoramic roof to bring in natural light.
We'll have more details after the Range Rover Evoque makes its debut, but for now, scroll down for more details in the press release, below.

THE ALL-NEW RANGE ROVER EVOQUE
THE SMALLEST, LIGHTEST, MOST FUEL EFFICIENT RANGE ROVER EVER PRODUCED
* Luxurious coupe design with a compact and more efficient footprint than other Range Rover models
* Targeting a new group of customers for the Range Rover brand
* Bold exterior is an evolution of Range Rover design language
* Strong, clean interior architecture with a contemporary and sporting feel
* Premium cabin with the high quality materials expected from a Range Rover.
* Available with full sized glass panoramic roof flooding the interior with natural light
* Use of efficient powertrain and advanced lightweight materials
* Smaller – at a 171 inches (434cm) it is 17 inches (432mm) shorter and 7 inches (178mm) lower than Range Rover Sport models
* Permanent all-wheel drive combined with turbocharged four-cylinder engine and an updated six-speed auto transmission deliver excellent performance and fuel economy
* All-new 240 bhp 2.0-litre Si4 turbocharged engine combining six-cylinder refinement and performance with four-cylinder fuel economy
* All-new chassis specification delivers dynamic and agile handling across varied terrain, with optional Adaptive Dynamics featuring MagneRide™
* All-weather, all-surface capability with Land Rover Terrain Response®
* An extensive suite of Range Rover technologies including Bluetooth® audio streaming and optional Surround camera system
* To be sold in 160 countries worldwide, with deliveries from Fall 2011
Paris, France, September 30, 2010 – The groundbreaking all-new Range Rover Evoque makes its global public debut at the 2010 Paris Motor Show.
Dr. Ralf Speth, CEO, Jaguar Land Rover said, "These are exciting times for our business as we continue to widen our portfolio with this all-new addition to the Range Rover line-up. Not only will the Range Rover Evoque increase our worldwide market share, it demonstrates our commitment to building sustainable, yet highly desirable products."
Dr. Speth continued, "The Range Rover Evoque helps to define a new segment for premium compact SUVs which are more sporting and stylish. It makes a strong statement about the future direction of the Range Rover brand, and will have a powerful emotional appeal to a very broad range of premium car buyers."