First Look: 2012 Lamborghini Aventador LP700-4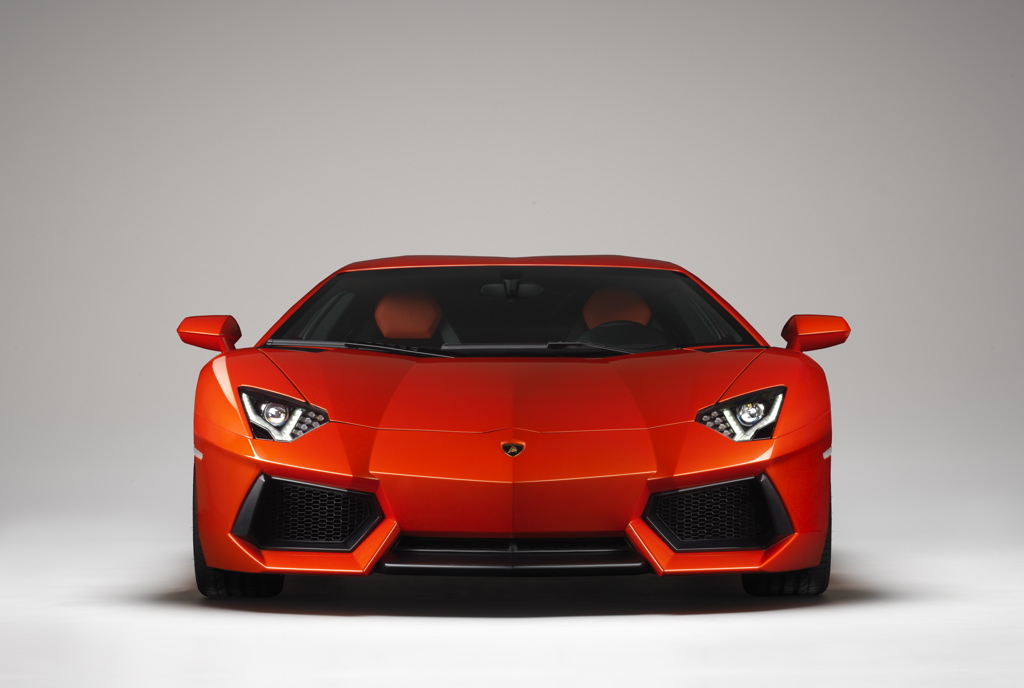 After a plethora of spy shots, we have finally gotten our first look at the latest creation from Lamborghini. Known as the Aventador LP700-4, the new model takes its name from a famous fighting bull that locked its horns in 1993 at the Saragossa Arena in Spain and won the prestigious Trofeo de la Peña La Madroñera for the courage it showed in the pit.
Power for this raging bull comes from a 6.5-liter V-12 producing 700 horsepower and 509 pound-feet of torque. Yeah, that's a lot. And with a curb weight of 3472 pounds, it promises to be more than a little bit quick. The gallop to 62 miles per hour takes just 2.9 seconds, while brave souls can exploit a top speed of 217 miles per hour. That being said, Lambo claims that this new model is more ecologically friendly than the one it's replacing, despite the big jump in power. Both fuel economy and carbon dioxide output have been improved by a healthy twenty percent.
Shifting duties are handled by a new Independent Shifting Rod suspension that promises to deliver lightning quick shifts, while weighing less and taking up less room than a dual-clutch transmission (take that Ferrari!). As has been Lamborghini tradition over the past few decades, power is delivered to all four wheels through a Haldex all-wheel drive system. Keeping the Aventador glued to the road during cornering is a race-inspired pushrod suspension, while braking duties are dealt with by the obligatory carbon-ceramic brakes.
Buyers will be treated to a bespoke experience, thanks to the extensive range of paint colors (three matte colors) and two-tone interior options. That individualization does come at a price though; American buyers can expect to shell out $379,900 before ticking any option boxes or paying any tax. If you do happen to have almost $400,000 lying around, and fancy picking up the latest and greatest from Sant'Agata, you won't have to wait very long. Lamborghini expects the first customers to receive their cars late this summer.
Please scroll down for the official press release from Lamborghini.
Lamborghini Aventador LP 700-4 – A new reference among super sports cars
• Innovative concept and phenomenal performance redefine the pinnacle of the super sports car segment
• Entirely new technology package, unique and powerful functional design language
• Innovative carbon-fiber monocoque
• New twelve-cylinder engine with 515 kW / 700 hp
• Super-fast shifting ISR (Independent Shifting Rods) transmission
• Pushrod suspension
• The very finest equipment and trim, extensive individualization
With the Aventador LP 700-4, Automobili Lamborghini is redefining the very pinnacle of the world super sports car market – brutal power, outstanding lightweight engineering and phenomenal handling precision are combined with peerless design and the very finest equipment to deliver an unparalleled driving experience. With the Aventador, Lamborghini is taking a big step into the future – and building on the glorious history of the brand with the next automotive legend. The first customers will take delivery of the new Lamborghini Aventador LP 700-4 in late summer 2011.
The technology package of the Lamborghini Aventador LP 700-4 is utterly unique. It is based on an innovative monocoque made from carbon-fiber that combines exceptional lightweight engineering with the highest levels of stiffness and safety. The new twelve-cylinder with 6.5 liters' displacement and 515 kW / 700 hp brings together the ultimate in high-revving pleasure with astonishing low-end torque. Thanks to a dry weight of only 1,575 kilograms (3,472 lb), which is extremely low for this class of vehicle, the weight-to-power ratio stands at only 2.25 kilograms per hp (4.96 lb/hp). Even the fantastic 0-100 km/h (0-62 mph) acceleration figure of just 2.9 seconds and the top speed of 350 km/h (217 mph) do not fully describe the Aventador's extreme performance. And yet, fuel consumption and CO2 emissions are down by around 20 percent compared with its predecessor, despite the considerable increase in power (+8%).
The ISR transmission is unique among road-going vehicles, guaranteeing the fastest shifting time (only 50 milliseconds) and a highly emotional shift feel, while the lightweight chassis with pushrod suspension delivers absolute handling precision and competition-level performance. The expressively-designed interior offers hi-tech features ranging from the TFT cockpit display with Drive Select Mode system. The Aventador will be built to the very highest quality standards in an all-new production facility in Sant'Agata Bolognese.
"With the Aventador LP 700-4, the future of the super sports car is now part of the present. Its exceptional package of innovative technologies is unique, its performance simply overwhelming," says Stephan Winkelmann, President and CEO of Automobili Lamborghini. "The Aventador is a jump of two generations in terms of design and technology, it's the result of an entirely new project, but at the same time it's a direct and consistent continuation of Lamborghini's brand values. It is extreme in its design and its performance, uncompromising in its standards and technology, and unmistakably Italian in its style and perfection. Overall, the dynamics and technical excellence of the Aventador LP 700-4 makes it unrivalled in the worldwide super sports car arena."
Aventador: the name of one of the most courageous of all bulls
According to its tradition, Lamborghini's new flagship bears the name of a bull – naturally, a particularly courageous specimen from the world of the Spanish Corrida. Aventador was the name of a bull that entered into battle in October 1993 at the Saragossa Arena, earning the "Trofeo de la Peña La Madroñera" for its outstanding courage.
A sculpture of extreme dynamics
For Lamborghini, design is always the beauty of aggressive power, the elegance of breathtaking dynamics. From the very first glance, the new Aventador is unmistakably a Lamborghini, clothed in the brand's characteristic and distinctive design language – with its extremely powerful proportions, its exact lines and precise surfaces, and with taut muscularity in every one of its details. The designers in the Centro Stile Lamborghini have carefully developed this design language to give the Aventador a significant new edge. It is an avantgarde work of art, an incredibly dynamic sculpture, from the sharply honed front end through the extremely low roofline to the distinctive rear diffuser. Every line has a clear function, every form is dictated by its need for speed, yet the overall look is nothing less than spectacular and breathtaking.
The doors open upward – of course
Truly impressive proportions come from an overall length of 4,78 meters (188.19 in.) matched with an impressive width of 2,26 meters (88.98 in.) including the exterior mirrors, and further accentuated by an extremely low height of just 1.136 mm (44.72 in.). It goes without saying that both doors of the carbon-fiber monocoque open upward – a feature that was first introduced in the now legendary Countach and then used for subsequent V12 models such as Diablo and Murciélago. However, the Aventador also evokes its immediate predecessor the Murciélago – electronically managed air intakes open depending on the outdoor temperature and the need for cooling air,ensuring maximum aerodynamic efficiency. And for those whishing to flaunt the heart of their Lamborghini, the optional transparent engine bonnet exhibits the twelve-cylinder engine like a technical work of art in a display case.
Exclusive and high-tech interior
The Aventador's spacious interior combines the fine exclusivity of premium materials and perfect Italian craftsmanship with state-of-the-art technology and generous equipment. The red switch cover on the broad center tunnel encloses the start button used to awaken the twelve-cylinder. The interior is dominated by a next-generation dashboard – as in a modern airplane, the instruments are presented on a TFT-LCD screen using innovative display concepts. A second screen is dedicated to the standard-fit multimedia and navigation system.
Carbon-fiber monocoque
The new Lamborghini flagship has a full monocoque. The entire occupant cell, with tub and roof, is one single physical component. This ensures extreme rigidity and thus outstanding driving precision, as well as an extremely high level of passive safety for the driver and his passenger. The entire monocoque weighs only 147.5 kilograms (325.18 lb).
The monocoque, together with the front and rear Aluminium frames, features an impressive combination of extreme torsional stiffness of 35,000 Newton meters per degree and weighs only 229.5 kilograms (505.9 lb).
Maximum revs, amazing sound
For the Aventador LP 700-4, the engineers in Lamborghini's R&D Department have developed a completely new high-performance power unit – an extremely powerful and high-revving, but very compact power unit. At 235 kilograms (518 lb), it is also extremely lightweight. A V12 with 515 kW (700 hp) at 8,250 rpm sets a whole new benchmark, even in the world of super sports cars. The maximum torque output is 690 Newton meters (509 lb-ft) at 5,500 rpm. The extremely well-rounded torque curve, the bull-like pulling power in every situation, the spontaneous responsiveness and, last but not least, the finely modulated but always highly emotional acoustics are what make this engine a stunning power plant of the very highest order.
Innovative transmission for maximum performance
Engineers at Lamborghini have created the perfect mate for the new twelve-cylinder engine with the highly innovative ISR (Independent Shifting Rods) transmission. The development objective was clearly formulated – to build not only the fastest robotized gearbox, but also to create the world's most emotional gear shift. Compared with a dual-clutch transmission, not only is the ISR gearbox much lighter, it also has smaller dimensions than a conventional manual unit – both key elements in the field of lightweight engineering for super sports cars.
Refined and safe with all-wheel drive
This kind of extreme power must be delivered reliably to the road. The driver of the Aventador LP 700-4 can depend fully on its permanent all-wheel drive – indicated by the 4 in the model designation. In the driveline, an electronically controlled Haldex coupling distributes the forces between front and rear. In a matter of milliseconds, this coupling adapts the force distribution to match the dynamic situation. A self-blocking rear differential together with a front differential electronically controlled by ESP make for even more dynamic handling. The Drive Select Mode System enables the driver to choose vehicle characteristics (engine, transmission, differential, steering and dynamic control) from three settings – Strada (road), Sport and Corsa (track) – to suit his individual preferences.
Pushrod suspension
Lamborghini has equipped its new V12 super sports car with an innovative and highly sophisticated suspension concept. The pushrod spring and damper concept was inspired by Formula 1 and tuned perfectly to meet the needs of a high-performance road-going vehicle. Together with aluminum double wishbone suspension and a carbon-fiber ceramic brake system, this lightweight chassis represents a further aspect of the new flagship's unique technology concept.
Extensive assistance and safety systems
In the hands of its driver, the Lamborghini Aventador LP 700-4 is a high-precision machine – spontaneous, direct and always reliable. The driver is also assisted by the latest electronic systems such as the incredibly sporty, adjustable ESP system. When it comes to passive safety, front, head-thorax and knee airbags play their part alongside the extremely stiff carbon-fiber cell.
A rich and wide-ranging individualization program
A Lamborghini should always fit perfectly with the style and preferences of its owner. To this end, the range of individualization options is virtually inexhaustible. There is a selection of 13 production paint colors to choose from, three of which are highly sophisticated matt tones. A choice of two-tone interiors are offered with the "Sportivo" and "Elegante" versions, while a premium audio system and reversing camera are among the many technology options. And of course, the "Ad Personam" individualization program knows no limits when it comes to colors and materials.
The price of the Lamborghini Aventador and market delivery
UK: GBP 201.900,00 (suggested retail price taxes excluded)
Europe: € 255.000 (suggested retail price taxes excluded)
USA: 379.700 USD (suggested retail price – GGT included)
China: RMB 6.270.000,00 (suggested retail price taxes included)
Japan: YEN 39.690.000,00 (suggested retail price taxes included)
The first customers will take delivery of the new Lamborghini Aventador LP 700-4 in late summer 2011. [hide the news]