First Look: 2012 Ford Focus Is A C-Segment Stunner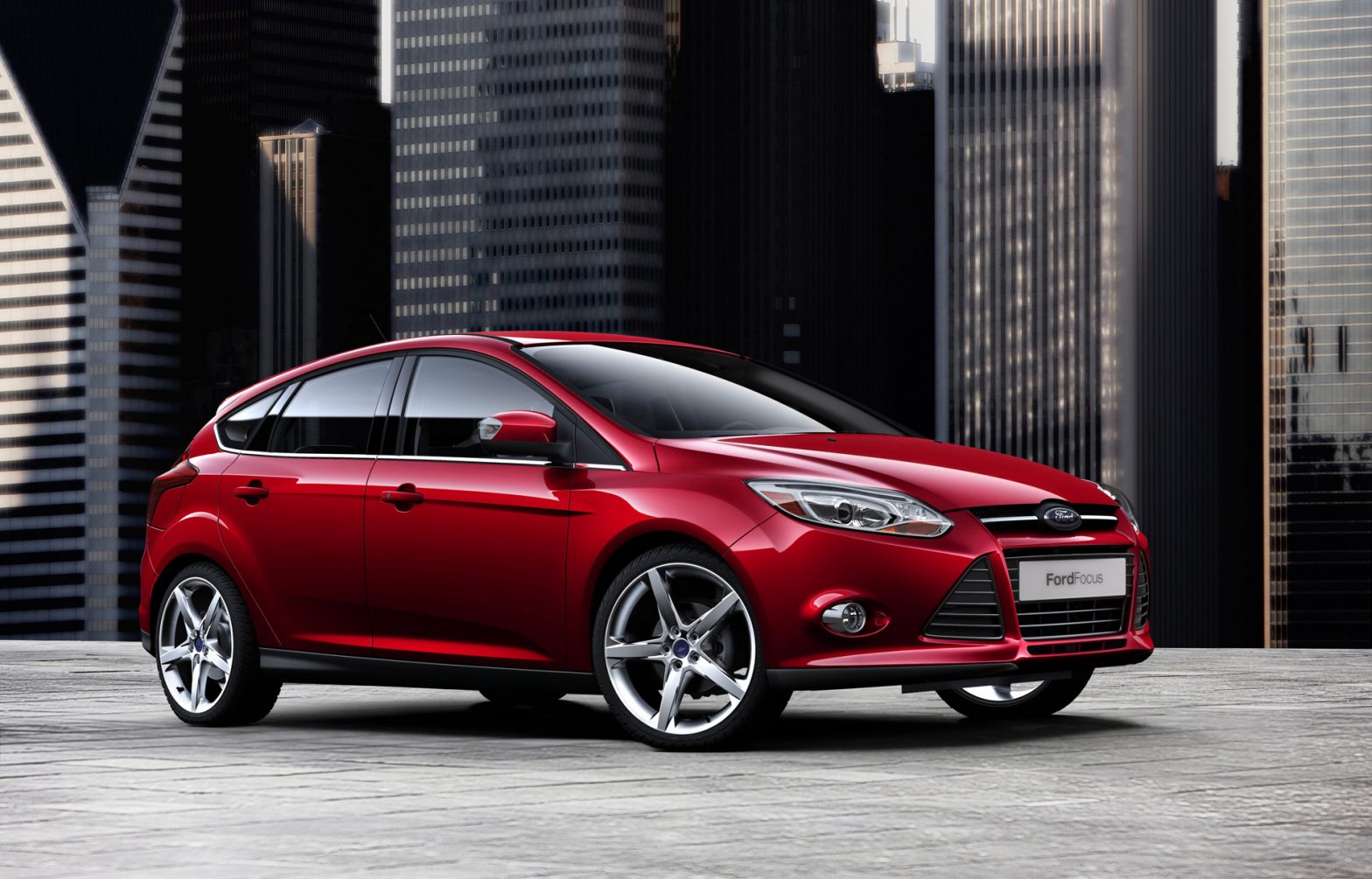 In today's automotive marketplace, a very strong focus (no pun intended) has been put on small, B- and C-segment cars. (This is not news.) And while its reputation for building city cars isn't exactly sterling, the Ford Motor Company has had smaller offerings in its portfolio for ages. Prior to the launch of the Focus in 1998, the trusty-ish Escort (and its sister car, the Mercury Tracer) wheezingly took us through the 1980s and 1990s. Before that, Ford had the illustrious Pinto roaming the streets of America. Don't forget about the sexy Ford Tempo and Mercury Topaz twins, either.
While the U.S.-spec Escorts and Focuses (Foci?) weren't wholly impressive, we American enthusiasts did lust after the European versions of these cars—well received for not only their quality and style, but for high-power versions that warmed our hot hatch-loving hearts. Names like Escort Cosworth and Focus RS have been very well-known and highly respected performance cars overseas, and Ford frequently entered these vehicles into World Rally Championship races. Sure, we did eventually see an SVT Focus in the mid-2000s, but on the whole, American enthusiasts always got a bit hosed by the Blue Oval's mediocre small car offerings.
That all changes with the next-generation Focus, however, which makes its official debut at this year's North American International Auto Show. This vehicle is Ford's first global collaboration under the new "One Ford" plan, meaning that the Focus will be launched simultaneously in all markets and will essentially be the same car in all countries. No more Euro lust—we finally get a piece of the pie. In fact, the new C-segment platform that underpins the Focus will eventually spawn up to ten different models, to be sold in various markets, including the Ford Grand C-Max which will be sold in the U.S. starting sometime in 2011.
Visually, the new Focus is a huge departure from the not-so-pretty coupe and sedan currently found on our roads. Ford's kinetic design language is in full effect here, and we can easily spot some styling cues from the Iosis Max concept which debuted at the 2009 Geneva Motor Show last March. And rejoice, all—Ford will bring the five-door hatchback Focus to America, as well as a sedan. A wise choice, since many consumers were unhappy when Ford ditched the three- and five-door hatches in favor of a less useful, two-door coupe.
We like the new car's low stance, aggressive front end, and the flowing lines that constantly give the illusion of motion. (Kinetic, no?) The Focus show cars on hand at this year's Detroit debut wore nineteen-inch wheels with low-profile rubber. Those big shoes aren't just for flash and glitz either—we can expect the new Focus to be a much sportier car than the one we're used to.
Ford will be implementing electric-assisted power steering, though we're assured that the overall feel won't be numb or uninvolving. On top of that, an all-new multi-link suspension setup has been created specifically for the Focus, and combined with Ford's new dynamic cornering control system (which uses torque vectoring for optimum grip in corners), we're confident that the new car will be a relatively good steer overall.
Two powertrains will be offered in the U.S.-spec Focus, and the first engine we'll see is an all-new 2.0-liter four with direct injection. No official power numbers have been detailed as of this writing, but Ford says that we can expect an output increase of about 20 horsepower while still netting a 10 percent gain in fuel efficiency. FoMoCo's new Powershift six-speed dual-clutch automatic transmission will be on hand (this tranny makes its official debut in the 2011 Fiesta). We're pretty positive that a proper manual transmission will be available, as well.
In addition to the DI 2.0-liter mill, a 1.6-liter EcoBoost (that means turbocharged) four will be offered. What's more, Ford has plans to build a Focus with an electric, battery-driven powertrain, and we expect more details about that efficient power to leak out over the next twelve months. Production of the Focus EV will commence in 2011, and it will be Ford's first all-electric passenger vehicle.
So while the big story with the next Focus is its new, more robust lineup of powertrains and the global design, we must not forget that Ford has done a lot of work over the years to better the interior quality of its vehicles. Improved design, tech, and materials are the key ingredients to Ford's plan for top-notch cabins, and this is well-illustrated in the Focus. The instrument panel and center stack design are definitely Euro-inspired, and trust us—it looks really good in person. We had the chance to spend a few moments inside a prototype Focus recently, and we can say that even in its not-for-consumption build, the shape of things to come is very, very good.
The most attractive interior feature, though, might be the integration of the all-new MyFord Touch interface, which builds on the latest SYNC technology to offer new levels of connectivity to owners. (Click here to read the full details about this new system.) By offering the advanced MyFord Touch, Ford will immediately one-up the cabin amenities of other C-segment vehicles, some of which still aren't even available with navigation, let alone the raft of functions that Ford has built into its new OS.
We won't be able to call the ball until we test it, but the new Focus is making a prodigiously strong case for one-upping everything else in its segment to date. Design, quality, performance, and technology all appear to be cream-of-the-crop stuff. The details that have been laid out are very clear, and they point to Ford having a real segment stunner on its hands. Take note, Chevy Cruze — the competition is about to get real stiff.
Scroll down to read Ford's official press release.
DYNAMIC NEXT-GENERATION FORD FOCUS DEBUTS
– Next-generation Ford Focus makes its worldwide debut at 2010 North American International Auto Show (NAIAS) in Detroit
– Focus spearheads Ford's new generation of global C-cars, all based on a common platform that will underpin up to 10 vehicles around the world and account for 2 million units of annual production by 2012
– Stylish new range provides customers with class-leading new technologies, features and craftsmanship
– New Focus targets exceptional fuel economy, and advances acclaimed levels of driving quality
– New range will start production simultaneously in Europe and North America in late 2010 and go on sale early in 2011. Asia, Africa and South America production will follow
DETROIT, Jan. 11, 2010 – The next-generation Ford Focus makes its worldwide debut providing customers with more affordable technologies and features than ever in this segment, as well as detailed craftsmanship, outstanding fuel economy and a new standard for driving quality.
Sleek, stylish and sporty, both the four-door sedan and five-door hatchback body styles of the next-generation Focus are previewed prior to their production start for Europe and North America late in 2010 and market launch early in 2011.
The new Focus will be nearly identical in all markets, with 80 percent parts commonality around the world.
"The new Ford Focus is a clear demonstration that our ONE Ford strategy is providing global consumers with great products that harness the best of Ford Motor Company," said Alan Mulally, Ford's president and CEO.
"The efficiencies generated by our new global C-car platform will enable us to provide Ford Focus customers with an affordable product offering quality, fuel efficiency, safety and technology beyond their expectations," he added.
Simultaneous launch in Europe and North America
Production of the next-generation Ford Focus will begin simultaneously in Europe and North America in late 2010, with individual market launches starting early in 2011. Launches in Asia, Africa and South America will follow. Initial production will be concentrated at the Saarlouis (Germany), Michigan (United States) and Chongqing (China) Assembly Plants.
The new Focus will be one of up to 10 unique models to be built from Ford's new C-car platform, which is expected to generate total sales in all regions of 2 million units annually by 2012. The first of these will be the new Ford C-MAX and Ford Grand C-MAX – unveiled at the 2009 Frankfurt Motor Show – for launch in Europe in the second half of 2010.
"Global customers increasingly want smaller cars with outstanding fuel economy, but without sacrificing any of the style, technology, connectivity and driving quality they demand from larger vehicles," explained Derrick Kuzak, Ford's group vice president of Global Product Development.
"Our next generation of C-cars – led by the exciting new Focus – will clearly show that Ford is ready to meet that challenge," said Kuzak.
Engineered without compromise
The new Ford Focus has been developed by a global team, led from Ford's European small and medium vehicle center of excellence in Merkenich, near Cologne, Germany, with powertrain development led by a similar team at Ford's technical center in Dunton, England. The vehicle has been engineered without compromise to meet all customer and legislative requirements of the major worldwide markets.
In developing the vehicle for global markets, the product team in Europe was able to call on the experience acquired from recent programs like the much-acclaimed new Ford Fiesta, and was supported by the expertise of vehicle and powertrain technology specialists located in Ford's engineering center in Dearborn, Mich.
Ford's global development and sourcing strategy made it possible to provide a level of performance and feature content that is unrivaled for this vehicle segment and surprising even to drivers of larger, more premium vehicles.
Taking kinetic design to the next level
The no-compromise approach to the new Ford Focus is immediately evident from the striking exterior design of the four-door sedan and five-door hatchback models that take center stage at the 2010 NAIAS.
"The all-new Focus is at the center of convergence for automotive trends," said J Mays, Ford group vice president of Design and chief creative officer. "We've designed it with an acute understanding of global customers, yet it's tailored for each individual region. Focus combines the best from Europe, North America and Asia to deliver a level of emotional driving enjoyment never before experienced in a car this size."
The two models share a sporty and dynamic character, marking the next evolution of Ford's acclaimed kinetic design form language, which has contributed to the growing popularity of the company's latest small and medium cars.
The kinetic design approach uses bold vehicle designs to capture the feeling of energy in motion, so that cars look like they are moving – even when they are standing still.
With its striking front end, sleek profile, dramatic rising beltline and athletic stance, the new Focus clearly telegraphs the rewarding driving experience that awaits customers when they take to the road.
This dynamic quality is reinforced by the distinctive design of the interior. The new Focus has an extremely modern, cockpit-style interior, with the stylish center console wrapped around the driver and providing outstanding access to the vehicle's major controls and display panels.
A key element of the interior is the quality of craftsmanship. The cabin's bold and contemporary graphics, the sculptured shape of the soft-touch instrument panel and the choice of superior trim materials all help to give occupants the feeling that they are traveling in a premium-class car.
Unmatched driving quality
When it was introduced in 1998, the original Ford Focus brought new levels of agility and responsiveness to the C-segment. The all-new Focus plans to raise the benchmark once more, targeting class-leading driving quality that blends outstanding steering precision and road feedback with significantly improved refinement and ride control.
To deliver this performance, engineers have updated the innovative suspension concepts from prior models, developing optimized new designs for the "control blade" multilink rear suspension and the semi-isolated front and rear subframes.
The chassis design is complemented by a completely new Electric Power Assist Steering system, which has been carefully tuned to deliver pure and precise responses at high speed while remaining light and maneuverable for parking.
Ford's European driving dynamics specialists have also enhanced cornering stability and agility with the introduction of an advanced Dynamic Cornering Control system, which uses "torque vectoring" techniques to transfer power between the drive wheels to deliver reduced understeer, improved traction and better turn-in.
All global customers will benefit from the same quality of dynamic performance in the new Focus. Identical chassis and suspension architecture is being used for all markets, except for minor regional tuning differences, such as local tire specifications.
Efficient powertrains deliver performance with outstanding economy
The engaging driver appeal of the new Ford Focus is magnified by a powertrain range that delivers spirited performance and targets outstanding levels of fuel economy and CO2 emissions.
The global powertrain lineup for the new Focus will include a range of state-of-the-art Ford EcoBoost™ four-cylinder turbocharged direct injection (DI) engines – including the 1.6-liter unit in Europe and a choice of advanced and improved Duratorq TDCi common-rail diesel engines, all of which offer reductions in fuel consumption of between 10 and 20 percent compared to the outgoing models.
For the NAIAS preview, Ford is showing a completely new 2.0-liter gasoline engine for the North American market that features DI and Twin Independent Variable Camshaft Timing (Ti-VCT) for enhanced performance and fuel efficiency. The new 2.0-liter DI Ti-VCT engine is up to 20 horsepower more powerful than the current 2.0 Duratec I-4 unit while contributing to projected fuel economy gains of more than 10 percent.
To maximize the performance and economy advantage enjoyed by the new Focus, the 2.0-liter DI Ti-VCT engine is mated with the latest dry-clutch six-speed Ford PowerShift automatic transmission. This transmission uses an advanced dual-clutch design, which alone can help to reduce fuel consumption by up to 9 percent compared to a traditional four-speed automatic.
The dry-clutch PowerShift transmission is based on more efficient manual gearbox technology, and does not require the additional weight and complexity of torque converters, planetary gears and oil pumps used in conventional automatics. Electronically controlled twin clutches shift gears quickly and smoothly, providing the seamless flow of torque plus the refinement and ease of operation customers expect from a premium automatic transmission.
Ford also has confirmed plans to begin building a full, battery electric vehicle in 2011 at its Michigan Assembly Complex, for sales in North America. It will be the company's first battery electric passenger vehicle.
Intuitive technology enhances convenience and safety
The next-generation Focus will bring C-segment customers around the world an exciting array of advanced technologies generally found in larger, more premium vehicles. The global scale of Ford's C-car program makes more technologies and features economically viable than ever before for cars in this segment.
The technology package of the new Focus promises not only clear leadership in the C-segment, but also includes features customers in larger, more premium segments would find surprising.
The new technologies have been designed to be simple and highly intuitive to use, while enhancing both convenience and safety for the vehicle occupants.
Within the cockpit, the most significant innovation is the company's next-generation driver connect technology, MyFord, which provides the driver with a state-of-the-art combination of controls and display screens to operate the key vehicle features. On high series vehicles, the MyFord system includes an 8-inch touch screen, allowing the driver to control a wide range of functions via a clear and intuitive color display.
MyFord is complemented by a new generation of Ford's powerful SYNC® connectivity package, which includes a sophisticated voice control system, Bluetooth and satellite navigation, along with connection points for a wide variety of external devices and media players.
Other available safety and convenience technologies include keyless entry and "Ford Power" start button, a rearview camera and a semi-automatic parallel parking system that automatically steers the vehicle into a parking spot.
Strength and safety
The Focus platform provides an incredibly strong and stiff structure, which not only benefits vehicle dynamics and refinement but also provides the basis for enhanced crash performance.
High-strength steels are used extensively in the next-generation Focus body shell. High-strength steels comprise 55 percent of the body shell, and more than 26 percent of the vehicle's structure is formed from ultra-high-strength and Boron steels – significantly more than any other Ford product. These advanced materials help the structure meet the most stringent crash legislation across world markets, while minimizing the vehicle's weight.
The structural integrity of the body shell is also reflected in its torsional rigidity, which is 25 percent greater than the current North American Focus.
Quality and craftsmanship in every detail
With global customers now demanding a more premium experience from small- and medium-sized vehicles, achieving outstanding levels of quality and craftsmanship was a primary objective for the new Focus.
The new Focus will make significant strides in reducing cabin noise, promising a quiet cabin environment. This refinement complements the fresh new interior design and higher craftsmanship levels to create a premium feel akin to larger vehicles.
Each component in the vehicle that the customer will touch, see, hear or even smell has been subjected to rigorous analysis to ensure that it will exceed an owner's expectations. Particular attention has been given to the quality of interior trim materials, and the color matching, gaps, flushness and tolerances where one part meets another.
Across the majority of vehicle attributes, Ford has developed a global DNA standard that defines the exact attributes a part should have to meet the quality requirements of the brand. Examples include the sound the door makes when it is closed, requiring special attention to the door structure and latch mechanism, and the design of a steering wheel, right down to the thickness of padding and size of stitching on the rim.
This meticulous attention to detail is also reflected in Ford's global manufacturing strategy for the Focus, with consistent standards and processes being applied in every one of the assembly plants, wherever they are located in the world.
"We believe the new Ford Focus will provide consumers with an unmatched driving experience, together with an unrivaled ownership experience," said Jim Farley, Ford group vice president, Global Marketing. "The Focus brand always has been very special to Ford, and this new global model shows our commitment to developing another generation of exciting and appealing cars."