First Look: 2012 Buick Regal eAssist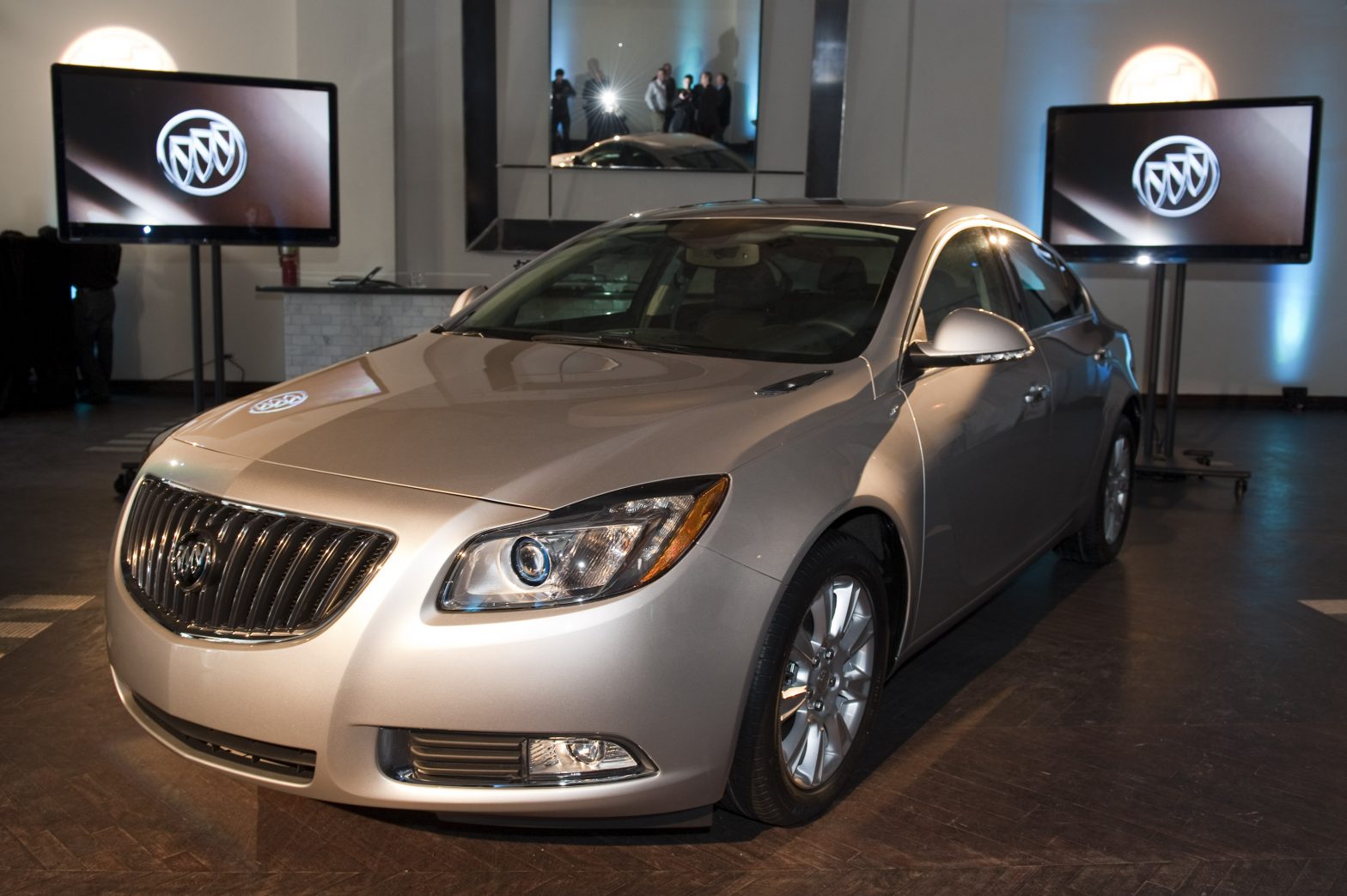 Buick is showing its 2012 Regal with its new "light electrification" (read: mild-hybrid) system called eAssist. The Buick Regal eAssist uses a lithium-ion battery pack, electric motor-generator, and regenerative braking to help the car's directly injected 2.4-liter four-cylinder engine. It is also equipped with a start-stop function to quietly shut down the engine instead of letting it idle, and smoothly restarting when it is time to move again.
Improving overall fuel economy be 25 percent, the Regal eAssist is expected to 26 miles per gallon in the city, and 37 on the highway. Also to help with efficiency, the car uses lightweight seventeen-inch alloy wheels and low-rolling resistance tires. The driver can select a fuel-saving mode for the air-conditioning system, and an Eco gauge on the instrument panel gives feedback about fuel economy.
The 2012 Buick Regal eAssist will join the lineup this fall.
Scroll down for more information in the press release, below.

2012 Regal to Offer New eAssist™ Fuel-Saving Technology
2011-02-08
* eAssist "light electrification" system improves fuel economy 25 percent
* Estimated 26 mpg city / 37 mpg highway (pending EPA certification)
* On sale this fall
CHICAGO – Buick announced the 2012 Regal with eAssist™ fuel-saving technology, which improves overall fuel economy by 25 percent over the 2011 four-cylinder/six-speed powertrain. Estimated fuel economy is 26 mpg city and 37 mpg on the highway (pending EPA certification).
Regal with eAssist joins the 2012 LaCrosse as the second Buick to feature the efficiency-enhancing technology. The system uses a state-of-the-art lithium-ion battery system, electric induction motor-generator and regenerative braking capability to improve fuel economy. Its fuel economy tops competitors such as the Acura TSX, rated at 22 mpg city and 31 mpg highway. Regal's estimated 37 mpg on the highway is 20 percent greater and the TSX doesn't offer a six-speed automatic transmission, which is standard on the Buick.
"Buick's eAssist technology means customers don't have to trade a premium driving experience for efficiency," said Tony DiSalle, vice president of Buick marketing. "We believe Regal and LaCrosse with eAssist provide more logical and affordable choices, compared to other hybrid midsize and full-size luxury sedans."
Regal with eAssist goes on sale this fall. It joins an expanding lineup that also includes 2.4L and 2.0L Turbo (with manual transmission) models, as well as the upcoming Regal GS. Regal with eAssist offers the range of luxury and convenience packages offered in the other models, along with unique features that include:
* Lightweight 17-inch alloy wheels and tires with lower rolling resistance
* A driver-selectable, fuel economy-optimizing mode for the air conditioning system, which enables more frequent and longer-duration engine stop periods
* An ECO gauge on the instrument panel that continuously responds to driving behavior, enabling the driver to drive with greater efficiency
* A powerflow readout in the 7-inch infotainment screen, which shows the flow of energy through the electric assist system, such as battery charging from regeneration and electric power directed to the engine.
eAssist details
Mated to Regal's 2.4L Ecotec direct injection four-cylinder engine and next-generation six-speed automatic transmission, the eAssist system uses power stored in the battery to provide needed electrical boost in various driving scenarios, optimizing engine and transmission operation. An advanced 115V lithium-ion battery and latest-generation 15-kW induction motor-generator unit help increase fuel economy through:
* Regenerative braking, which provides up to 15 kW of electricity to charge the battery
* Providing up to 11 kW (15 hp) of electric power assistance during acceleration
* Automatic engine shut-off when the vehicle is stopped
* Aggressive fuel cut-off during deceleration down to zero vehicle speed, enabled by the torque smoothing provided by the induction motor-generator unit
* Intelligent charge/discharge of the high-voltage battery.
"The capability to deliver electric boost to the powertrain system during heavy acceleration and grade driving enables the engine and transmission to operate more efficiently," said Steve Poulos, global chief engineer of the eAssist system. "Full fuel shutoff at stops and during deceleration complements electric boost and regenerative braking with additional fuel savings."
Regal with eAssist technology also features improved underbody aerodynamics and tires optimized for performance and fuel economy. It also features a hill-assist system that captures brake pressure to help the driver more comfortably accelerate from a stop on a moderate or steep grade. It does this by greatly reducing the tendency of the vehicle to roll backward with the engine in shut-down mode.
The eAssist system's 115V air-cooled lithium-ion battery bolsters the 2.4L Ecotec four-cylinder engine with approximately 11 kW (15 hp) of electric power assist during heavy acceleration and 15 kW of regenerative braking power. The system also enables the Ecotec engine to shut down fuel delivery in certain deceleration conditions, which saves additional fuel. While in fuel shut-off mode, the induction motor-generator unit continues spinning along with the engine to provide immediate and smooth take-off power when the driver presses on the accelerator. Then, as the vehicle comes to a stop, the induction motor-generator unit spins the engine, bringing it to a smooth stop – properly positioned for a smooth restart.
"The battery system is designed to provide power assistance to the internal combustion engine, rather than store energy for all-electric propulsion," said Poulos. "It's really an extension of the conventional internal combustion engine, not a replacement for it."
The eAssist power pack contains the lithium-ion battery pack, the integrated power inverter and 12V power supply. It is located in a compartment between the rear seat and trunk; and it is surprisingly compact and lightweight, weighing only about 65 pounds (29 kg). Trunk space is slightly reduced when compared with 2011 models with the four-cylinder/six-speed powertrain, but still offers 11.1 cubic feet (314 liters) of storage. A quiet electric fan cools the power pack, drawing air from a vent located in the package tray, behind the rear seat.
The eAssist system's electric induction motor-generator is mounted to the engine in place of the alternator to provide both motor assist and electric-generating functions through a unique engine belt-drive system. The induction motor-generator is a high-performance, compact induction motor that is liquid-cooled for increased performance and efficiency.
Next-generation six-speed
The eAssist system works with Regal's direct injected 2.4L Ecotec four-cylinder and next-generation six-speed automatic powertrain combination. In the Regal with eAssist, the engine is rated at 182 horsepower (136 kW) and the next-generation Hydra-Matic 6T40 takes transmission technology to the next level with features designed to enhance powertrain efficiency.
Significant internal transmission changes to clutch controls and hardware provide reduced spin losses while improving shift response and time. The added electric power provided by the eAssist system allows for higher gearing to improve steady state efficiency without impacting acceleration performance or driveability. The system's ability to provide some electric assistance at cruising speeds allows the driver to accelerate lightly or ascend mild grades without the transmission downshifting.
An auxiliary, electric-driven transmission oil pump is added to the 6T40, which keeps the transmission primed and the fluid flowing when the engine shuts down at a stop. That keeps the transmission ready to perform when the driver accelerates, for a seamless, uncompromised driving experience.
About Buick
Buick is a modern luxury brand offering vehicles with sculpted designs, luxurious interiors with thoughtful personal technologies, along with responsive-yet-efficient performance. Buick is attracting new customers with its portfolio of award-winning models, including the Enclave crossover, LaCrosse sedan, Regal sport sedan and all-new 2012 Buick Verano compact luxury sedan. Buick is the fastest growing automotive brand in the U.S., and remains a best-selling brand in China, with continuing record growth. Learn more about Buick cars and crossovers at www.buick.com, on Twitter @buick or at www.facebook.com/buick.
# # #
2012 BUICK REGAL PRELIMINARY SPECIFICATIONS
Overview
Models:

2012 Buick Regal with eAssist technology
Body style / driveline:

four-door, five-passenger front engine transaxle. front-wheel-drive midsize vehicle
Construction:

steel body frame integral (unibody) with front and rear crumple zones; galvanized steel front fenders, hood, roof, door panels, one-piece bodyside outer panel, thermal plastic olefin (TPO) bumper fascias
EPA vehicle class:

midsize
Manufacturing location:

Oshawa, Ontario
Key competitors:

Acura TSX and Volkswagen CC
Engines
Ecotec 2.4L DOHC I-4
Displacement (cu in / cc):

145 / 2384
Bore and stroke (in / mm):

3.46 x 3.85 / 88 x 98
Block material:

precision sand cast aluminum
Cylinder head material:

SPM cast aluminum
Valvetrain:

overhead camshafts, four-valves per cylinder, continuous variable valve timing for intake and exhaust
Ignition system:

individual coil-on-plug
Fuel delivery:

direct injection and electronic throttle control
Compression ratio:

11.2:1
Horsepower (hp / kW @ rpm):

182 / 136 @ 6700 rpm*
Torque (lb-ft / Nm @ rpm)

172 / 233 @ 4900 rpm*
Recommended fuel:

regular unleaded
Max engine speed:

7000 rpm
Emissions controls:

close-coupled, catalytic converter; variable valve timing; positive crankcase ventilation evaporative system
Fuel economy (city / hwy):

26 / 37 (estimated)
Transmissions
Type:

Hydra-Matic 6T40 six-speed automatic
Gear ratios: (:1):

First:

4.58
Second:

2.96
Third:

1.91
Fourth:

1.45
Fifth:

1.00
Sixth:

0.75
Reverse:

2.84
Electric Drive System
Type:

belt-driven, liquid-cooled induction motor/generator unit and lithium-ion battery system; air-cooled power electronics and battery pack
Maximum electric generating power:

15 kW @ 1570-3180 rpm
Maximum electric motor torque (cranking):

110 lb.-ft. / 150 Nm
Maximum electric motor torque (electric assist):

79 lb.-ft. / 107 Nm @ 1000 rpm
Maximum electric motor power (electric assist):

15 hp / 11.2 kW @ 1000-2200 rpm
Lithium-ion battery:

115V, 0.5-kWh, 15 kW peak power
Chassis/Suspension
Front:

independent, MacPherson strut-type with dual-path mountings, specifically tuned coil springs, direct-acting stabilizer bar (hollow); hydraulic ride bushings
Rear:

four-link independent rear; hollow stabilizer bar
Traction control:

all-speed using engine torque reduction and brake intervention
Steering type:

hydraulic, specifically calibrated rack-and-pinion power steering
Steering wheel turns lock-to-lock:

2.68
Turning circle, curb-to-curb (feet / meters):

37.4 / 11.4
Steering ratio:

15.2:1
Brakes
Type:

four-wheel disc w/ABS (w/ESC)
Brake rotor diameter – front (in / mm):

11.7 / 296 vented; single-piston, cast iron caliper
Brake rotor diameter – rear (in / mm):

11.5 / 292 solid; single-piston, aluminum caliper
Wheels / Tires
Wheel size and type:

17-inch aluminum
Tires:

P235/50R17 Michelin Energy Saver All Season
Dimensions
Exterior
Wheelbase (in / mm) :

107.8 / 2738
Overall length (in / mm):

190.2 / 4831
Overall width (in / mm):

73.1 / 1811
Overall height (in / mm):

58.4 / 1483
Front track (in / mm):

62.4 / 1585
Rear track (in / mm):

62.5 / 1587
Interior
Seating capacity (front / rear):

2 / 3
Headroom (in / mm):

38.8 / 985 (front)
36.8 / 935 (rear)
Legroom (in / mm):

42.1 / 1069 (front)
37.3 / 947 (rear)
Shoulder room (in / mm):

56.7 / 1440 (front)
54.4 / 1382 (rear)
Hip room (in / mm):

55.4 / 1407 (front)
52.3 / 1328 (rear)
EPA passenger volume (cu ft / L) :

96.81 / 2741
EPA interior volume (cu ft / L):

111.1 / 3146
Cargo volume (cu ft / L):

14.25 / 403
Capacities
Fuel tank (gal / L):

18.5 / 70
Engine oil (qt / L):

2.4L: 5.0 / 4.7
Curb weight (lbs / kg):

TBD
*SAE certified
Note: Information shown is current at time of publication.