First Look: 2011 Porsche 911 GT2 RS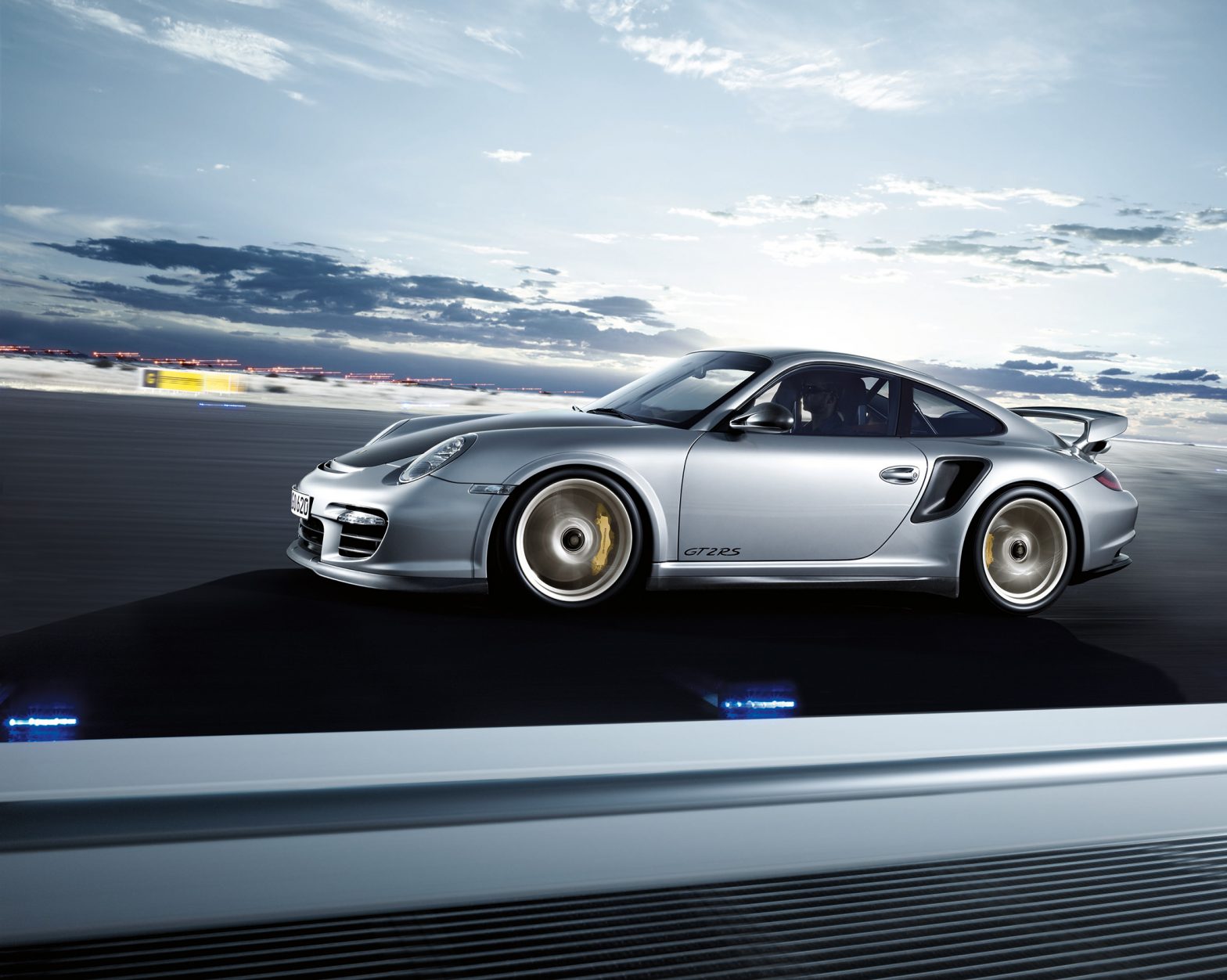 Porsche has given up the details on its most powerful street-legal car ever, the 2011 Porsche 911 GT2 RS. Based on the already potent 911 GT2, its biturbo, 3.6-liter flat-six produces a stomach-turning 620 horsepower in a car that only weighs 3020 pounds. That's a mere 4.9 pounds per horsepower, for those of you keeping track.
The power is put to the rear wheels via a six-speed manual transmission. Composite ceramic brakes bring the car quickly to a halt, which is important in a vehicle that hits 60 miles per hour in just 3.4 blurry seconds before traveling to a 205-mph top speed. Components like these, as well as a host of intelligent traction and power management systems and an adaptive suspension, are what allowed the 911 GT2 RS to lap the Nürburgring in just 7 minutes and 18 seconds.
Coming to the US in October, it will have a price tag of $245,000. Only 500 units will be produced worldwide. It is scheduled to make its public debut at the Moscow Motor Show on August 25.
Scroll down for more details on the super-aggressive 2011 Porsche GT2 RS in the press release, below.

Ultimate 911 extracts 620 ultra-efficient, twin-turbocharged horsepower from 3.6 liters; Provides best-in-class power-to-weight ratio and increased fuel economy

ATLANTA – May 12, 2010 – The time: seven minutes, 18 seconds on the Nürburgring-Nordschleife. The power: 620 hp. The weight: 3,020 lb (1,370 kilograms) in road trim with all fluids on board. The car: the new 2011 Porsche 911 GT2 RS.
90 More Horsepower, 154 lbs Less Filling
The latest 911 is the fastest and most powerful road-going sports car ever built in the history of Porsche. With horsepower (hp) up by 90 and weight down by 154 lbs (70 kilograms) in comparison with the previous 911 GT2, the new 911 GT2 RS has a power-to-weight ratio of just 4.9 lbs (2.21 kg) per horsepower, by far the best power/weight ratio in its class. These are the ideal ingredients for an ultra-high-performance sports car with supreme agility and truly blistering performance on the road. Perfectly illustrating Porsche Intelligent Performance, the 2011 GT2 RS achieves a reduction of approximately 5 percent for both fuel consumption and CO2 emissions when compared with the previous 911 GT2.
Porsche 911 GT2 RS – Most Powerful, Street Legal Porsche Ever
The 3.6 liter six-cylinder boxer engine features two variable turbine geometry turbochargers and provides power to the rear wheels exclusively through a six-speed manual gearbox. Equally impressive stopping power comes from Porsche Composite Ceramic Brakes (PCCB).
New tires were specifically developed for the 911 GT2 RS and measure 245/35 ZR 19 at the front and 325/30 ZR 19 at the rear, delivering cornering performance to match the straight-line speed. Extreme cornering dynamics are ensured by the setup of the springs, Porsche Adaptive Suspension Management (PASM), unique anti-roll bars, specific engine mounts and recalibrated Porsche Stability Management (PSM), whose stability and traction control functions can be switched off individually.
The combined effect of these developments is evident on the racetrack. In fact, the ultimate 911 accelerates from 0-60 in 3.4 seconds, boasts a top-track speed of 205 mph and laps the famed Nürburgring-Nordschleife racetrack in just 7 minutes and 18 seconds.
Unique Looks, Limited Production, Worldwide Appeal
In its looks, the new 911 GT2 RS stands out clearly from the other 911 models through the lavish use of carbon-fiber-reinforced components with a matt-black surface finish, even wider wheels (including flared wheel arches at the front), new light-alloy wheels with central locking and "GT2 RS" model designations on the doors and rear lid. Matte-finish carbon also graces the redesigned front spoiler lip and the 3/8th of an inch (10 mm) taller rear spoiler lip – which both enhance aerodynamics and provide extra downforce.
Porsche 911 GT2 RS – Most Powerful, Street Legal Porsche Ever
The interior of the 911 GT2 RS also exudes sporting performance in virtually every detail. Lightweight two-piece bucket seats made of carbon-fiber-reinforced plastic are standard, as are lightweight door panels with fabric straps instead of traditional door handles. The basic interior color is black, which contrasts with red elements, such as the seat center sections, the roof lining and segments of the steering wheel rim. The gearshift and handbrake lever are also finished in red alcantara.
Limited to just 500 units worldwide, the 911 GT2 RS will be available in the U.S. October 2010 and will have a MSRP of $245.000. The GT2 RS is making its world debut at the Moscow Auto Show on August 25th 2010.