First Look: 2010 Volvo XC60 R-Design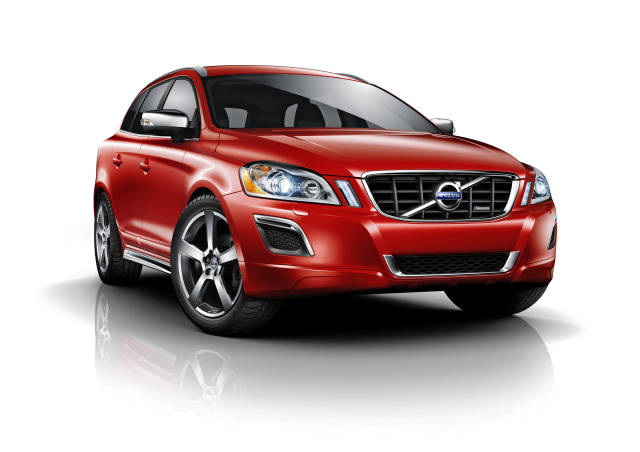 Volvo introduced its new 2010 XC60 R-Design, in a Press Release today. Volvo representatives said that it will be on display at the Frankfurt Motor Show, this September.
The XC60 R-Design is said to have a stiffer chassis, better steering response, and well-defined driving properties. To go with the new sporty driving experience the car comes with 18 inch five-spoke Cratus aluminum wheels, chrome plated skid-plates, color-matched lower body moldings in a silk metal finish, and twin chrome tailpipes. The interiors have also been spruced up with a metal finish. The steering wheel comes with aluminum inserts and is trimmed with perforated leather while the sports pedals are made of brushed aluminum with rubber inserts for better grip, feel, and control.
For specifics on the Volvo XC60 R-Design scroll down and read the press release.
Volvo XC60 boosts sportiness with R-Design
The Volvo XC60 R-Design makes a clear statement about true driving pleasure, a young, energetic attitude and confident success. A sporty chassis and even more direct steering ensure the driving experience matches the sporty appearance.
The Volvo XC60 is a car that has already carved out a solid market share in the premium sport cross-over segment. With its muscular curves and sharply contoured tail lamps, it attracts attention wherever it goes. The new R-Design option pack that will be presented at the Frankfurt Motor Show 2009 gives the car an even more purposeful and bold appearance.
"The R-Design model boosts the XC60's already sporty aura and gives the car an even more refined character in terms of both driving experience and design. These are properties that we know appeal to the discerning buyers of this type of cars," says Lennart Stegland, president of Volvo Special Vehicles.
Confident exterior
On the outside it is easy to recognise those typical R-Design attributes: door mirror housings, trim mouldings and décor trim in matte silk metal finish, skid-plates and twin chrome tailpipes. The five-spoke Cratus aluminium wheels are also unique for the R-Design models. In standard form they measure 18 inches but there is also the option of a stunning 20-inch. This dimension is new to the Volvo XC60 and is only available with the R-Design pack.
Another new feature is that the lower section of the car is now colour-matched to the rest of the body on the XC60 R-Design, instead of the matte black execution of the standard model. This creates the impression that the car sits closer to the ground and gives it a more dynamic look – even though ground clearance remains unchanged.
Thrilling driving experience with excellent comfort
The R-Design chassis is stiffer, features stronger damping and has more distinct driving properties – without impacting too much on ride comfort. All passengers can still enjoy a long and pleasant ride on any type of road surface. Further, the fact that the chassis has not been lowered ensures that the XC60 R-Design maintains its ground clearance for off-road capability.
The new, more direct steering gear also significantly contributes to the driving experience. Owing to faster steering response, the driver benefits from a more alert car behaviour and more precise communication with the road surface. This in turn gives the driver the confidence to push the car to its limits and fully enjoy the sporty capabilities of the XC60 R-Design.
Modern and exclusive interior
Inside the car, exclusive metal finish is the dominant theme, with aluminium inserts in the steering wheel, door mouldings and the iconic centre stack. The sports pedals are made of brushed aluminium, with rubber inserts for precise grip, feel and control.
The elegant dark centre stack features a décor with a circular pattern that expands outwards in a dynamic way. This pattern also reoccurs in the oblique striping of the sculpted, duo-tone seats. Further, the seats are available with the choice of two colour combinations, with light beige or dark black as the main theme.
The front seats feature an advanced seat design with two firmness levels in both the backrest and seat cushions, thus providing a body hugging yet comfortable seating position during inspired driving. The sports steering wheel trimmed with perforated leather and featuring the engraved R-Design emblem is a constant reminder to the driver of the car's special character and excellent driving properties.
Volvo XC60 R-Design – An overview
Exterior:

* Grille in silk metal finish with R-Design badge
* Front fog lamp décor in silk metal finish
* Door mirror housings in silk metal finish
* Five-spoke 18-inch aluminium wheels – Cratus (20 inch optional)
* Sill mouldings in aluminium look
* Twin chromed tailpipes
* Colour-matched lower body mouldings.
* Chrome-plated rear skid-plate with black mesh
* Sport chassis
* 7 body colours to choose between including the R-Design unique colour Passion red
Interior:
* Sport seats for great cornering support and comfort
* Unique upholstery in smooth leather with a choice of two colour combinations: off-black with soft beige inserts or vice versa
* Embossed R-Design emblem in the front backrests.
* Watch Dial instrument with blue gauges, unique to the R-Design model
* R-Design sports steering wheel trimmed in perforated leather
* Sports pedals in aluminium
* R-Design centre stack trim with a unique décor pattern
* Gear selector trimmed with perforated leather
* Off-black sports mats
R-Design a success for Volvo Cars
R-Design was launched in 2007 to satisfy the immense interest among younger car buyers, in particular, who want to equip their cars with sporty, personalised options. With R-Design, they got access to tastefully composed options packages featuring exclusive design details and thrilling sport chassis.
Today R-Design is found across almost the entire Volvo product range in the C30, S40, V50, S80, V70, XC60 and XC90 models.
"R-Design has been a great success for Volvo Cars. This sporty, exclusive sales version has helped us attract new customer groups who would perhaps not otherwise have chosen Volvo. The introduction of the XC60 R-Design shows clearly how strongly we believe in this concept and we have noted considerable pre-launch interest in this product from our markets," says Lennart Stegland, president of Volvo Special Vehicles.