First Look: 2010 Aston Martin DBS Carbon Black Special Edition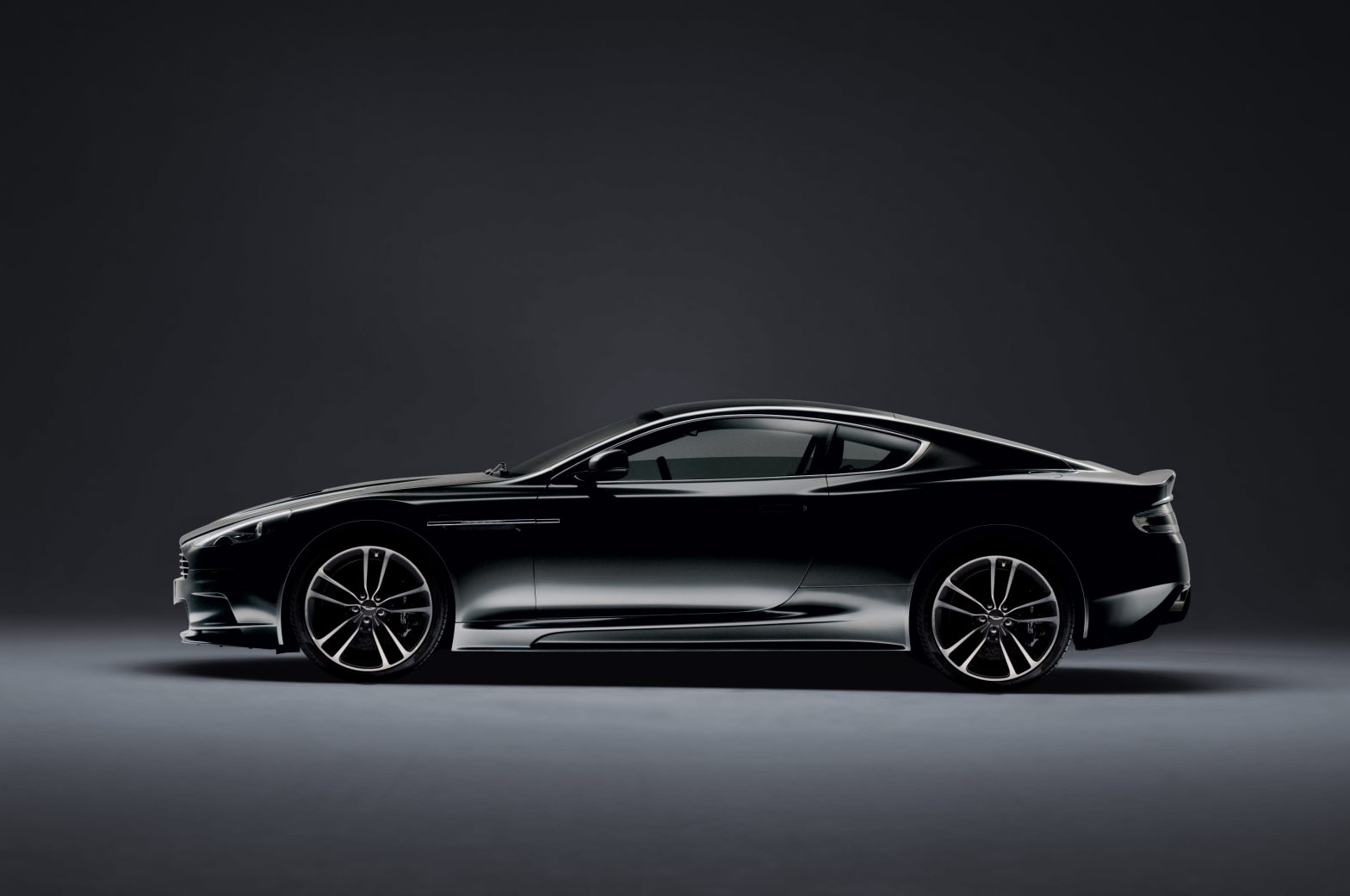 James Bond has just become a bit more exclusive. Aston Martin has just previewed a special edition of 007's most recent ride, and it is very black. The Aston Martin DBS Carbon Black Special Edition (breathe), is the most exclusive iteration of the top-end DBS model, it self a variation of the middling DB9. Although the DBS Carbon Black features no powertrain improvements over the standard DBS, it does feature a variety of special cosmetic pieces.
The highlight of the Carbon Black edition is the Carbon Black metallic paint. Taking 50 hours of hand painting, the metallic paint presents a slightly sinister look, more Darth Vader than James Bond.
From the driver's seat, you are surrounded by Obsidian Black leather, and piano black trim. The leather features contrasting silver stitching, to bring a bit of brightness into the cabin.
In the unlikely event that the 6.0-liter, 510-horsepower, V-12 engine is not melodious enough for your discerning ears, the Carbon Black comes equipped with a 13-speaker Bang and Olufsen stereo. Featuring Digital Sound Processing, 1000 watts of power, and rising tweeters situated near the a-pillar, this system is capable of making your ears bleed with the best of them.
For those that enjoy life topless, there is no word on a Volante version of the Carbon Black. Expect deliveries this summer. There is no official word on price yet, but expect a healthy increase over the $270,000 base.
Please scroll down for the official Aston Martin Press Release.
Aston Martin Previews DBS Carbon Black Special Edition in North America
Irvine, California (March 12th, 2010) Aston Martin's recently announced special edition, the DBS Carbon Black, will make its first appearance in North America this March. The highly desirable edition of the company's latest flagship model, which has undergone a unique Carbon Black makeover, will be showcased at a series of events hosted with Aston Martin brand partners, Bang & Olufsen in cities across the US.
Celebrating the enormous success of the DBS, which has surpassed all sales expectations since launch, the new special edition adds a typically understated flair to this acclaimed flagship model. Featuring bespoke Carbon Black metallic paint especially formulated with a subtle metallic twist to create a deep rich patina, each car will undergo 50 man-hours of hand painting followed by stringent quality checks.
Inside, owners will be greeted to swathes of Obsidian Black leather highlighted with a contrast silver coarse stitch all hand stitched by the craftspeople at Aston Martin's global headquarters and award-winning production facility in Gaydon, England. This attention to detail in craftsmanship carries through to the Piano black facia trim, centre stack and centre console, anodized black tread plates and unique sill plaques.
The DBS boasts the Bang & Olufsen Beosound DBS audio system as standard. The BeoSound DBS system has been designed exclusively for Aston Martin and produces a natural, pure sound with its 13 channel Digital Signal Processing (DSP) platform, 13 self-contained speaker cabinets with 10 individual speaker locations, and over 1000 watts of power. In addition, the in-car listening experience is heightened as the sound stage adjusts to accommodate the number of people in the car as determined by the seat belt fastening.
The first two Carbon Black Special Editions will arrive in the US this March where they will make their debut as part of a series of luxury events to be held in partnership with Bang & Olufsen at exclusive locations across the country. First deliveries of the DBS Carbon Black to customers will being in summer 2010.
About the DBS
The DBS was launched in North America in 2008 and is Aston Martin's ultimate GT sports car. Benefitting from weight saving materials including aluminium and carbon fibre; the DBS offers dynamic and aesthetic purity, an exquisite interior and a driving experience unsurpassed by any other car in its coup and Volante forms. Its hand built V12 engine produces 380 kW (510 hp / 517 PS) making it one of the most powerful production cars Aston Martin has ever made. In 2009, the DBS 'Volante' (Aston Martin's nomenclature for convertible) joined the DBS line-up.