F1 Releases A Heads-Up On Its Revolutionary 2021 Rulebook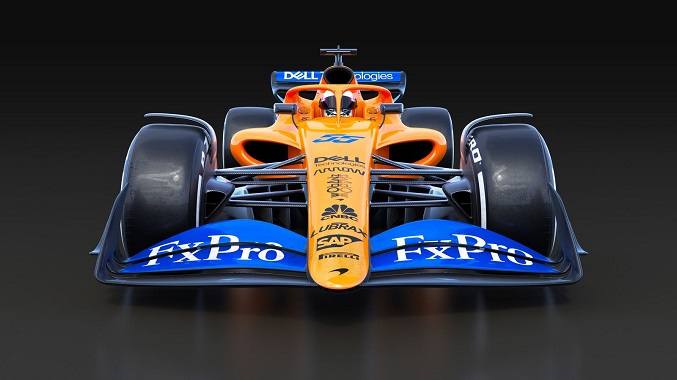 Photo: Mclaren.com
Today, F1 released a heads-up on what its new 2021 regs are and how they will change the sport. Not just for capping costs and financially leveling the playing field, but to also literally clean up aerodynamics to allow for more battling on track. It all adds up to some pretty nice-looking aesthetics, too.
As far as aerodynamics, the article sums it up nicely with:
"…Over several years, both Formula 1 and the FIA have been working tirelessly to design cars that can race more closely.
Key to that was finding a solution to the loss of downforce that the current cars experience when running in another car's wake. Running in dirty air behind another car, a 2019 machine could lose more than 40% downforce. But with the 2021 car design, this drops to around 5-10%, with airflow coming off the new cars both cleaner and directed higher, meaning it has significantly less impact on drivers following, giving them the chance not just to overtake, but to battle."
In addition to revising aerodynamics, they're switching to a low-profile tire that is stiffer and allows the aero bits to do their job and thus simplify development. They also happen to make the cars looks quite good in our opinion.
Photo: Formula1.com
When it comes to capping spending, a limit of $175,000,000 will be enforced:
"For the first time ever, Formula 1 will introduce spending restrictions to make the sport fairer and more sustainable. A cost cap will be set at $175m per team, per year, and applies to anything that covers on-track performance – but excludes marketing costs, the salaries of drivers, and of the top three personnel at any team.
The F1 cost cap will end the growing spending gap between F1's big spenders and those with fewer resources, and the on-track performance differential this brings."
There will be more comprehensive rules put in place to limit the arms race that occurs between teams:
"In addition to the new financial rules, there are some big changes to the technical and sporting regulations. Rules have been put in place to limit car upgrades over race weekends, and the number of in-season aero upgrades, reducing the costly development arms race that can result in a less competitive grid."
Photo: Formula1.com
More on the reasoning behind the new rulebook can be found here. We're anxious to see how this all comes together in 2021, perhaps we will see some new underdogs give the historically well-heeled a literal run for their money! What do you think about the new rules?