F-Series Online: Ford Launches Super Duty Marketing Blitz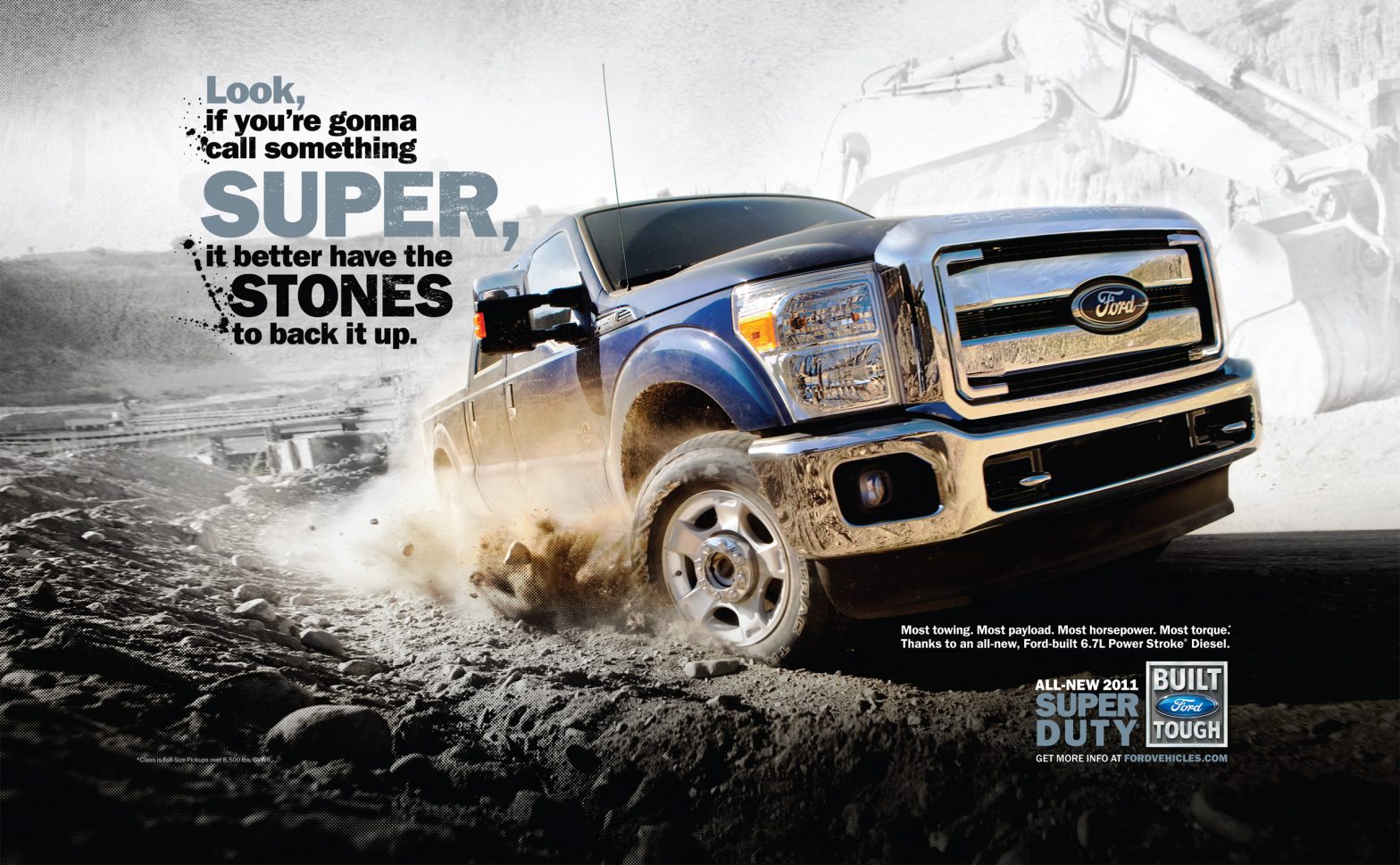 The new F-Series Super Duty is a pretty big deal for Ford, asWinding Road Production Editor John Snyder discussed when he attended the product launch a few weeks back. The Super Duty is packed full of technology that exists to make life easier for the F-Series' extremely loyal customer base. We were recently invited to get a preview of the Super Duty marketing campaign first hand, and Ford is taking an interesting approach.
The Blue Oval is doing everything possible to broadcast the improvements to the Super Duty line, and that means going beyond the typical TV ad spots. Working with the star power of "Dirty Jobs" host Mike Rowe and country music singer Toby Keith, a barrage of social media and "webisodes" is being launched by Ford, detailing the improvements to the Super Duty line and the F-Series' superiority over the competition.
Ford launched the first webisode series and focused on the engineering side of the Super Duty. The two new V-8s, six-speed transmission, and various other pieces of tech were discussed in detail. The spots were supplemented by Ford engineers entering the virtual realm; holding chat sessions that allowed potential F-Series customers to get answers directly from the folks that engineered the truck.
The second series involved loaning preproduction vehicles to the people that would beat them the most. Haliburton, Texop Constuction, and Florida Power & Light put the Super Duty through the daily grind and reported the results to the Ford team. Ford then posted the accumulated information on the Super Duty website.
With the third series, Ford has put the F-Series into the ring with Dodge and Chevy. The challenges are unique, and demonstrate, in a clear-cut manner, the positives of Ford's workhorse truck.
On the social media side, Ford has made the Super Duty website as interactive as possible, involving links to enthusiast websites, the Super Duty Facebook page, and YouTube channel.
Ford takes pickup trucks seriously, and using the power of social media to advertise products is looking to be the next best thing to TV.
Scroll down for the press release from the Super Duty event we attended.
2011 FORD SUPER DUTY MARKETING DEMONSTRATES TRUCK'S CLASS-LEADING CAPABILITY, FUEL ECONOMY
• Bold new marketing campaign for all-new 2011 Ford F-Series Super Duty begins with Webisodes, online chats, television and print ads all demonstrating class-leading towing and payload capability, fuel economy and productivity
• Ford unveiled its new Super Duty marketing campaign at the grand opening of Toby Keith's I Love This Bar & Grill in Auburn Hills, Mich
• 2011 Ford Super Duty, with Ford-engineered, Ford-built 6.7-liter Power Stroke® diesel and all-new 6.2-liter gas engine, is arriving in U.S. dealerships now
AUBURN HILLS, Mich., April 7, 2010 – Ford today kicked into high gear its advertising and marketing campaign for the all-new 2011 Ford F-Series Super Duty at a preview of Web and TV spots at the grand opening of Toby Keith's I Love This Bar and Grill.
Timed with the arrival of new Super Duty trucks in U.S. and Canadian dealerships, the multifaceted marketing campaign demonstrates the truck's class-leading towing and payload capability, fuel economy and productivity against the competition.
The campaign includes a series of new Webisodes, which go live today, featuring Dirty Jobs' Mike Rowe. Television spots narrated by entertainer Denis Leary will begin in mid-April. And partnerships with stars such as Toby Keith kick off this summer when Ford sponsors Keith's 2010 America's Toughest Tour.
"Fundamental to the new Super Duty marketing initiative is Ford's intimate knowledge of the truck customer," said Doug Scott, Ford Truck Group Marketing manager.
"Our customers are huge Toby Keith fans, they enjoy a wide array of sports, and they use their trucks for all sorts of work – from home repair projects to major industrial commercial work," he said. "Our deep understanding of this customer guides everything we do, from engineering to marketing and advertising."
Multifaceted marketing campaign begins on the Internet
Truck customers increasingly rely on social media for technical information and networking, according to Ford research. In fact, more than 15,000 Super Duty conversations take place a month on forums such as powerstroke.org, dieselstop.com and www.ford-trucks.com. Furthermore, the top 10 Ford Super Duty enthusiast sites rival the membership of the top 10 sites dedicated to Ford Mustang, America's most popular muscle car.
With these numbers in mind, Ford last September gave truck customers in-depth technical information about the new Super Duty at www.fordvehicles.com/2011superduty, a full seven months before the truck launched.
"We wanted to make sure the Super Duty customer had access to all new information about the truck, including what went on behind the scenes," said Eric Peterson, Ford Truck Communications manager. "We showed them how our engineers and our fleet customers tested the new Power Stroke diesel. Now, we're showing them how the truck performs against the competition."
The first set of Webisodes, released last fall, demonstrated the engineering expertise and extreme testing that went into building Super Duty's new 6.7-liter Power Stroke diesel engine, which delivers best-in-class horsepower, torque and fuel economy. The second set, which went live in February, featured fleet customers in Wyoming, Florida and Texas driving preproduction trucks on their job sites in severe weather and extreme off-road conditions.
Now, with the third series of Webisodes, titled "Head to Head," the new Super Duty goes head-to-head against the Dodge Ram HD and Chevrolet Silverado HD in exercises that matter most to customers – towing confidence, towing capability and fuel economy. TV's Mike Rowe and Super Duty Chief Engineer Chris Brewer host the three segments.
Additionally, Brewer and members of his engineering team have been holding online chats with customers on sites such as www.thefordstory.com and www.ford-trucks.com.
"Our customers want real, unfiltered access and that's what we're providing – unprecedented access to our engineers and insight into the team that built the Super Duty and its new powertrain," said Peterson. "Instead of having other people speculate about what the answers are, we wanted to have our Ford engineers engaged in the conversations."
A "buzz" section on the Super Duty Web site includes links to some of the most relevant information being discussed on the Internet.
Super Duty television and print ads: Straight to the point
The television ads for Super Duty represent a distinct evolution of the F-150 "rant" campaign – straightforward, no-nonsense and a proven success, according to Eric Swanson, vice president and account director for Nielsen Automotive, the world's leading marketing and media information company.
"When the rant campaign first launched for the 2009 F-150, it was recognized by Nielsen as one of the Top Ten Most Liked ads," Swanson said. "Viewers told us the ads are informative and clever and have shifted their opinion in a positive direction, not only for the truck but for the Ford brand in general."
Rant is aimed squarely at core truck buyers. The ads will begin airing in mid-April during programming watched regularly by Super Duty customers, such as NASCAR, NBA, NHL and Major League Baseball.
Three television spots place the truck in a distinctive black-and-white setting and focus on Super Duty's new powertrain as well as its towing capability and confidence and fuel economy leadership.
The print ads also are direct and to the point. Five ads highlight the same capability themes and will run in print publications that appeal to the interests and vocations of the Super Duty customer, such as Sports Illustrated, Field & Stream, Popular Science and Builder.
Building engagement through targeted alliances
In addition to Web, print and TV ads, the Super Duty marketing campaign includes a strong emphasis on communicating with existing owners through sponsorships and alliance partnerships.
Ford F-Series' longtime alliances with key events and organizations help Ford connect in a personal way to customers' recreational and vocational interests.
In addition to sponsoring Toby Keith's concert tours, Ford alliance partnerships include organizations such as Monster Jam, Professional Bull Riders, Future Farmers of America, the American Quarter Horse Association and the Dallas Cowboys.
"Our alliances are another way in which we continue to develop deeper and long-lasting relationships with our truck customers," said Scott.
2011 F-Series Super Duty: Legacy continues for America's premier work truck
Ford's F-Series has been the best-selling line of trucks in the U.S. for 33 straight years and in Canada for 44 years. With class-leading torque, horsepower, fuel economy and towing and payload capability, the new Super Duty further underscores its Built Ford Tough legacy.
For 2011, Super Duty features both all-new diesel and gasoline engines mated to a new TorqShift six-speed transmission. The new 6.7-liter Power Stroke V-8 turbocharged diesel was designed, engineered and built by Ford engineers dedicated solely to delivering this class-leading diesel to the next-generation Super Duty to enable best-in-class towing, payload and fuel economy.
The new Power Stroke pumps out a best-in-class 735 ft.-lb. of torque at 1,600 rpm and 390 horsepower at 2,800 rpm, enabling the 2011 Super Duty's class-leading towing capability of 24,400 pounds. The 2011 Super Duty also has class-leading payload capability of 6,520 pounds.
The 2011 Super Duty is on sale now at Ford dealerships in the United States and Canada.
# # #
About Ford Motor Company
Ford Motor Company, a global automotive industry leader based in Dearborn, Mich., manufactures or distributes automobiles across six continents. With about 198,000 employees and about 90 plants worldwide, the company's automotive brands include Ford, Lincoln, Mercury and, until its sale, Volvo. The company provides financial services through Ford Motor Credit Company. For more information regarding Ford's products, please visit www.ford.com.