Excess Excitement: MX-5 Cup Race 1 Summary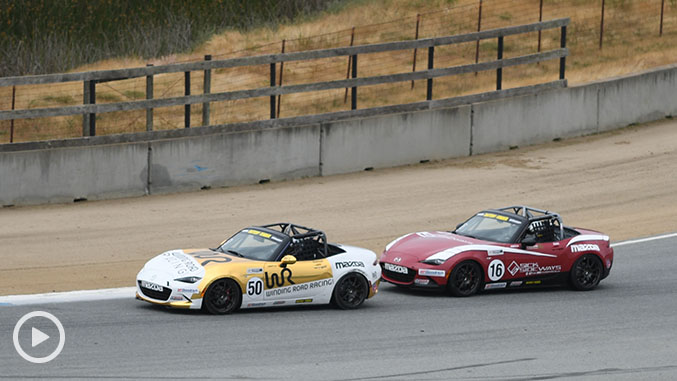 Starting a new season in a new race class is hard on the nerves. You're trying to figure out a new car, put together people who haven't worked together and do setup work while learning new tracks. In Winding Road's case, we're running the SCCA Pro Battery Tender Global Mazda MX-5 Cup series. We've got a new organization, Winding Road Team TFB, running five cars (plus a sixth rental car). And we've got a new car, the Global MX-5 Cup spec racer, based on the new ND generation Mazda MX-5.
We learned a lot in Race 1 of the first weekend at Mazda Raceway Laguna Seca. There were 40 cars on track, so we wanted to get all our cars in the top 20, and give a few drivers a shot at the podium. Easier said than done, as you'll see. Highlights included:
. Mark Drennan in car #50 running P1 and P2 for a while (before being punted in T11)
. Drennan finishing fourth after dropping back to eighth in the T11 incident
. Corey Rueth, in car #39, moving up from P18 to finish P12
. Marco Gallaher, in car #5, moving up from P24 to finish P13
. Mason Filippi, in car #2, finishing P14
. Tom Martin III, in car #21, moving up from P31 to finish P23
Other than Mark, who qualified third, the drivers came away from this one realizing that we have to qualify better. In MX-5 Cup, practice times set the qualifying order, so really qualifying begins in practice. You can read the rules, but once they bite you, you remember them.
Here is a video of the race, which begins after the standing start, unfortunately: