Elon Musk's Other Car Really Flies: SpaceX Launch Successful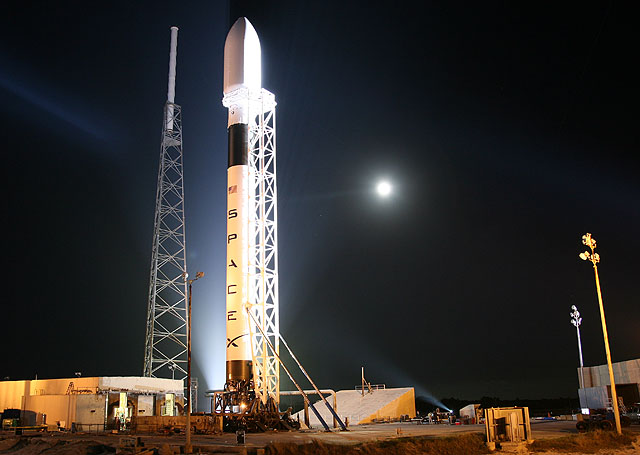 This week, Elon Musk's SpaceX company became the very first commercial company to send a spacecraft into low-Earth orbit, and have it successfully re-enter the atmosphere. After NASA's Space Shuttle retires from service in 2011, SpaceX hopes to have a launch program in place with which to service the international space station.
SpaceX's feat is no small one, as only the US, China, Japan, India, and the European Space Agency have thus-far successfully returned a craft from Earth orbit. The Dragon spacecraft marked a new high-water mark for commercial endeavors off-planet, orbiting Earth at more than 17,000 miles per hour before splashing down in the Pacific Ocean.
Tesla's Musk also serves as SpaceX CEO and CTO, proving, as if there was any doubt, that he is one of the corporate world's most technology oriented entities, and that his stomach for high risk/reward companies is staunch. In a weird way, the success of the Dragon spacecraft makes Tesla's upcoming, and much ballyhooed Model S sedan seem downright simple.
Scroll down to read the full, SpaceX press release.
SPACEX'S DRAGON SPACECRAFT RE-ENTERS SUCCESSFULLY
Lands on Target in the Pacific Ocean, 500 miles Off of the Coast of Southern California
Cape Canaveral, FL – Today, SpaceX became the first commercial company in history to re-enter a spacecraft from low-Earth orbit.SpaceX and NASA will have a post-mission press conference at 3:30 PM EST at the press site at NASA's Kennedy Space Center in Florida.
Participants include:
Elon Musk, SpaceX CEO and CTO
Gwynne Shotwell, SpaceX President
Alan Lindenmoyer, NASA Commercial Crew and Cargo Program Manager
SpaceX launched its Dragon spacecraft into low-Earth orbit atop a Falcon 9 rocket at 10:43 AM EST from the Air Force Station at Cape Canaveral.
The Dragon spacecraft orbited the Earth at speeds greater than 17,000 miles per hour, reentered the Earth's atmosphere, and landed in the Pacific Ocean shortly after 2:00 PM EST.
This marks the first time a commercial company has successfully recovered a spacecraft reentering from low-Earth orbit. It is a feat performed by only six nations or government agencies: the United States, Russia, China, Japan, India, and the European Space Agency.
It is also the first flight under NASA's COTS program to develop commercial supply services to the International Space Station. After the Space Shuttle retires, SpaceX will fly at least 12 missions to carry cargo to and from the International Space Station as part of the Commercial Resupply Services contract for NASA. The Falcon 9 rocket and Dragon spacecraft were designed to one day carry astronauts; both the COTS and CRS missions will yield valuable flight experience toward this goal.
About SpaceX
SpaceX is developing a family of launch vehicles and spacecraft that will increase reliability and performance of space transportation, while ultimately reducing costs by a factor of ten. With the Falcon 1 and Falcon 9 rockets, SpaceX has a diverse manifest of launches to deliver commercial satellites to orbit. After the Space Shuttle retires, the Falcon 9 and SpaceX's Dragon spacecraft will start carrying cargo, including live plants and animals, to and from the International Space Station for NASA. Falcon 9 and Dragon were developed to one day _carry astronauts.
Founded in 2002, SpaceX is a private company owned by management and employees, with minority investments from Founders Fund, Draper Fisher Jurvetson, and Valor Equity Partners. The company has over 1,100 employees in California, Texas and Florida. For more information, and to watch the video of the first Falcon 9 launch, visit the SpaceX website at SpaceX.com.