Detroit Preview: Buick Unveils 255-HP, Turbocharged, All-Wheel-Drive Regal GS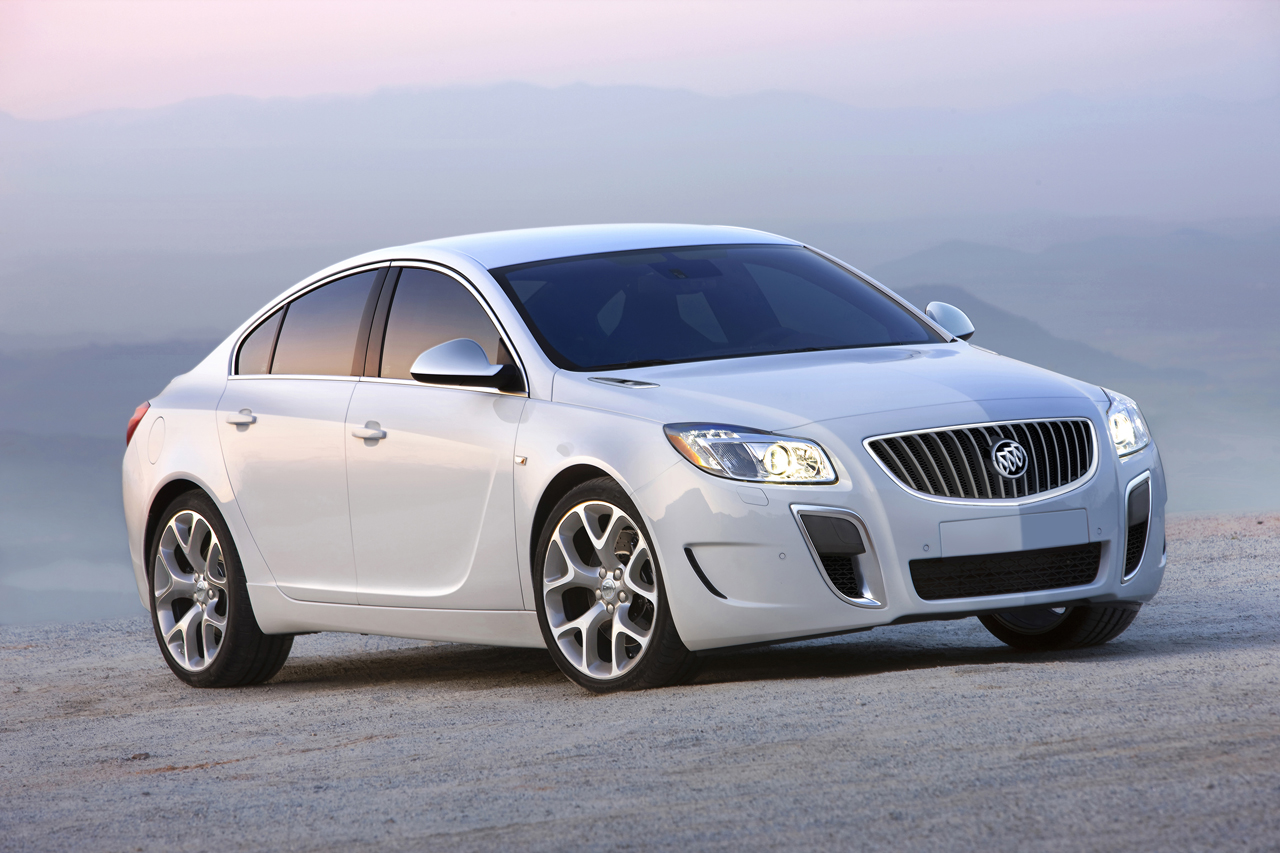 The fact that General Motors is finally bringing over the new Opel Insignia (Buick Regal) to the States makes us very happy campers. And now, knowing that a Regal GS is in the works, our interest is more piqued than ever. But hold on just a minute — while the GS might look like an all-American version of the Insignia OPC, it's been diffused just slightly for Yankee consumption.
Power will be sourced from a reworked version of GM's Ecotec 2.0-liter turbo four, in keeping with the General's decision to make the Regal a four-cylinder-only line. Still, 255 horsepower and 295 pound-feet of torque is nothing to be upset about, especially since a honest-to-goodness six-speed manual transmission will be on hand. What's more, the Regal GS will come with an adaptive all-wheel drive system that features an electronic, limited-slip rear differential. GM claims that the Regal GS will sprint to 60 miles per hour in under six seconds. (Trust us — we'll be testing that claim when our first drive takes place.)
We actually have pretty high hopes for the Regal GS. Buick has outfitted this car with a four-wheel-independent suspension, with a high performance strut design at the front. This reduces overall torque steer and improves grip in both dry and wet conditions. Crisper, more involving steering should result from this, as well. The GS will also ride on sexy twenty-inch alloy wheels, and a beefy set of Brembo brakes (fourteen-inch rotors, front and rear) will be on hand.
Inside, the hot new Buick uses a completely jet black interior, with a sport shifter for the manual transmission, a thick, flat-bottomed steering wheel, and Recaro front seats.
This all sounds like a sweet deal to us, but how will this fare with the majority of consumers who flood into Buick showrooms? Will Grandma LaCrosse and Grandpa Enclave mix well with this new dose of Euro-inspired performance? Only time will tell, but as for us enthusiasts, we're on the edge of our seats.
Scroll down to read the full press release.
BUICK UNVEILS REGAL GS SHOW CAR
– 21st-century successor to Buick's Gran Sport heritage
– Bold, sporty design with unique exterior details and an aggressive stance
– High-output Ecotec 2.0L turbocharged engine and six-speed manual transmission
– Adaptive all-wheel-drive system and electronic limited-slip rear differential
– 0-60 in less than 6.0 seconds
– Buick's class-exclusive Interactive Drive Control System
DETROIT – With an estimated 255 turbocharged horsepower (190 kW), a six-speed manual transmission and an advanced, adaptive all-wheel-drive system, the Buick Regal GS show car is a high-tech, high-performance version of the brand's newest sport sedan. It was introduced at the 2010 North American International Auto Show.
The mechanical elements were developed with the aim of delivering a driving experience that is sporting, confidence-inspiring and refined. It has a performance-oriented drivetrain, a lowered body and lower center of gravity. Exterior and interior cues include two additional vertical front air intakes; large, forged aluminum 20-inch wheels and performance tires; a racing-inspired sport steering wheel and metal pedals. Recaro high-performance front seats feature four-way lumbar support and cushion extensions.
"We designed the Regal GS to explore the appeal of a high-performance variant of the Regal," said Craig Bierley, product marketing director for Buick. "Like the Regal, the Regal GS is based on the award-winning Opel Insignia, and we believe it will reinvigorate Buick's storied Gran Sport legacy."
The Regal GS exterior is distinguished by vertical air inlets in the front fascia, as well as unique rocker panels, an integrated rear spoiler, dual exhaust outlets, Olympic White paint and satin metallic accents.
"The idea behind the Regal GS was taking the production model in a more aggressive direction to appeal to performance enthusiasts," said John Cafaro, Buick design director. "But along with its aggressive stance, there's sophisticated style in the design that complements the driving experience."
Inside, the Regal GS varies from the standard Regal by featuring a completely jet black interior, including the pillars and headliner, sport shifter for the six-speed manual transmission and a suede-covered, flat-bottom steering wheel reminiscent of those used in international racing series. The instrument panel glows ice blue when the driver engages the sport mode of the Interactive Drive Control System (IDCS).
Turbocharged AWD performance
Power for the Regal GS comes from a high-output 2.0L Ecotec turbocharged engine with direct-injection technology. It is based on the engine that will be offered on Regal CXL models later this summer, but the engine and turbocharger are tuned to deliver greater boost pressure in the GS. The output is estimated at 255 horsepower (190 kW) and 295 lb.-ft. of torque (400 Nm).
The engine is mated to a six-speed manual transmission that directs torque to an adaptive all-wheel-drive system calibrated for performance driving. An electronic, limited-slip rear differential helps ensure the engine's power is distributed effectively during cornering.
The high-performance drivetrain is expected to enable the Regal GS to accelerate from 0 to 60 mph in less than 6 seconds. That performance is complemented by a four-wheel-independent suspension, with a unique High Performance Strut (HiPerStrut) design in front. The HiPerStrut system helps reduce torque steer and maintain negative camber during cornering. This improves ultimate grip levels in dry and wet conditions, as well as improves the direct feel of the road, while isolating undesirable feedback. Behind the wheel the driver experiences reduced torque steer, improved grip and increased cornering power, along with crisper handling, steering precision and feedback.
The Regal GS features a high-performance Brembo brake system with 14 x 1.2-inch (355 x 32 mm) cross-drilled rotors; four-piston, high-strength aluminum calipers, and high-performance pads.
The Regal GS is also equipped with Interactive Drive Control System (IDCS) chassis technology (also offered on Regal CXL models with the 2.0L turbo engine). It delivers enhanced vehicle stability and greater driving safety, while also adapting the driving characteristics of the car to the driver's preferences. The driver selects among three operating modes – normal, sport and GS – that change the suspension settings, throttle response, shift pattern and steering sensitivity through the variable-effort steering system.

About Buick
Buick is in the midst of a transformation that started with the Enclave luxury crossover and continues with the completely redesigned LaCrosse luxury sedan and Regal sport sedan. Buick is emerging as a modern, premium brand with vehicles characterized by sculpted designs, personal technologies, luxurious interiors and responsive performance. Future new sedans and crossovers are planned and will continue to expand Buick's portfolio both in North America and China. More information can be found at www.buick.com.