Detroit 2012: Nissan Pathfinder Concept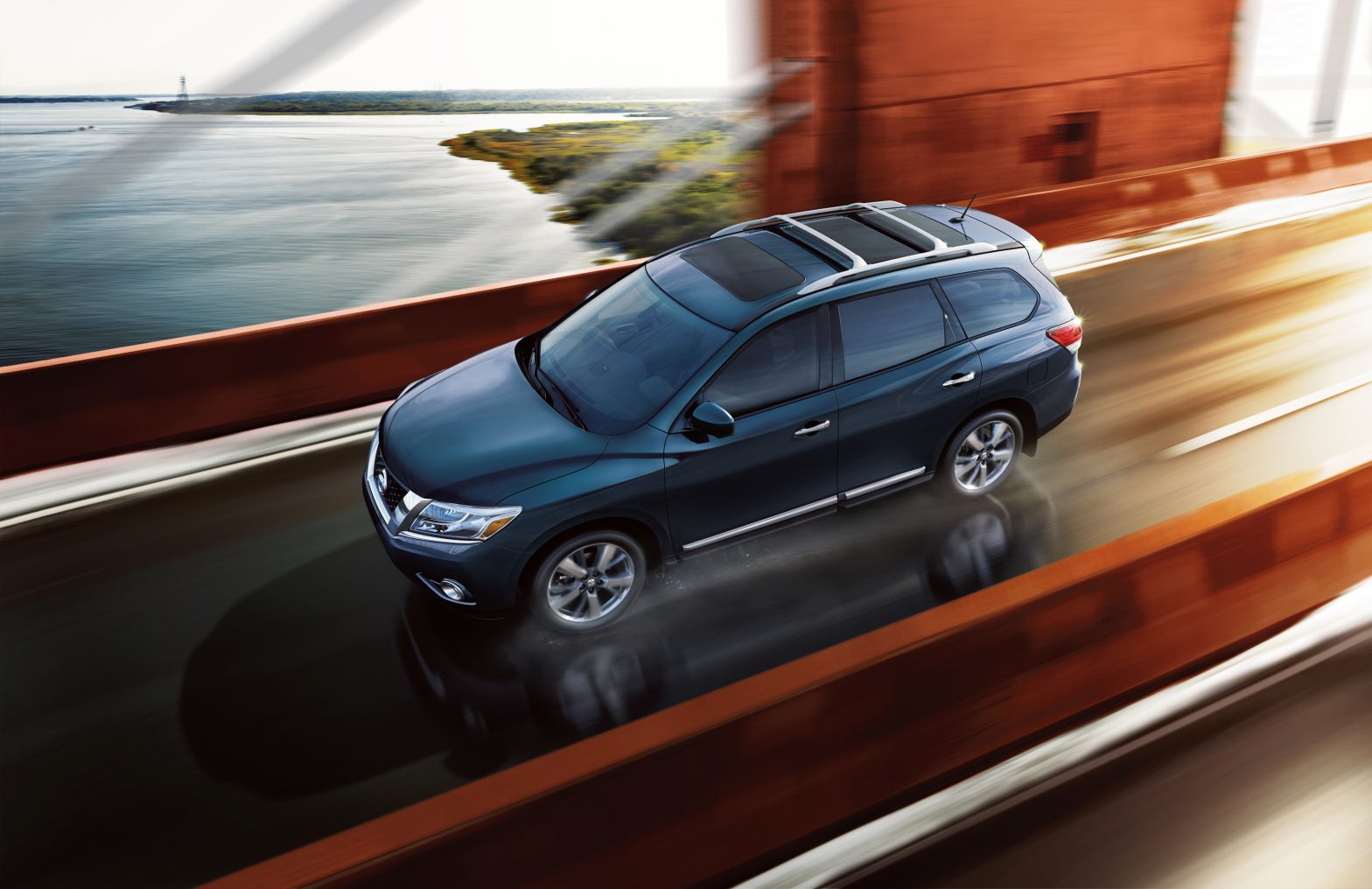 Ignore the Concept bit of the title, this is your 2013 Nissan Pathfinder in all but name. Nissan claims the new SUV will boast better fuel economy and more room for you and six of your closest friends.
The Pathfinder is motivated by a V-6 of undisclosed displacement and output, while shifting doesn't really happen at all, thanks to a continuously variable transmission. This combination should be good for a 25-percent increase in overall fuel economy. No seven-passenger SUV worth its salt would come to market without an all-wheel-drive option, and the Pathfinder Concept is no exception. It should also be quite capable in the realm of towing.
Nissan expects the 2013 Pathfinder to hig dealerships this Fall, with the debut of a production model before too long (think late Summer).
Please scroll down for the official press release from Nissan.
NISSAN REINVENTS THE PATHFINDER AS THE NEXT GEN SUV WITH NEW AERODYNAMIC STYLING AND ENHANCED FUEL ECONOMY
– Preview Concept Shows Dramatic New Styling Emphasis; One of 20 New or Redesigned Products Set to Arrive Within Next Two Years –
Nissan is reinventing its popular Pathfinder SUV to appeal to customers looking for SUV capabilities with more passenger comfort, innovative technology and fuel-efficient performance. The Pathfinder Concept, on display at the North American International Auto Show, previews the all-new look, style and attitude Nissan will bring to the segment when the next-gen Pathfinder goes on sale in fall 2012 at Nissan dealers nationwide. Pathfinder, Nissan's best-known nameplate in the United States, is one of 20 new or redesigned products Nissan plans to introduce in this market within the next two years.
"Nissan is in a great position today. Sales are up, market share is increasing and our dealers have a great selection of 2012 Nissan cars, trucks and SUVs in inventory," said Al Castignetti, vice president and general manager, Nissan Division, Nissan North America, Inc. "This new Pathfinder Concept is just the beginning of a far-reaching wave of new products on the horizon for Nissan. By the end of 2012, more than 70 percent of our sales volume will be all-new or redesigned."
Pathfinder Concept: Modern Design, 7-Passenger SUV Capabilities
At first glance, it is clear the Pathfinder Concept is a game-changer for the Nissan brand. The stylish fourth-generation Pathfinder design brings a new look and packaging that's ideal for adventurous owners who need versatility and SUV capability without compromise. The sweeping character lines of the Pathfinder Concept give a hint of a design language that will carry through future Nissan models. The Pathfinder Concept also features innovative 3-row interior flexibility and room for seven passengers.
The new Pathfinder's aerodynamic body is combined with a refined V6 engine and next-generation Continuously Variable Transmission (CVT) to make it one of the most fuel-efficient 7-passenger vehicles on the market. It is projected to deliver an expected 25 percent increase in combined City/Highway fuel economy (over the previous V6-equipped design). In addition to offering an intuitive four-wheel-drive system, the new Pathfinder will also have towing capacity competitive with the leaders in the segment.
While the Pathfinder Concept making its world debut in Detroit provides a full glimpse of the exterior design direction the production vehicle will take, details on the interior and technology inside will have to wait. It is safe to say, however, that the next-gen Pathfinder's roomy cabin will deliver innovation and class-above craftsmanship – with excellent legroom in all three rows and ample cargo room behind the 3rd row. Additional information will be available soon.
About Nissan North America
In North America, Nissan's operations include automotive styling, design, engineering, consumer and corporate financing, sales and marketing, distribution and manufacturing. Nissan is dedicated to improving the environment under the Nissan Green Program 2010 and has been recognized as a 2010 and 2011 ENERGY STAR® Partner of the Year by the U.S Environmental Protection Agency. More information about Nissan in North America and the complete line of Nissan and Infiniti vehicles can be found online at www.NissanUSA.com and www.Infiniti.com.
About Nissan
Nissan Motor Co., Ltd., Japan's second largest Japanese automotive company by volume, is headquartered in Yokohama, Japan and is an integral pillar of the Renault-Nissan Alliance. Operating with more than 150,000 employees globally, Nissan provided customers with more than 4 million vehicles in 2010.
With a strong commitment to developing exciting and innovative products for all, Nissan delivers a comprehensive range of fuel-efficient and low-emissions vehicles under the Nissan and Infiniti brands.
A pioneer in zero emission mobility, Nissan made history with the introduction of the Nissan LEAF, the first affordable, mass-market, pure-electric vehicle and winner of numerous international accolades including the prestigious 2011 European Car of the Year award.
For more information on our products, services and commitment to Sustainable Mobility, visit our website at http://www.nissan-global.com/EN/.