Detroit 2012: Acura NSX Concept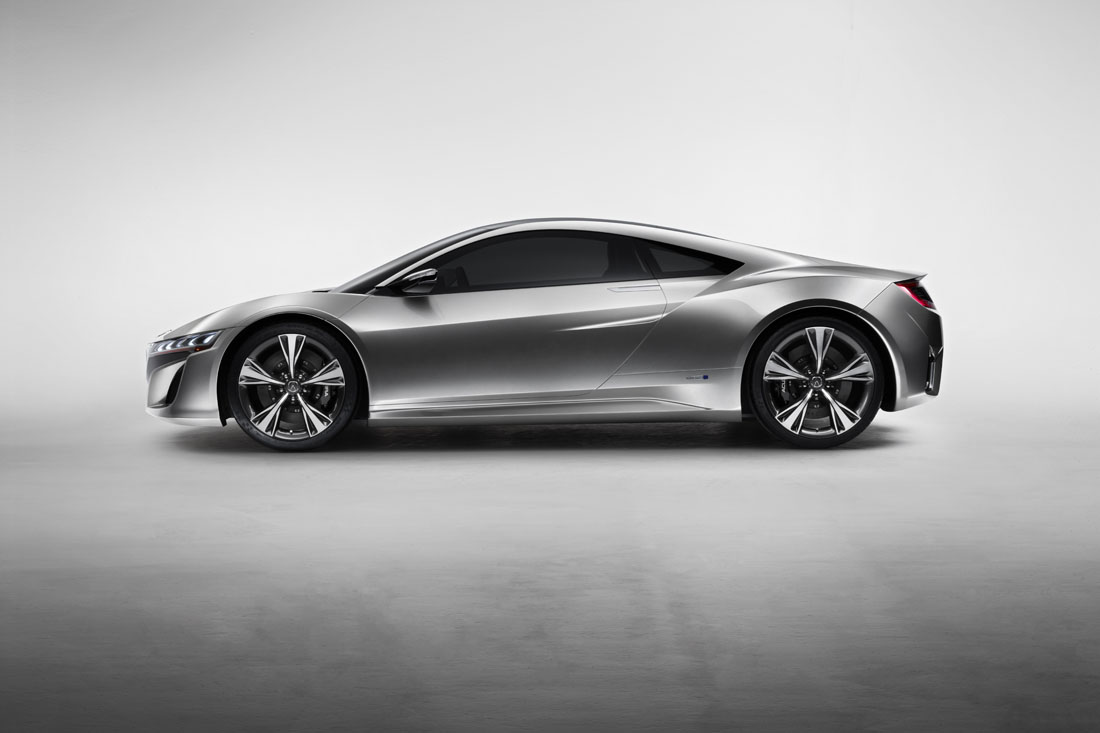 Once again, ladies and gentlemen, we have a Acura NSX future to be excited about. Yes, we've been down this path before, with a concept car that was lost in the rubble of the 2008 financial meltdown (and reportedly shut down even before that by execs who felt the last car was a move in the wrong direction), but hope springs eternal here at Cobo, and we want this Greenformance supercar to see the light of day.
Here are the concept stats: A mid-mounted V-6 engine of undisclosed displacement. A hybrid powertrain a "2 Electric Motor Drive Unit." A hybrid version of Acura's much-loved SH-AWD system, that can add or dial back torque to the wheels during cornering. All that, with a supposed design focus on power-to-weight concerns, have us thinking that there is a Lexus/Acura supercar showdown for the history books, brewing in an engineering lab somewhere. We're ready right now.
Of course the smoking true-supercar good looks of the concept help significantly to get us charged up for the real deal. The crowd of been-there-done-that motoring hacks even responded with a rousing round of applause when the sheet when up on the NSX—not something that happens with regularity around these parts.
Please scroll down to read Acura's brief press release, and be sure to check back to WindingRoad.com in just a few moments, when our gallery of live images is scheduled to go up.
Acura NSX Concept
The dynamically-styled NSX Concept gives an indication of the next great performance vehicle from the Acura brand. Making use of lightweight materials and a mid-mounted V-6 engine, the NSX Concept employs several new technologies for Acura, including application of Acura's innovative new Sport Hybrid SH-AWD® (Super Handling All Wheel Drive™) hybrid system.
Utilizing a unique 2 Electric Motor Drive Unit with a Bilateral Torque Adjustable Control System, the all-new hybrid all-wheel-drive system can instantly generate negative or positive torque to the front wheels during cornering. Acura anticipates the new Sport Hybrid SH-AWD® will deliver handling performance unmatched by previous AWD systems. In addition to the handling benefits of the Sport Hybrid SH-AWD® system, a powerful next-generation VTEC® V-6 engine with direct-injection works in concert with a dual clutch transmission with built-in electric motor to create supercar acceleration while offering outstanding efficiency.
"This Sport Hybrid SH-AWD system will make NSX the ultimate expression of Acura's idea to create synergy between man and machine," said Takanobu Ito, president and CEO of Honda Motor Co., Ltd. "The NSX will make the driver one with the car to enhance dynamic driving abilities without getting in the way."
While most supercars opt for brute force delivered from a large engine, the NSX Concept champions the true racing philosophy of an extremely favorable power-to-weight ratio.
"Like the first NSX, we will again express high performance through engineering efficiency," added Ito, who led the development of Acura's first NSX supercar. "In this new era, even as we focus on the fun to drive spirit of the NSX, I think a supercar must respond positively to environmental responsibilities."
The new Acura supercar, expected to debut in the next three years, will be developed by an engineering team led by Honda R&D Americas, Inc., and manufactured in Ohio, at a yet to be named facility.
About Acura
Acura offers a full line of technologically advanced performance luxury vehicles through a network of 272 dealers within the United States. The 2012 Acura lineup features six distinctive models including the RL luxury performance sedan, the TL performance luxury sedan, the TSX sports sedan and Sport Wagon, the turbocharged RDX crossover SUV, the MDX luxury SUV and the ZDX four-door sports coupe. For media information and high-resolution photos of Acura vehicles, please visit www.acuranews.com. For consumer information, please visit www.acura.com. To view a webcast of the unveiling all three new Acura vehicles from the North America International Auto Show in Detroit, visit http://acuranews.com/live/2012naias-acura.