Detroit 2012: Acura ILX Concept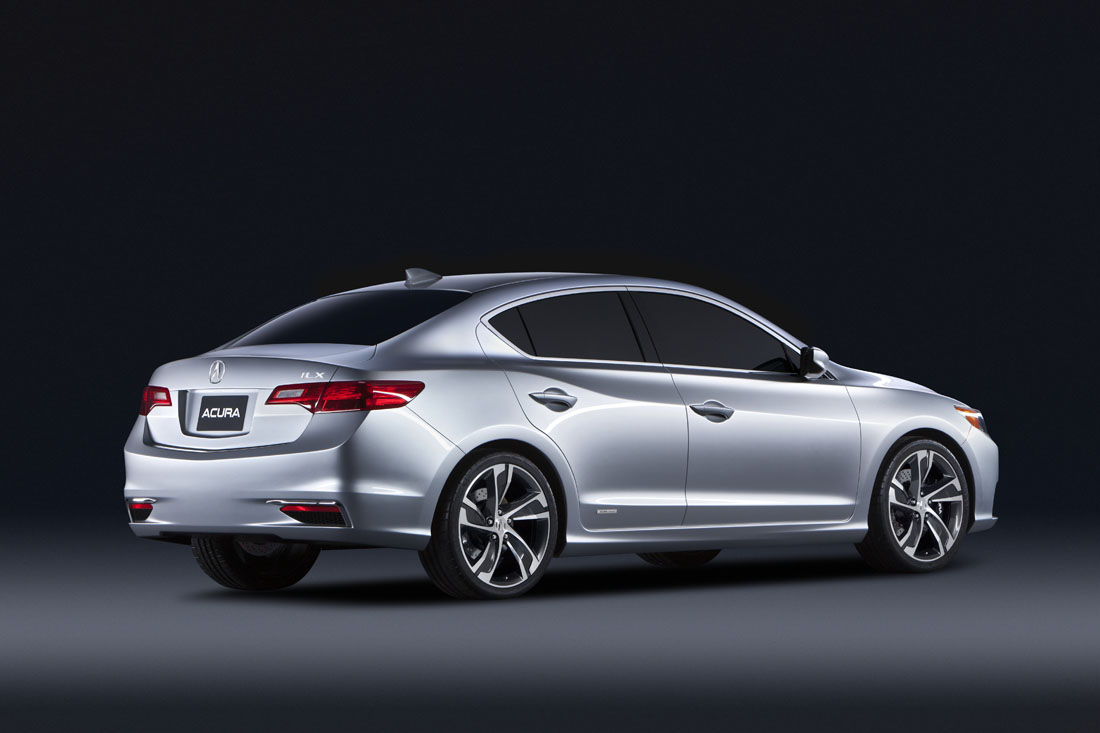 Acura has revealed a very close to production-ready concept of its upcoming ILX sedan, a car that will represent the new entry-level for the brand.
Scheduled for launch in the spring of 2012, we don't expect that the real deal will look much different than this pretty sedan. Recent Acura doubters will likely be heartened by the rather subtle front grille treatment for the car, and we found the rear-three quarters view of the car to be artfully executed.
Acura is set to offer three powertrain options for the ILX, a 2.0-liter four-cylinder, a 2.4-liter four with a six-speed manual as the "high-performance model," and a hybrid, gas/electric model that will make use of a 1.5-liter engine.
Company PR pointed out that the ILX will not be positioned as a "technology model," but the car will come with more than a few toys: internet radio access, and some kind of SMS text messaging compatibility being among the feature set highlighted.
No word yet on if the ILX is actually a replacement for the current TSX range, though the size of both vehicles would seem to make that a rational conclusion.
Please find the full Acura press release below
Acura Debuts Three New Vehicles at the 2012 North American International Auto Show
New ILX compact sports sedan to feature Acura's first hybrid powertrain;
All-new RDX sport utility vehicle features new engine and all-wheel-drive system;
NSX Concept to be developed and built in America with new performance hybrid system

DETROIT, Mich., Jan. 9, 2012 – Representing the leading edge of a wave of new products and technologies, Acura today unveiled three new vehicles at the North American International Auto Show, including a concept version of the all-new gateway to the Acura brand, the ILX luxury compact sedan; a prototype of the 2013 RDX crossover sport utility vehicle; and the NSX Concept, which presages the direction for Acura's next-generation supercar.
Acura also announced that the next-generation NSX will feature Acura's innovative new Sport Hybrid SH-AWD® technology and that the vehicle will be developed by Honda R&D Americas and manufactured in Ohio.
"Over the next 24 months the Acura brand will unleash a series of new models that will remake our product lineup and shake up the luxury market," said Jeff Conrad, vice president and general manager of Acura. "Acura will once again defy conventional wisdom to become one of the top luxury brands by creating luxury vehicles based on our own unique values."
Debuting three new models in Detroit heralds the beginning of Acura's second 25 years as a premium luxury-performance automobile brand.

Acura ILX Concept
The Acura ILX Concept is the precursor to an all-new Acura luxury compact sedan scheduled for launch in Spring 2012. To be positioned as the gateway to the Acura brand, the ILX will feature three different powertrains, including Acura's first-ever gas-electric hybrid.
"First time luxury buyers place the highest value on exterior styling, affordability and environmental issues and that's a virtual definition of what we have created with the new Acura ILX," said Jon Ikeda, head of the Acura Design Studio. "The strategy behind this new model is to position ILX as the first opportunity for many young buyers to enter the luxury market."
Sleek, sporty and aerodynamically efficient, the exterior of the all-new Acura ILX combines luxury, performance and efficiency. A beautifully styled luxury sedan, the ILX Concept has a compact, yet formal proportion, targeting a very professional image. The Acura ILX delivers both, with a low and wide stance and a long nose and a short tail that are aerodynamically efficient, the ILX is immediately recognizable as an Acura.
The lineup of ILX models will include an entry-level model powered by a 2.0-liter inline 4-cylinder engine; a high-performance model with a 2.4-liter inline 4-cylinder engine paired with a six-speed manual transmission; and a 1.5-liter gasoline-electric hybrid powertrain, Acura's first-ever hybrid offering.
The ILX will feature a high–quality, well-appointed interior that is smart, spacious and sporty. It will offer a number of new, high-value features, including a smart entry keyless access system and pushbutton start, along with Pandora internet radio interface and SMS text message function for smart connectivity with the world.
As with all Acura models, the ILX will have a long list of standard features, different trim levels (that will include a Technology Package), multiple transmission choices, and excellent standard safety features— including Acura's acclaimed Advanced Compatibility Engineering™ body structure, front, side and side-curtain airbags, 4-channel anti-lock brakes and Vehicle Stability Assist™ (VSA™). Acura anticipates that the ILX will achieve top ratings in both NHTSA and IIHS crash safety testing.
The new ILX will be manufactured exclusively by Honda Manufacturing of Indiana, LLC, in its Greensburg, Ind. plant— one of only three plants in the world to receive J.D. Power and Associates' 2011 Platinum Award for outstanding quality.