Detroit 2010: South Korean CT&T Have Bold EV Dreams, Happy Executives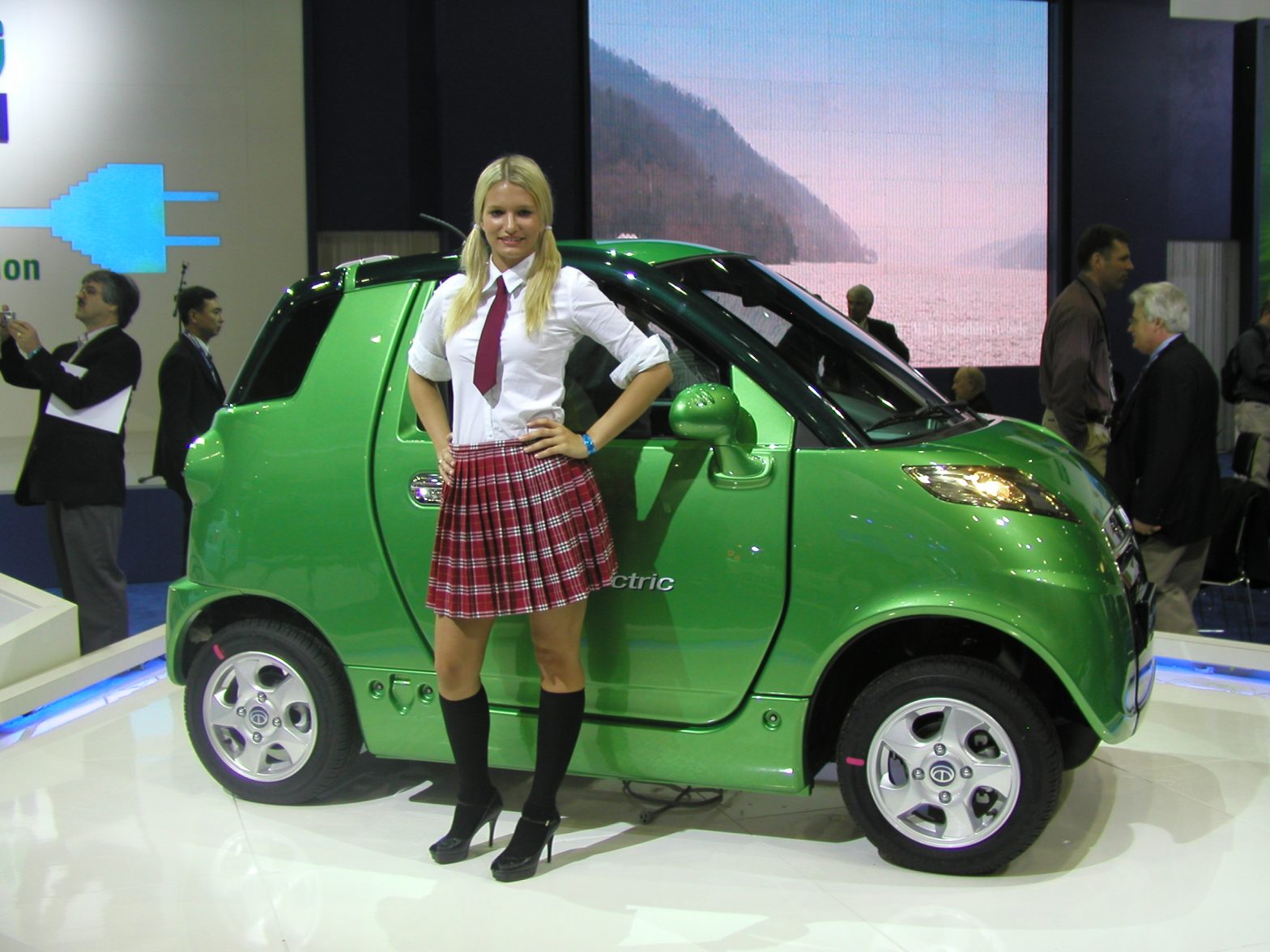 There was an all-new stand on the main floor of the Detroit show this year, manned by an electric vehicles company from South Korea called CT&T. The whole executive team of the young company was on hand (and rather excited to be in Detroit, if the "thumbs up" picture in our gallery can be believed), making bold claims about intentions to storm the American market this year. Stay tuned.
The EV builders displayed a range of electrically powered cars, mostly representatives of the LSV (low speed vehicle) class, ranging in function from actual golf carts (c Zone), to units closer to road-going cars.
The more substantial e Zone models were configured for a variety of fanciful task on the show stand, from mocked up parking cop cars, to a sort of mobile café, along with multiple, capacious van variations. CT&T claims the e Zone cars equipped with its lithium ion polymer battery system will have a top speed of 25 miles per hour and a range of up to 65 miles, while lead acid battery cars will only range as far as 44 miles.
CT&T also showed a fairly strange sports car prototype at its presser, the C2 Square (or "C Squared"? There was some confusion on this point). The C2 has a claimed maximum speed of 95 miles per hour, with a 145-mile range. We're told that production on this one will begin in the fourth quarter of 2010.
CT&T PRODUCTS AND TECHNOLOGIES
CT&T is an OEM engaged in the design, production and assembly of electric vehicles (EVs) on four different platforms and holds patents in design engineering for motors and in-wheel drivetrain systems. It also has proprietary technical designs to four different battery types and will soon begin North American production.
CT&Ts EVs hold competitive advantages over traditional motor vehicles with respect to reduced operating costs for the consumer and reduced CO2 emissions. They also have distinct safety applications that are an integral part of their operating features.
CT&T currently offers a range of Low Speed Vehicles (LSV) as well as recreational and utility electric vehicles. The company also has a robust pipeline of new vehicles and technologies that soon will be introduced to the marketplace.
Through its e ZONE and c ZONE electric cars the company offers the finest solutions to environmental issues as they relate to CO2 emissions, the ever-increasing price of oil, global temperature change, escalating traditional motor vehicle operating costs and security concerns as they relate to national dependency on foreign oil.
c ZONE Vehicles
 c ZONE vehicles are multi-purpose, open-air electric vehicles with an excellent economic efficiency. They can be enjoyed in consumer market within gated communities with all the safety features of headlights, signal lights, rear stoplights, seat belts, windshields, and wipers. Lifestyle trends and current EV tax credits slated to be in place through 2010 have created a burgeoning market for these recreational EV applications. These vehicles meet the government regulations of Low Speed Vehicles (LSV) and thus can be licensed and plated for public roadways.
 c ZONE utility electric vehicles are used in large volume in commercial and industrial fields as well such as amusement parks, business sites, factories, industrial complexes, farms, schools and campuses, and resorts to name a few. In many occasions, these vehicles are used as a people mover in organized events.
e ZONE Vehicles
 Totally enclosed vehicles with doors, e ZONE electric vehicles comprise both consumer and commercial models, from 2-door passenger cars to delivery vans, fleet vehicles and many other applications. e ZONE vehicles provide the highest level of vehicle performance of any LSV on the market today. Rather than starting with a golf cart platform, eZONE was built from the ground up, with comfort features of a traditional motor vehicle, to provide safety and driving performance. The current flagship of the product line is the e ZONE City EV. It is available in a two-passenger consumer market model and a variety of configurations for commercial applications.
 e Zone LSVs advantages include:
 e Zone passes international crash test standards for front and side crashes  e Zone offers MacPherson independent suspension  e Zone is the only vehicle in its class available with an optional air bag 
eZonehasatopspeedof25mphandarangeofupto44mileswithaleadacid
battery, and a range of 65 miles with an optional lithium ion polymer battery.
PRODUCT AND PROCESS INNOVATIONS
In its brief history, CT&T has become a leader in cutting-edge battery technologies and a major player within the electric vehicle category in Asian markets. Based in Seoul, Korea, it is an integrated electric vehicle manufacturer, bringing together full battery design and production, exclusive, patented, wheel-in-motor drivetrain vehicle systems, and four platforms of electric vehicle production.
The company is in the process of perfecting and patenting the first multi-energy/solar battery system that will initially employ an advanced lead-acid battery, an" on-board" generator, an alternator, and available natural solar energy for future production of its electric vehicles in North America. The advantage of this new and proprietary power design is greater battery mileage and capacity.
E ZONE and c ZONE Electric Vehicles will soon feature the patented direct drive wheel-in-motor motor mechanism, an exclusive CT&T design that eliminates conventional motors, speed reducers, and drive axles. CT&T's R.A.S. QualifiedTM American parts suppliers will have extended licenses to produce this direct drive wheel-in-motor exclusively for the company.
Also unique and patented for drive system applications for CT&T's electric vehicles are its electro magnetic automotive systems that incorporate auto-driving, auto-parking, and auto-charging. All of these systems will be brought to America, licensed to vendor/suppliers and installed on select CT&T electric vehicles.
The Company is presently in the process of patenting the "CT&T Cyclone-Fan" a high-powered energy-efficient cooling fan with an automatic drive sensor for electric vehicles. This cooling system will be deployed in all CT&T electric utility vehicles and certain c ZONE and e ZONE models for production in the United States under vendor license.