Chicago 2010: Chevrolet Suburban Celebrates Its 75th Birthday With Anniversary Diamond Edition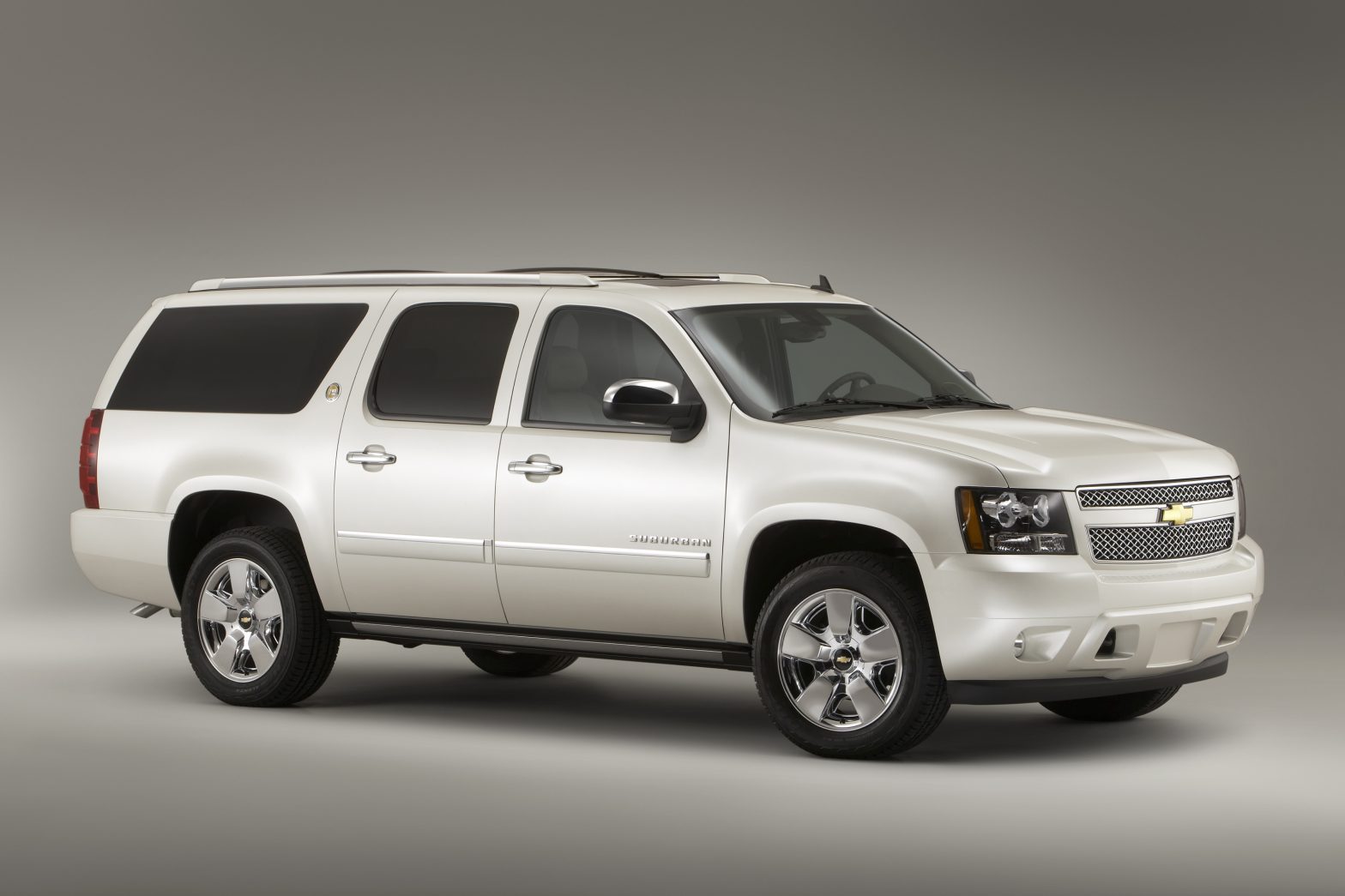 The Chevrolet Suburban hasn't garnered a lot of media attention in recent years, but we' be lying if we said we didn't still think very highly of the biggest and baddest General Motors SUV.
Well, Old Man Suburban has a birthday this year — the big 75, to be exact. And to commemorate the fact that this vehicle has been around for three-quarters of a century, GM will be offering a special Anniversary Diamond Edition, limited to a production of only 2570 units. Noticeable differences between the special Suburban and a standard LTZ model include a white diamond tricoat exterior color, cashmere-colored interior, unique twenty-inch chrome wheels, and new roof rails.
So, Suburban lovers — go out and snag yourself a special edition of America's favorite SUV. And in the spirit of birthday celebrations, we'll raise a glass and toast to the Suburban's success.
Scroll down to read the official press release.
At 75, Chevrolet Suburban is the Longest-Running Nameplate in US Auto History
CHICAGO – The Chevrolet Suburban, the venerable hauler of people and cargo that debuted in the Great Depression, celebrates its 75th anniversary this year as the king of continuous U.S. automotive production.
No other nameplate has been around longer without at least some time off.
"Having been a part of our automotive landscape for three-quarters of a century, the Chevrolet Suburban embodies the traits that have come to define the American SUV," says Leslie Kendall, curator of the Petersen Automotive Museum in Los Angeles.
"Its longevity in the marketplace speaks to both the resourcefulness of the original design team and the good judgment of the decision makers at General Motors who knew better than to tamper with a winning idea," Kendall said.
The idea for the Suburban was born out of a need for a heavier-duty, truck-based wagon. Through the early 1930s, most manufacturers offered car-based wagons for professional use. Open models with windows and rear seating were known as depot hacks, and were used to ferry passengers and their cargo around train stations and boat docks. Enclosed models, typically without rear seats, were known as sedan deliveries.
Chevrolet began experimenting with an all-steel wagon body mounted on a commercial chassis in the mid-1930s, and the Suburban Carryall was launched in 1935. The original Suburban could seat eight, while easily removable seats provided a large, 75-inch-long by 77-inch-high (1,905 x 1,956 mm) cargo area. The heavy-duty chassis of the Suburban increasingly found favor with professional customers, including the U.S. Armed Forces during World War II.
The foundation of strength and capability that propelled the brand for more than seven decades is still evident today. The 2010 Chevrolet Suburban seats up to nine, or can accommodate 137.4 cubic feet (3,891 L) of cargo with the second-row seats folded and third-row seat removed. With the standard Vortec 5.3L FlexFuel engine and fuel-saving six-speed automatic transmission, Suburban half-ton models can tow up 8,100 pounds (2,674 kg). Suburban 2500 models offer a 6.0L/six-speed powertrain combination and a maximum towing rating of 9,600 pounds (4,354 kg).
A 75th Anniversary Diamond Edition Suburban goes on sale early this summer and is limited to 2,570 units (including 350 for Canada and other export markets). It is distinguished by a White Diamond Tricoat exterior color and Cashmere interior, along with unique 20-inch chrome-clad wheels and new roof rack rails.
The anniversary models are equipped with LTZ content, including a comprehensive package of safety-minded technology, an integrated navigation radio, a one-year subscription of XM Satellite Radio with NavTraffic, Bluetooth phone connectivity, a rearview camera system, rear parking assist, remote starting and adjustable pedals. Leather-covered seating is standard, with heated and cooled front seats, and heated second-row seating. Optional equipment includes a DVD-based rear-seat entertainment system, articulating running boards, a sunroof and Side Blind Zone Alert.
"Times have changed, but the Suburban remains a fixture in the industry for private and professional customers who need truck-like towing capability with maximum passenger and cargo space," said Jim Campbell, Chevrolet general manager. "The Suburban's core capabilities and dependability have remained constant for more than seven decades and generations of people know that a Suburban will haul people and their gear."