Chevrolet Corvette GT3 To Be Built By Callaway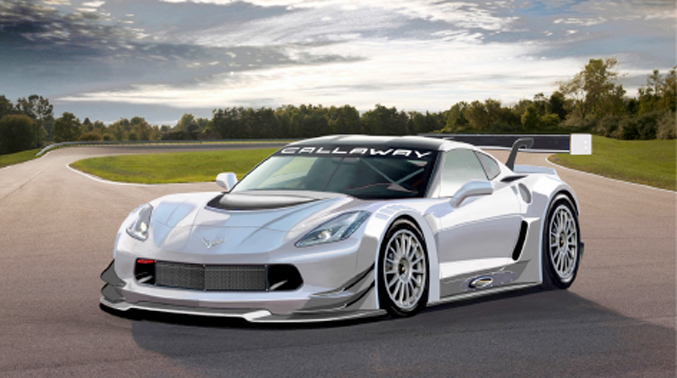 Chevrolet has authorized Callaway to build the GT3 version of the
C7 Corvette
for FIA competition.
So far, Callaway isn't giving projected specifications of the Corvette GT3, so we're going to have to wait a while to fully grasp how much of a monster this American racecar will be.
In the meantime, we have these two rendered images of Callaway's Corvette GT3. We see a lot of work on the body, and plenty of aerodynamic enhancements. The front splitter, rear diffuser and giant wing will help with stability, while venting around the wheels will aid in brake cooling and air flow. Looking at the side-exit exhausts, we can't wait to hear what the GT3 will sound like in action.
For more information, scroll down to read the official press release from Callaway.
CALLAWAY TO BUILD FIA GT3 CORVETTES
Callaway Competition to Develop, Homologate New Corvette C7 Race Car
OLD LYME CONNECTICUT/LEINGARTEN GERMANY (July 24, 2013) –
Callaway Competition GmbH, Leingarten Germany, will embark on a development program for making the new Corvette C7 into a GT3-class race car and submit for homologation from the FIA.
Specialists, like Callaway, require authorization from original equipment manufacturers, like Chevrolet, to submit the homologation forms necessary to allow their version of the car to be the version allowed in FIA competition. As Callaway has just received the required letter of authorization from Chevrolet, Callaway has become the appointed specialist representative for building and holding the homologation of the Corvette C7 FIA GT3 race cars.
Callaway has also been the homologation holder for the Corvette C6 version of the GT3 car with the FIA. The Callaway team is currently one of the most successful in GT3, with numerous Drivers and Team Championships from 2007 to present.
For more information, or inquiries regarding the purchase of race cars, contact:
United States

Michael Zoner
Managing Director, Callaway Cars Inc.
3 High Street
Old Lyme CT 06371 USA
860 434 9002
[email protected]
Europe

Ernst Woehr
Director, Callaway Competition GmbH
Liebigstrasse 31
74211 Leingarten Germany
+49 7131 903-10
[email protected]
Callaway Cars Incorporated is an automotive engineering and manufacturing corporation specializing in high performance applications. Founded in 1976, the corporation's four core business units include Callaway Cars, Callaway Carbon, Callaway Engineering and Callaway Competition with facilities in California, Connecticut and Germany. The organization produces specialty vehicles, engineering services, and performance products that showcase technological sophistication, artistry in design, and beauty in craftsmanship.